It's often the simple things that make the biggest impression, so choosing the right table lamp shouldn't be overlooked. They can make a world of difference to the overall feel of your interior design.
This type of lamp can essentially contribute two things to your decor. They will complement and enhance the style of a room and play a big part in setting the lighting ambiance through the size and thickness of the shade and strength of the bulb.
The perfect accompaniment?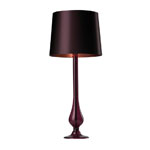 Calm elegance
A room in your house may be decorated in a colour scheme you love but for some reason the room seems a little plain. A table lamp is a great way to signify the style you are going for. The Dillon Chrome Table Light is such a simple way to give a décor the feel of refinement and distinction. This perfectly symmetrical and statuesque lamp is a statement of elegance. It's easy to picture the Dillon in an expensive hotel room.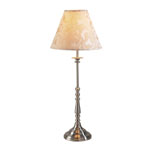 If you have a classic or traditionally styled room that is crying out for something to really accentuate its style then the Blenheim Table Lamp Satin Chrome may be the perfect accompaniment. This lamp is the very definition of classic elegance. It would look well suited next to a large brown leather arm chair sitting near a roaring fire. Its traditionally shaped shade will force the light down and outwards for a calming tonal illumination.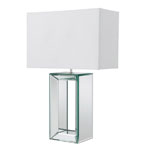 Deco or debonaire
Sometimes a lamp will not just add to the style of a room but become a feature in itself. If something that has the feel of the art deco appeals to you then the Valencia Vertical Table Lamp may be what you are looking for. It would look astounding on a glass coffee table. When illuminated the light would work gracefully with both the body of the lamp and the table.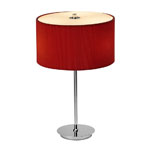 Alternatively you may be after a touch of maturity with a lamp that oozes cool debonaire style. For a refined simple style take a look at the Zaragoza 3 Light Table Lamp. It's easy to imagine this lamp giving a small splash of colour to a contemporary setting, possibly on a metal table next to a black sofa. This lamp is effortlessly stylish and will suit a wide range of home décors.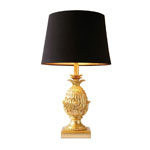 Character and personality
If you are the kind of person who loves striking and interesting furnishings then you are going to adore the Pineapple Table Lamp. This lamp has an eye catching appearance and when illuminated will definitely draw attention to itself. It would not look out of place in a glamorous casino in Las Vegas.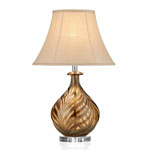 Finally we have a touch of 70's esque elegance in the form of the Tiger Table Lamp. Everything about this lamp screams retro character. It is the kind of lamp that will help to add a warm and inviting feel to the appropriate room.
There you have it a quick look at some of the most interesting and elegant table lamps available, but this is only a very small selection. For our full range click here.
Alternatively if you need more inspiration? Check out our Lighting Ideas section.
Maxine Clarke Senior Buyer
Maxine has been our decorative buyer since 2015. With her experience in working for consumer-led brands, she is the perfect person to pick out the latest lighting trends for both your home and business. Maxine has an eye for the best up-and-coming lighting from the UK and around the world and works tirelessly to add new brands to our portfolio. One of her trends to watch in 2020 is connectable garden lighting; with summer garden parties more and more popular, being able to build and extend your own outdoor lighting with spotlights, festoons and string lights has never been easier – simply plug and play.