Sign Lights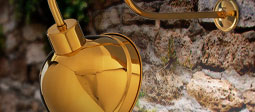 When you think of sign lights you may naturally think of something for a shop or business. Don't let the name put you off, though, this is just one of many uses for sign lighting. They also have lots of domestic applications. They can be an incredibly interesting fitting for illuminating door numbers or names.
You may also want to use them as accent lighting to show off the period features of a building. As you can imagine they can also be used to illuminate simple things like hanging baskets. Remember just because they are called sign lights doesn't mean you can't use them anywhere you think they would suit perfectly.
What style of sign lights are you looking for?
Something in black maybe?
This style of finish is beautifully discreet. If you are a shop owner it will suit premises that are understated and minimal in appearance. A black finish may be more suited to the exterior of traditional homes.
Or maybe chrome?
This finish is perfect for a modern home that requires specific lighting to bring out the quality of the architecture. If you think a modern style of sign lighting would suit your home click here to check out our exclusive range.
What about brass?
Anything finished in brass is never going to be subtle. It is a proud exclamation of grandeur and needs to be installed in an appropriate setting. For this one the best advice we can give you is to trust your opinion and sense of taste. If you are sure it will work well on the outside of your home go for it. Click here to see the range.
I hope this page has inspired you and helped you to see that there is more to sign lighting than meets the eyes. In truth most forms of lighting have multiple applications. The trick is to find where a particular type of lighting will suit and really bring out the best in its surrounding.
Read more about Sign Lights