In most households, the kitchen is the centre of the home, and is used for much more than cooking and laundry. If there is a breakfast bar, a cosy kitchen table or even a full dining table, then the kitchen is the centre of the home for socialising too. As we write this post, we know huge numbers of people are working from their kitchen tables too, owing to lockdowns and finding space to work from home.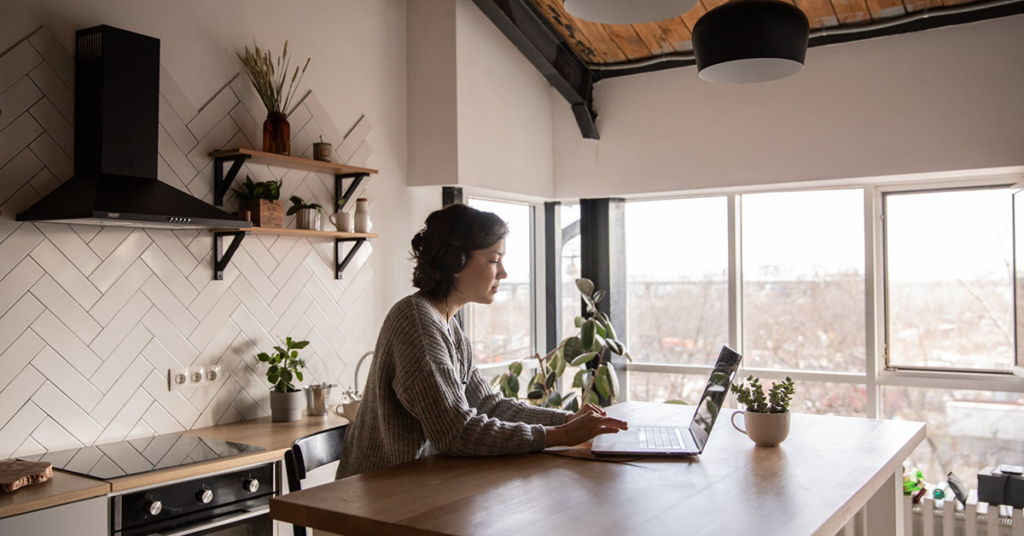 Designing a kitchen, or remodelling an existing one is rarely a small job. Whether you're working with a tiny galley-style space, or you're lucky to have plenty of square footage, your kitchen has to be functional as well as beautiful.
Designing a kitchen
There isn't a perfect method of designing a kitchen – there are so many variables. However, these are a few of the things that you'll need to do before you start browsing showrooms.
Set your budget realistically
You can spend infinite amounts of money on a high-end kitchen, but even if you don't have a huge budget, you may still be able to make a drastic change – particularly if your existing kitchen is well-built, but is simply dated. We'll touch on budget kitchen design further in the post.
Consider the needs of the users
If any family members are elderly, or have disabilities, then that may impact decisions such as where to locate appliances, while families with young children will have different needs from their kitchen.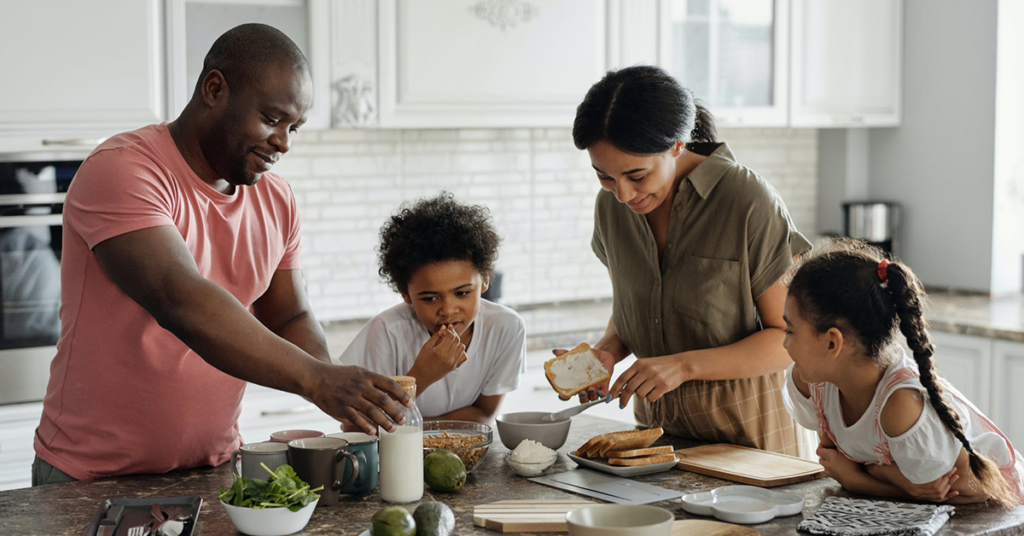 Establish the basics
Measure your space carefully, and if you're keeping your existing appliances, measure them too. If you're going to be remodelling the house, taking down walls or changing the layout completely, you'll need to measure up and consult with builders, but there are other considerations to be made too. It might mean that there will be more space in the long term, but you'll need to plan carefully – plumbing, electrics and heating will need to be planned for.
Find your inspiration
Before you start looking at options, pull together images of designs that you love. Pinterest is a great place to do this, and means that you can find effects and details that you absolutely love without needing to commit to them immediately. If you're going to work with a professional kitchen designer, your inspiration will help them get the look that you want, with the budget that you have available.
Decide who will install your new kitchen
If you're going to work with professionals, you'll need to budget for installation costs. Even if you're tackling the installation yourself, you'll want a contingency budget, just in case something goes wrong.
Once you've found your inspiration and you're starting to think about styles and installation, it is time to start designing. There are a wide range of 3D modelling design tools available to use for free online that will give you a good idea about whether your thoughts will work in reality. Whether you're tackling your remodelling project yourself, or you're going to be working with a company that specialises in designing and fitting kitchens, these tools can bring your new kitchen to life, and make designing much easier – especially if there are a number of possible layouts.
Kitchen colours
When it comes to kitchen design, almost every colour is a possibility, but there are colours that may work better than others in your space and effect you want to achieve. Searching online, you'll find design ideas for kitchens in absolutely every shade you can think of. In colour psychology, reds and oranges are frequently used in restaurants and fast food logos to trigger senses of hunger. Although bright red or orange might feel a little too loud in your home, the effects can be felt with more muted shades, so you might consider using shades such as deep burgundies and terracotta.
In our previous post, we touched on the 2021 colours of the year from three major sources:
Pantone, who chose 17-5104 "Ultimate Gray" and 13-0647 "Illuminating", a bright sunny yellow
Dulux, who chose "Brave Ground" – a warm, earthy taupe
US decorating brand Benjamin Moore – that chose Aegean Teal 2136-40
Each of these colours can work fabulously in kitchens – we envisage Brave Ground being used as a grounding, neutral shade alongside other tones, while Aegean Teal can work perfectly on cabinets and white walls to create a Mediterranean feel. If you love the feel of Illuminating but yellow walls feels like too much of a commitment, try pops of the colour on accessories on display, such as glassware, trays, chairs or lighting.
If you love the idea of vibrant Mediterranean walls, then we recommend pairing this with subtle grey light fixtures on your walls or ceiling.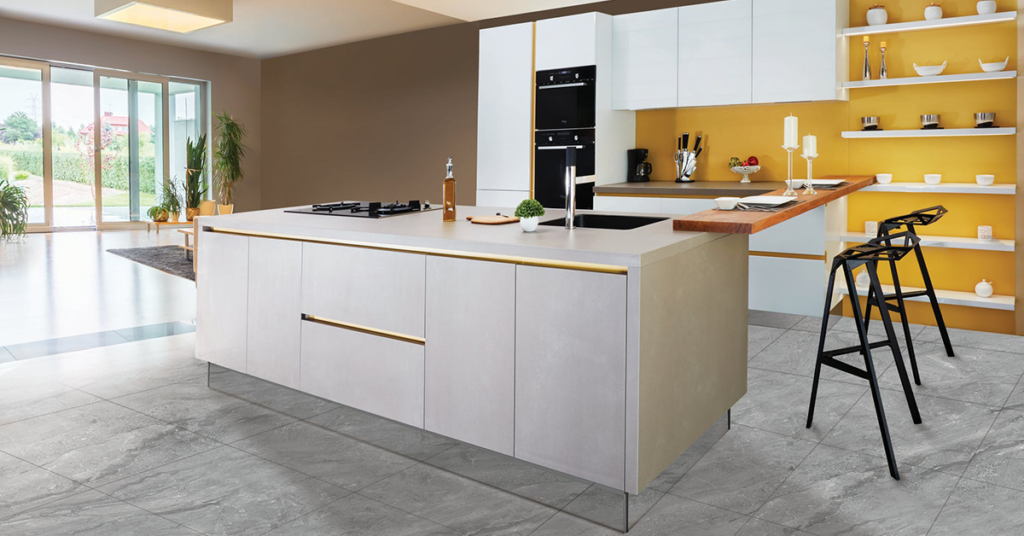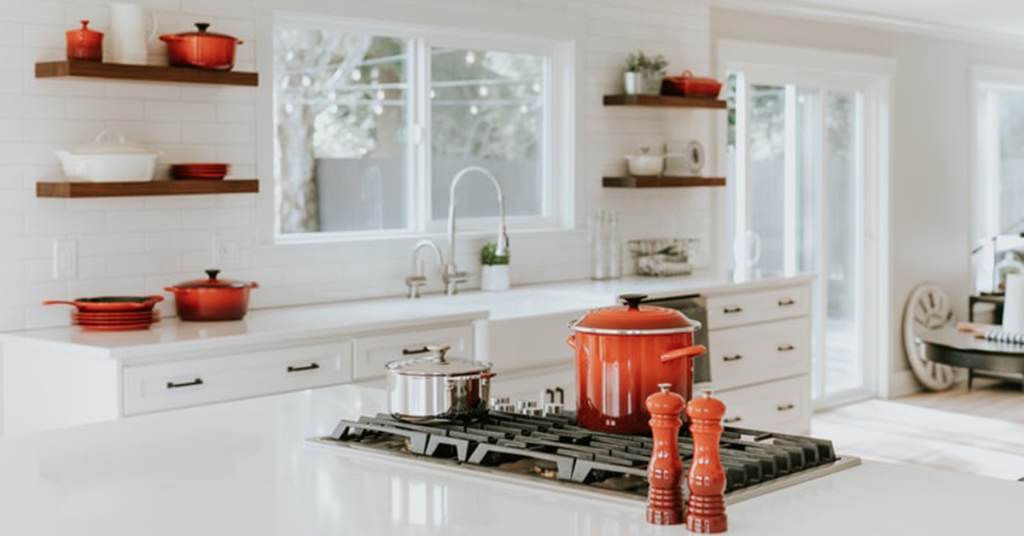 Kitchen cupboards
Deciding the right cabinets for your kitchen can feel overwhelming – since there are so many incredible options to choose from. There are fantastic options for all tastes, but it is a wise decision to get the best cupboard carcasses you can afford. This means that in the future you'll be able to update your kitchen simply by swapping out the cupboard doors, since many manufacturers create their kitchens to standard sizes.
There are a range of options when it comes to what your kitchen carcases are made from, and these are reflected in the price. Melamine-faced chipboard cabinets are a budget option, with plywood and solid wood cabinets being more costly. Be sure to do your research carefully to get the right type of fixtures for your home.
There are a number of types of kitchen cabinets that are popular at the moment:
Shaker-style kitchens
Shaker-style units have solid, painted timber doors that have a framed feature and veneered centre panel. While they're a classic design that is likely to be popular for years to come, there are options to create very different looks, simply by choosing different colours. Neutrals such as cream or sage look classic, while whites paired with pastels can create a pretty kitchen. For a more dramatic effect, choose dark shades such as navy, slate or hunter green.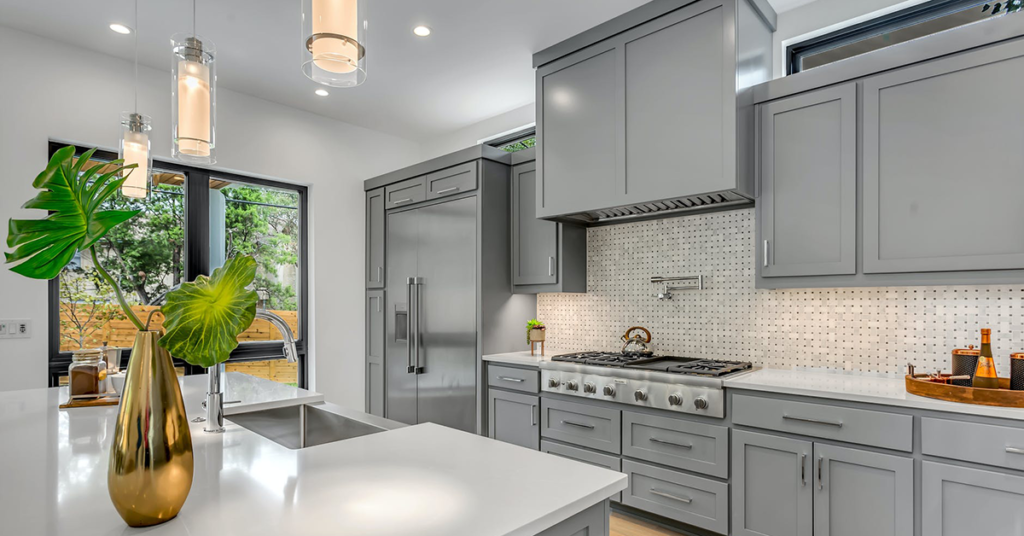 Slab doors
For the ultimate in minimalist cabinetry, choose slab doors. They look great in small kitchens, since they're so simple – the lack of details can make the space feel bigger. To keep this style of kitchen feeling unfussy, choose matt effects, and avoid handles. We love the look in white, but different shades can create a modern effect, particularly in pastels. The simplicity of this style means that costs can be minimised and is a great option for a kitchen on a budget.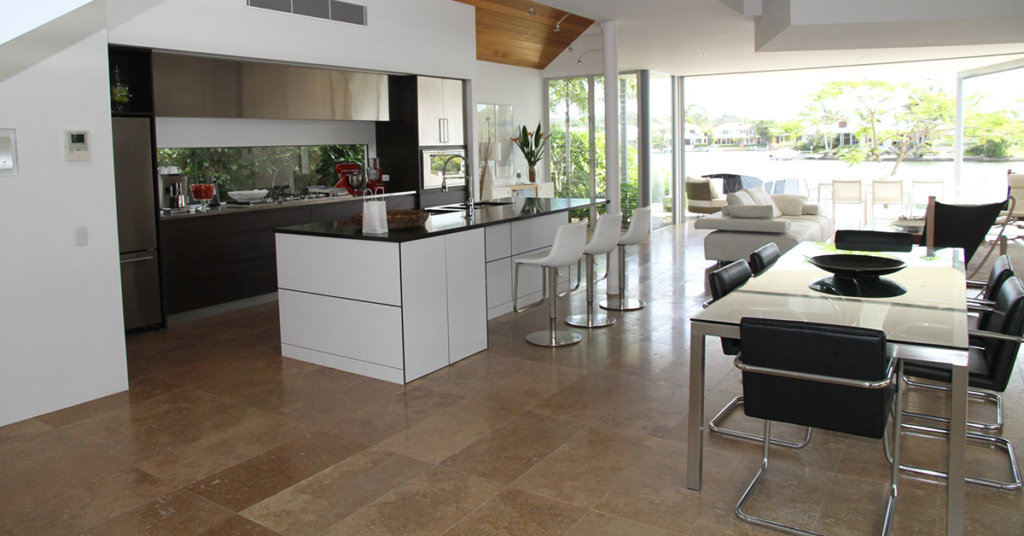 High gloss
While we expect the trend for high gloss white cabinets in kitchens to continue, there are more options to discover now. Lower maintenance neutral shades such as greys, taupe and creams, paired with marble effects provide the high-end look, without being quite so clinical.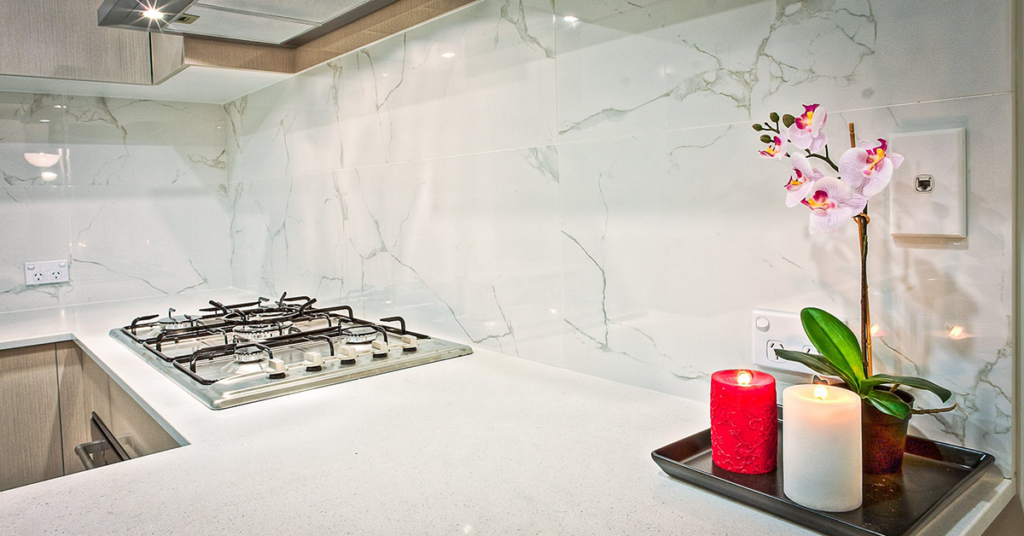 Freestanding
Where there is a reluctance to attach units to the walls of a home – such as in period properties – freestanding units are a great option. Since they're not necessarily made to measure, freestanding kitchen units provide the opportunity to rearrange the kitchen furniture once in a while.
Final details
When you're finalising your kitchen cabinets, think about the details that will make your kitchen even better. Design details such as kickboards and cornices for the top and bottoms of your cabinets, and handles are essential to really round off your kitchen.
If you're creating a family kitchen – particularly one with teenagers – you're likely to want to add soft-close hinges and drawer runners to your cabinets. They add a small extra cost, but we think they're worth the extra few pounds to ensure you're not woken by a crashing drawer during midnight snack times.
As a final touch, consider adding under cabinet lighting to areas where you regularly prepare food. These are available in a range of light colours and can be hidden away behind molding; especially popular in period houses with more traditional cabinet styles.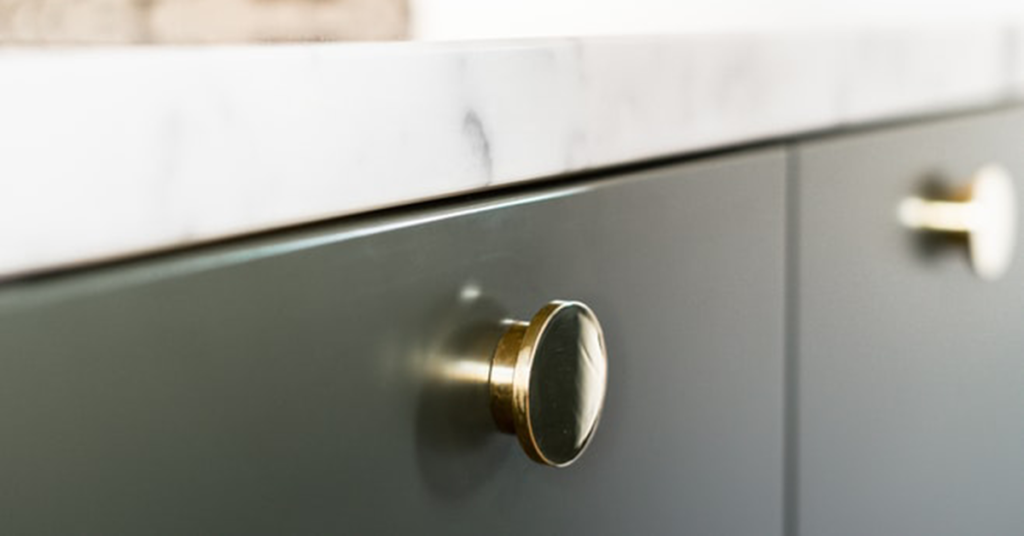 Appliances
Many kitchen remodels don't include new appliances – particularly on a budget. Luckily, since appliances such as washing machines and dishwashers are built to a standard size, buying new ones can be delayed until later. But if you're changing appliances at the same time as the remodel, then buying all of them from the same manufacturer can help ensure that they complement each other.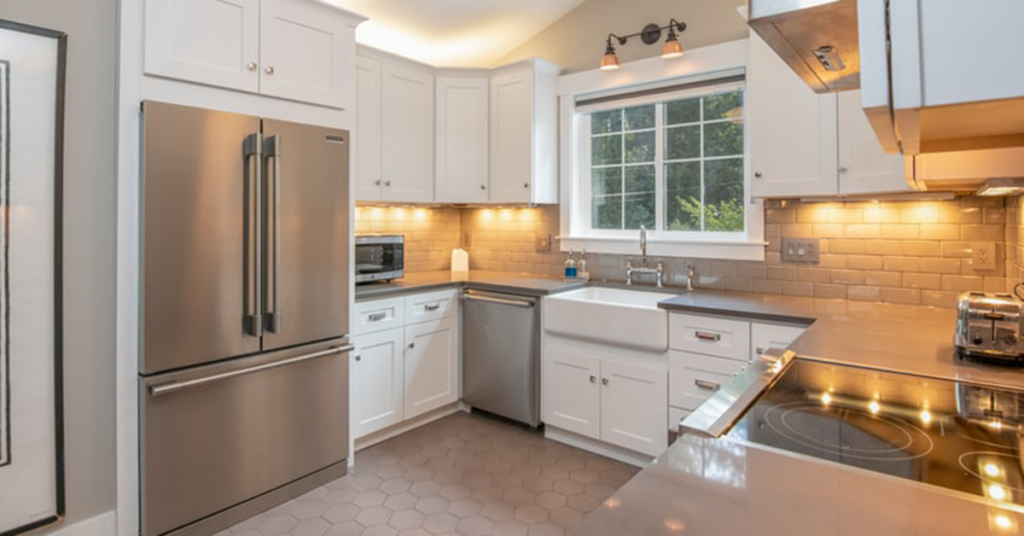 Decisions about which appliances to choose, and where to place them will depend on the needs of the household as well as the space you have available in your kitchen. You don't need to keep appliances where they have been traditionally either – so make them work for you. Examples include:
Microwaves can be situated higher up on shelves, to free up work surfaces and avoid spills
Dishwashers can be raised to make it easier to pack and unpack
Ovens can be raised or lowered to make it easier to see cooking progress
Cooking hobs can be installed on a kitchen island to make cooking space more sociable, particularly if the island is to be used as an informal dining space
When you're choosing appliances – particularly for a small kitchen, but also if you're trying to keep your design minimalist – choose appliances with multiple functions. A great example is a combined induction extractor hob, which eliminates the need for an extractor hood, or a combined washer/dryer. This means that you'd be able to use the space the extra appliance would have taken up for additional storage, or leave the space empty to create a more spacious feel.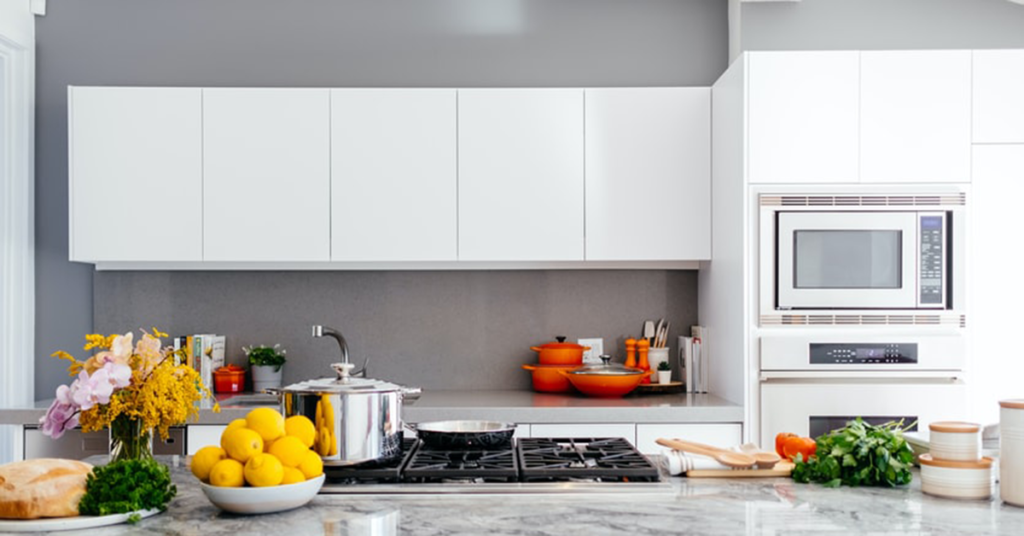 Lighting for kitchens
The right lighting is essential for your kitchen to work for you. Having ambient lighting and task lighting is essential, but the layout, style of cupboards, colour scheme and amount of natural light that is available will impact on the lighting options that you might choose.
Downlights over work surfaces make sense – you need to be able to see what you're doing in the kitchen! But if you're lucky to have high ceilings and are adding stylish ceiling pendants, then consider fitting LED lights that are hidden under over-head cabinets to provide the additional functional lighting that you need, without compromising the impact of your feature lighting.
Whether you choose a modern take on classic kitchen styles, you choose a masculine, industrial style kitchen or you choose an on-trend, high-gloss kitchen, explore our range of ceiling lighting for kitchens here.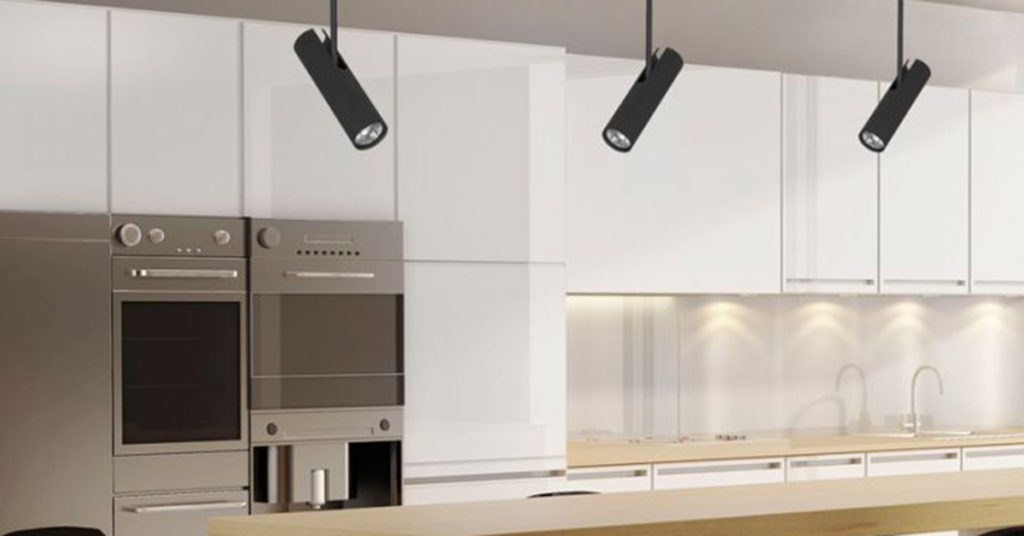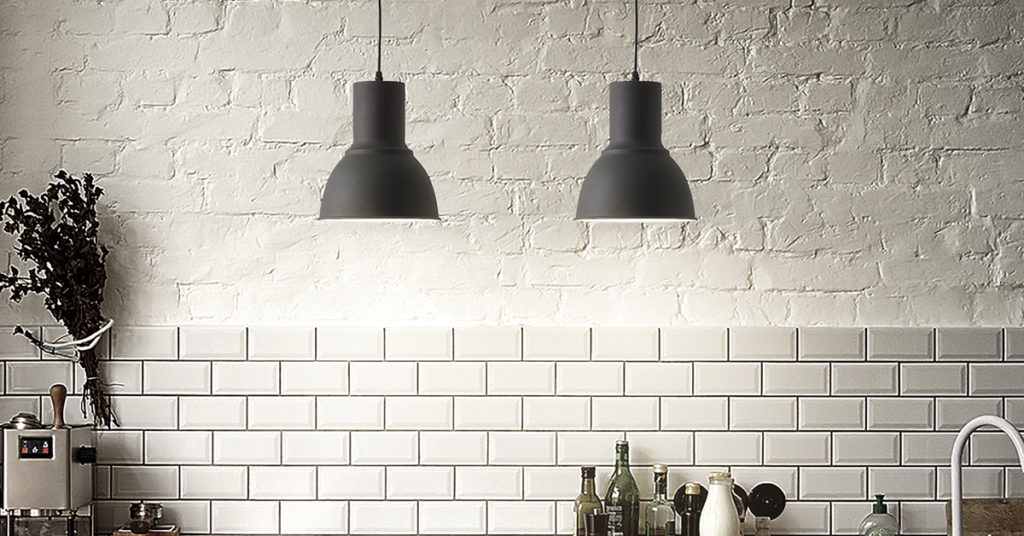 Designing small kitchens
When you're designing a kitchen in a tiny space, you'll need to ensure every inch of space is used wisely. With careful planning, you can ensure there is a place for everything – so make sure you've measured your space, and appliances before you start planning.
When space is tight, there are a few ways to make your kitchen feel bigger:
Utilise the whole of one wall for cabinets to free the space that you need
Tall units, or cupboards that reach the ceiling can make the most of space
Try open shelving (particularly at a higher level) – just be careful to keep them tidy, since cluttered shelves will have the opposite effect
Use colour carefully
Using colour in small kitchens can help to create a visual illusion of more space. Consider darker shades on base cabinets, with lighter, or neutral shades on the walls, can help to make the room feel like there is more space between floor and ceiling. However, using lighter shades throughout may work better where natural light is scarce – such as in this white and grey theme. If you're choosing flooring, consider a bold floor tile to draw the eye to.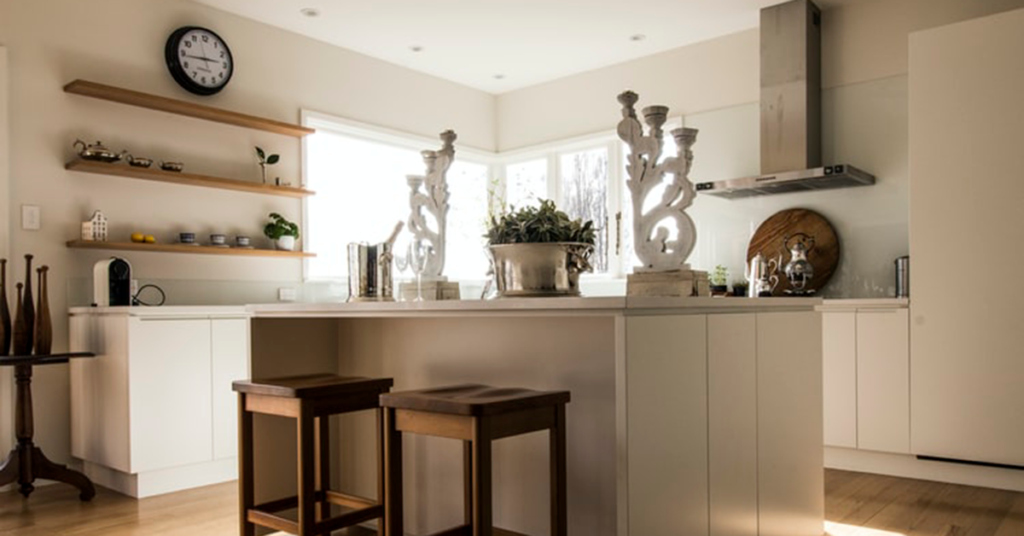 Adding seating to a small kitchen – especially if you have dining space elsewhere – might feel counter-intuitive. However, adding it in the form of a small island can create additional storage, and extra work space. If building one in isn't an option, consider a mobile butcher's block that can be wheeled to where you need additional space.
In order to keep clutter to a minimum, it is essential that everything has a place. Finding clever storage solutions for your kitchen wares is essential, so search online for the best ways to make use of every inch of your space – particularly for those awkward corners and high spaces.
Think creatively – racks to hold items inside cupboards in non-traditional ways can mean much more space than if you simply pile them in. Finding a wine rack, hanging pans from the ceiling, or hiding your gadgets in a designated cupboard so they don't clutter the surfaces means that surfaces aren't cluttered, while storing ingredients in jars has become a huge trend on social media because of how beautiful and spacious it can look when done well.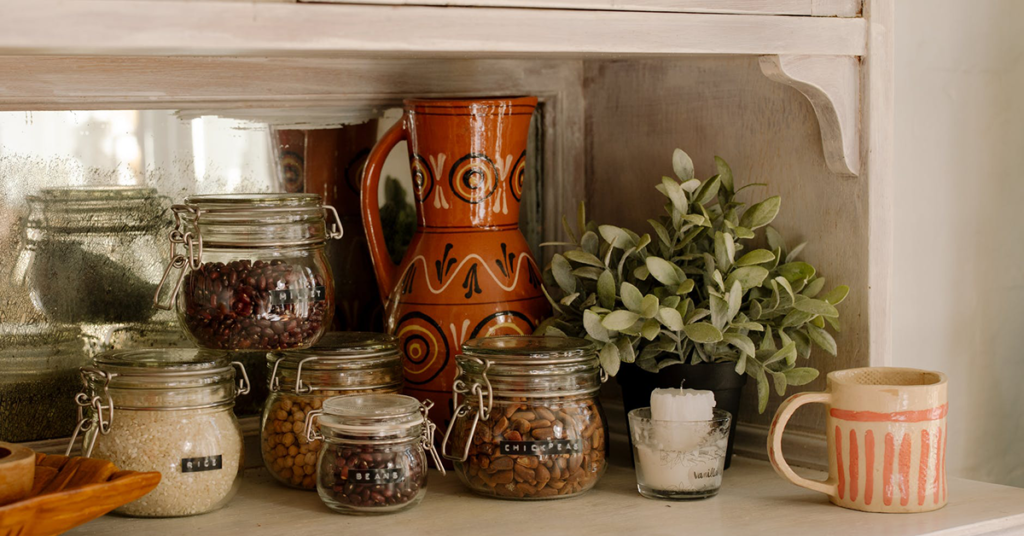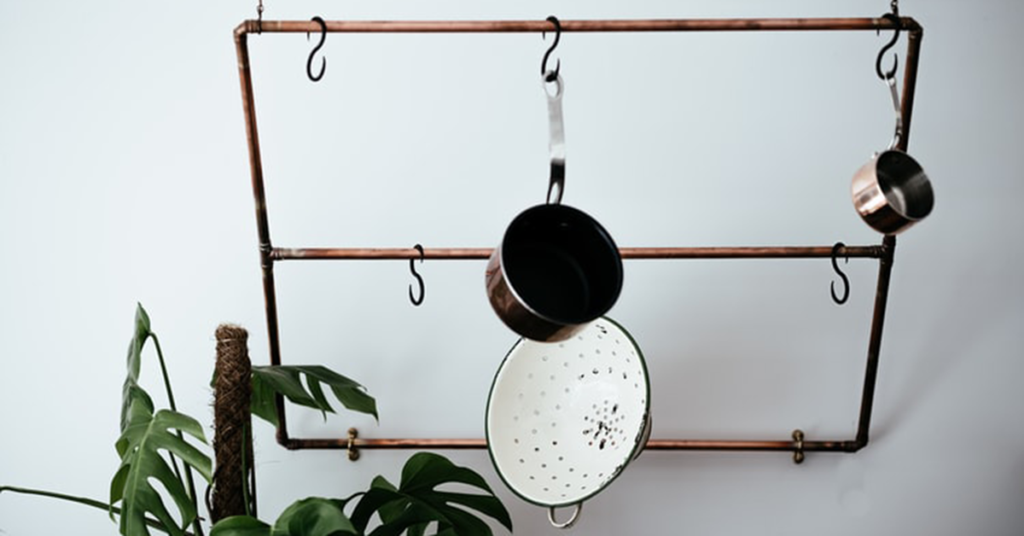 When it comes to lighting a small kitchen area, it's best to avoid the current trend towards large ceiling pendants over kitchen islands or dining room tables, instead consider installing dimmable downlights that can be used to brighten up the room when hosting drinks with friends, or dimmed to offer softer lighting when enjoying a meal with your partner. Previously we mentioned under cabinet lights, and these are fantastic space savers, and are great for food preparation, but they can also be left on in the evening as a background light when you are settling down to relax.
If space is at a premium, consider moving your laundry appliances out of the kitchen. A utility room is a better place for them, or if that sort of space isn't available, then look at where else they could be located. If you have a big bathroom, that can be an ideal spot, or a cupboard near the bathroom – it makes plumbing easy, and frees space in your kitchen. Not only that, if your bathroom is upstairs, you don't have as far to carry clean clothes back to bedrooms. Put your iron and board with it to free that space too. Just be sure to check safety regulations before moving any electrical items to the bathroom.
Remodelling on a budget
When you want a completely new look for your kitchen but your budget doesn't stretch very far, you might be inclined to put off remodelling until you've saved up. But if getting your dream kitchen is going to take some time, then there are things you can do on a much smaller budget to make things more stylish and comfortable until then.
With a small budget, there are many options for painting cupboard doors and walls, and to replace lighting to create an entirely different look. Replacing cupboard door handles can also elevate the look of the space with a small budget too. Assuming solid unit carcasses and a workable design, then replacing cupboard doors can elevate the feel of the kitchen at a much lower cost than replacing the whole kitchen.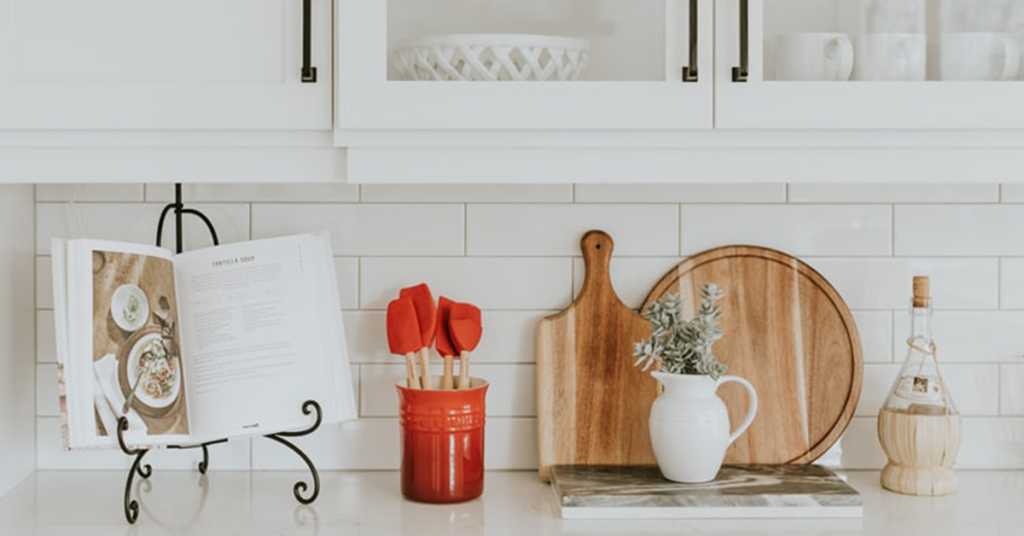 If those aren't an option, then buying a second hand kitchen can be. Finding used kitchens may be possible on websites such as Facebook Marketplace and Gumtree, but the perfect solutions may never become available. However, there are companies that specialise in second-hand kitchens, particularly for ex-display kitchens from showrooms and show homes. Like buying ex-demonstrator cars, you can get a lot more for your money by buying a second hand kitchen this way. In many cases, these companies also offer (or include) appliances from quality brands such as Siemens and Miele as part of the package.
Buying second hand may have additional costs that you need to budget for, particularly if your kitchen is a different layout, since screw holes may be exposed, or cabinets may need to be trimmed to fit your space. Professional installation will ensure that your second hand kitchen gives you the finish that you want, but at cost. However, even with these additional costs, buying second hand can still offer considerable savings on buying brand new.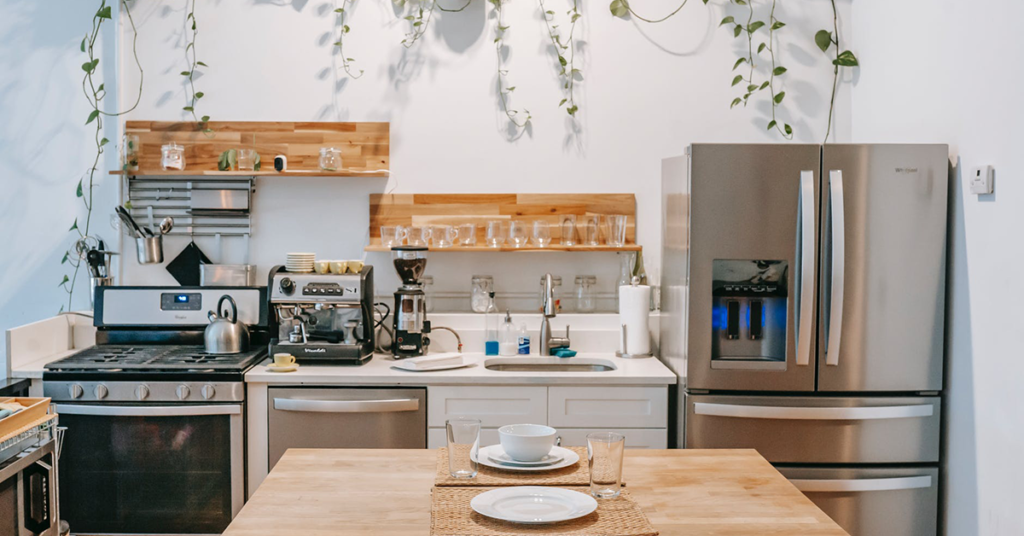 For lighting on a budget, consider our range of ceiling pendants under £50 and wall lights under £50 to maximise your cost savings.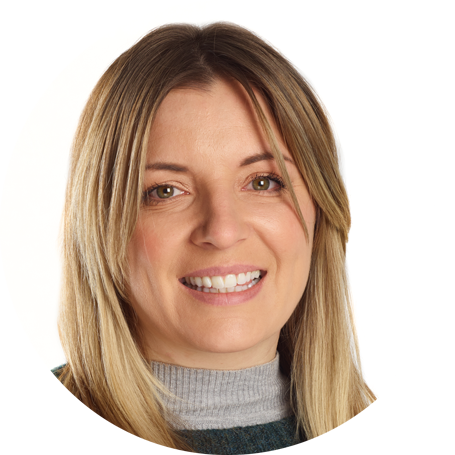 Maxine Clarke Senior Buyer
Maxine has been our decorative buyer since 2015. With her experience in working for consumer-led brands, she is the perfect person to pick out the latest lighting trends for both your home and business. Maxine has an eye for the best up-and-coming lighting from the UK and around the world and works tirelessly to add new brands to our portfolio. One of her trends to watch in 2020 is connectable garden lighting; with summer garden parties more and more popular, being able to build and extend your own outdoor lighting with spotlights, festoons and string lights has never been easier – simply plug and play.