Pygmy & Appliance Bulbs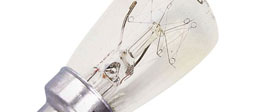 Find the perfect light bulb for your table lamp or kitchen appliance here online at Lighting Direct, thanks to our range of Pygmy and Appliance Lamps. If you are looking for a Microwave Light Bulb, Cooker Hood Light Bulb, Oven or Fridge Freezer Bulb then this is the place to be. You have the choice of 15w screw clear appliance lamps, 15w screw clear pygmy lamps, or pygmy lamps in a range of colours, including blue, red and green.
Our Pygmy and Appliance Lamps are low cost to buy and easy to install and replace, meaning you'll have a practical light solution as and when you need it! However, if Pygmy lamps or appliance lamps are not what you need, why not take a look at our Lighting Ideas section for even more inspiration?!
Read more about Pygmy & Appliance Bulbs