Candle Bulbs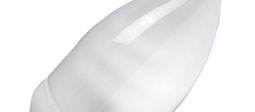 The only difference between the traditional standard GLS (General Lighting Service) bulb and a candle bulb is the shape. The candle bulb was designed purely for decorative purposes to mimic a real candle where it is appropriate for the décor. This type of bulb is obviously suited to a home or venue that is traditionally styled. They are great for creating a warm and inviting tone in hotels, rustic pubs and homes that have a classic décor. You will generally find candle bulbs in chandeliers, vintage styled wall lights or exterior lanterns to name but a few.
Finding the right candle bulb:
Make sure you get the right size of cap fitting:
Candle bulbs are sold in a variety of fitting sizes so make sure you buy the right one.
Cap fitting sizes:
How about something energy efficient?
Are you looking for a candle bulb robust enough to be left on for long periods of time? Well if so you may want to consider something from the Compact Fluorescent Range. These bulbs are very energy efficient; however other types of bulb do offer a higher quality of light output.
High quality light output?
For some occasions, such as weddings the quality of light itself is very important to bring out the best in the colours and create the right ambience. Halogen bulbs are an excellent source of light but less energy efficient than other lighting.
Cost effective and long life?
If you are willing to pay a little bit more for the initial layout LED bulbs have much longer average lifespans. They are also very energy efficient, and therefore will keep the running costs down. They also produce almost no heat making then a much safer option.
What about a simple inexpensive light bulb?
Are you simply looking for an inexpensive candle bulb? Well then you should probably start with our Incandescent Range. Along with being cost effective in terms of initial layout they also offer high quality light output.
Whatever type you choose, candle bulbs are always an excellent way to create a warm and comforting feel in a room that is traditionally styled. Just because the time of the candle has passed it doesn't mean you can't still enjoy the style they can offer to your décor.
Read more about Candle Bulbs