Spotlight Bulbs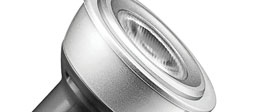 Spotlight bulbs offer sharp focused directional lighting perfect for many different areas in the home. Most people think that this type of lighting is more suitable for the functional areas of the home, such as the kitchen or hallway. However at Lighting Direct we have a huge variety to choose from including diffused and dimmable bulbs that can be used in the living or dining areas of the home.
What type of spotlight bulb are you looking for?
LED?
This type of lighting technology offers cost efficiency in terms of both lifespan and low energy consumption. However the bulb cost is generally a little more expensive, but the savings will add up in the long-run. Click here for LED's
Halogen?
If you are looking for a very high quality of light output then you should definitely start with a look at our range of halogen spotlight bulbs.
What cap size are you looking for?
It is, of course, essential when shopping for light bulbs to purchase the right bulb cap size for your fitting. We stock spotlight bulbs in:
What area of the home are they for?
For practical areas such as the kitchen it's a good idea to choose a bright clear task light for cooking and food preparation. A white or cool white bulb (3500-4000 Kelvin) will be spot on.
However if you are shopping for bulbs that are more appropriate for the social areas of the home such as the living and dining rooms then you may want to consider something that produces a warm white light (2700-3000 Kelvin). Some of these bulbs are also dimmable as well.
At Lighting Direct we have an extensive range of high quality spotlight bulbs. They maybe small but they pack a lot of power when it comes to directional contemporary lighting.
Read more about Spotlight Bulbs