Uplighters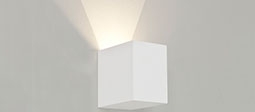 Uplighters are a great way to create a warm, inviting and comforting ambience in your home. As the name suggests the shade pushes the light upwards to soften the overall effect. This type of light will work well as either a gentle main source of lighting or complementary to a central fitting.
Uplighter fittings have a very art deco feel to them, but they will work well with many types of warm and homely decor. The uplighter has been a very popular home light fitting for decades, and at Lighting Direct we have both traditional and contemporary styles. Definitely give some consideration to this type of fitting as it is so versatile and will work well in almost any room in the house. For a closer look at uplighters click here.
What are you looking for in an uplighter?
Energy efficient?
If you are looking for something low cost that doesn't consume a lot of juice then you need to go for something in our LED range. Alternatively our low energy fittings are also a very efficient way of lighting your home.
Something not too expensive?
If you are currently remodeling the lighting in your home and want to keep the costs down then why not start by having a look through our range of bargain price fittings. You are bound to find something that works for your budget.
CLassic style?
If you are a lover of the retro look and want to bring a real art deco feel into your home then you need to start by looking at our beautiful classic fittings.
May be something a bit more modern?
Do you want soft comforting lighting but with a contemporary fitting? If so then don't worry we definitely have loads of modern uplighters to choose from. There is nothing wrong with a classic fitting in a modern style.
Uplighters are a great way to add gentle and welcoming light to your home. They are not only for the living room, hallway and dining area but also for the bedroom as well. However please remember it is up to you where you put these beautiful classic light fittings.
Read more about Uplighters