Deck & Ground Lights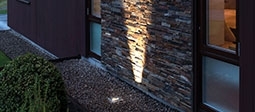 Deck and ground lights are a modern and attractive way to give your garden a 21st century look. They are a cool way to add value and style to outside decking areas. This type of lighting solution is a very effective extra safety feature for illuminating garden paths. If you are looking for driveway lighting it is important to note that NOT all ground lights can withstand being driven over. For more information about lights that are strong enough to be driven over click here.
You can also get artistic with them by adding them strategically under trees and other areas of interest in your garden. All deck and ground lights are suitable for walking on. However some are more durable against water and dirt than others, so it's important to read below to understand the IP rating you require in your deck and ground lights.
Which IP rating do you need from your lights?
IP44 Rated: Resistant to Splashing Water and Rain
If you are simply looking for lights to install into your decking then you may want to start by having a look at something in our IP44 rated section. This rating means these lights are protected against solid objects greater than 1mm, splashing water and rain. However they are not protected against fine dust particles. This type of lighting may not be suitable for extremely dusty garden paths.
IP65 Rated: Protected Against Dust and Water Jets
Are you searching for a light that is durable enough to be installed in any part of your garden? If so then lights that are rated at IP65 are not only totally protected against dust but also against water jets from any direction. To have a browse through our range click here.
IP67 Rated: Can Be Submerged in Ponds and Water Features
Some of our deck and ground lights are suitable for submersion in water up to 1 meter in depth. This will be perfect for installation in ponds and water features. Lights that carry an IP67 rating are totally protected against dust and against the effects of immersion between 15cm and 1m.
IP68 Rated: Suitable for Submersion in Swimming Pools
Many of our deck and ground lights come with an IP68 rating which means they are totally protected against dust and long periods of immersion under pressure. Therefore they are also suitable to be installed in a swimming pool.
As you can see our range of deck and ground lights have different levels of durability. It is very important to consider where your lights are going to be installed, and what they need to be able to withstand. For more information check out our top tips for choosing deck and ground lights. At lighting Direct we have many types of lighting solutions; you are sure to find something that meets your needs.
Read more about Deck & Ground Lights