With more of us working from home on a permanent basis even as the pandemic eases, it makes sense that we're investing in our home office spaces. Particularly for those of us that work from home full time, that's a lot of hours spent in the same space – so making do with a desk shoved in the corner with a cheap desk lamp that was bought in a hurry just doesn't cut it. While not all of us have the luxury of a whole room for a home office, and many of us will simply be using a corner of a bedroom for our workspace, there really isn't any reason that your home office can't be beautiful.
Office trends for 2021
There are as many ways in which a home office can be decorated as there are people in the world – but these are some of the trends that designers are using for home offices in 2021 (and that people are searching for!) that might serve as inspiration.
Modern tech
This trend is super sleek and simple, inspired by desirable tech equipment. Whether you have the latest devices or not, this trend incorporates furniture in bright whites and greys, and made from non-traditional materials such as plastic, glass and metal, with glossy finishes. With this look, lighting should be kept functional, minimalist, and unfussy, in similar materials to furniture. The Lucide Gipsy plaster ceiling pendant light provides a neat spotlight over desks, while the Kubik shelf light with plug and USB charging port – although designed with bedrooms in mind, is a great addition to home office spaces, since it can help keep distracting tech out of the way, and fully charged.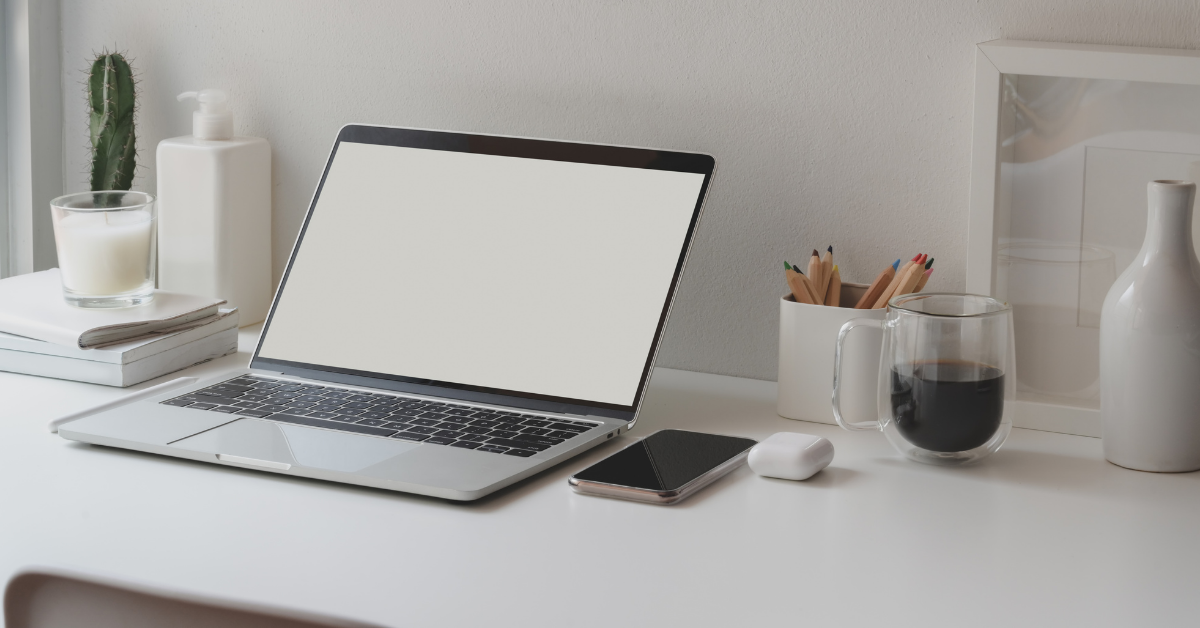 Atelier styling
Those of us that prefer a less polished office space, perhaps with a more artisan feel, can appreciate why atelier styling is having a moment. Exposed metal frames and open shelving made from unfinished planks, and an eclectic mix of furniture means that this look can easily be put together at relatively low cost. That leaves more room in the budget to ensure you've got great lighting solutions, and accessories that you really love, like a great set of framed art prints.
When choosing lighting for an atelier style office, look for pieces with a more industrial feel to them. We can picture the Lucide Mesh Floor Lamp in the corner of an office in a loft space, while the satin brass shade of the Giada Floor Lamp provides a warm light but looks like it could be right at home in a design studio.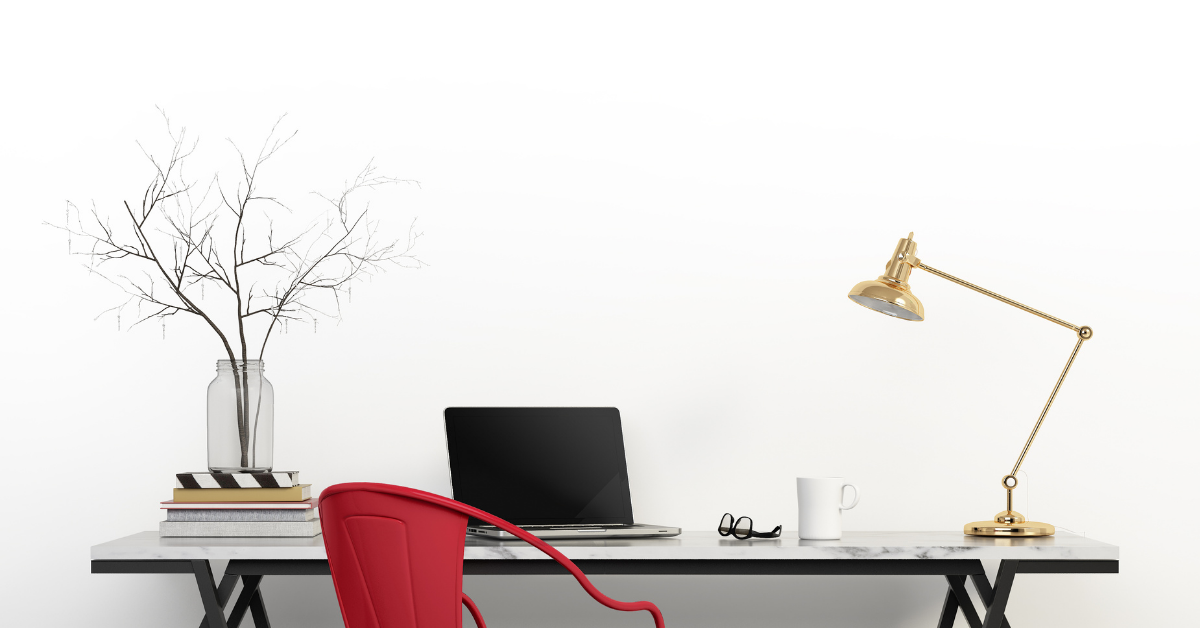 Ceiling lighting fixtures can be minimalist too. Lighting should fit your space, and be adjustable to the perfect height when you install – either above your desk, or from the centre of the room. A really minimalist cable light bar can provide plenty of overhead light over your desk, but if that's a bit stark, then warmth can be added by choosing light fittings made from different materials – try a light bar ceiling pendant in copper.
Bright colours
Even in the most progressive office buildings, there tends to be miles of white, grey, or beige paint and little colour. Your home office space doesn't have to be dull – and if you're not sharing with anyone, you can really let your personality fill the space. 2020 changed everything in terms of working from home, and backgrounds on Zoom calls are not expected to have the same feel as workplace offices – indeed, in many cases, an eye-catching piece in the background is a great way to break the ice on calls with new clients.
Absolutely no colours are off limits for home offices in 2021, though some colours will aid concentration a lot more than others. Colour can have a huge influence on your mood, so be sure to think carefully before you commit to a hue. No matter how on-trend a shade might be, if it makes you feel frustrated or annoyed, it isn't worth it.
If you want to indulge in really playful colours (right up to and including Barbie pink, should you wish!) then you can do so while maintaining the professional nature of your space by using accessories like rugs, chairs, art, and lamps to provide the colour. This Edit Brighton floor lamp is a perfect example of how to use colour playfully, while the Edit Steady lamp in blue adds a lovely little pop of colour to desks.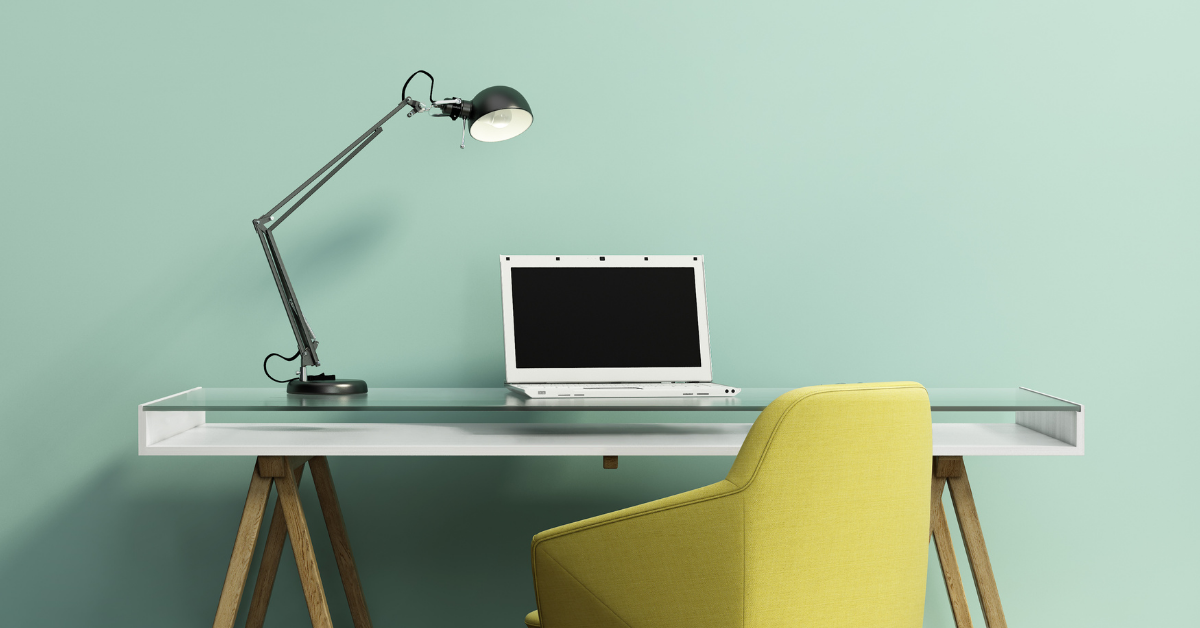 Multipurpose space
It goes without saying that some of us simply don't have enough space to sacrifice a whole room in our homes to our office. With that in mind, spare bedrooms can be converted to multiuse rooms with the addition of a great sofa bed, pull-out desks, and a neutral design with plenty of light, and storage to hide workstations away when they're not in use.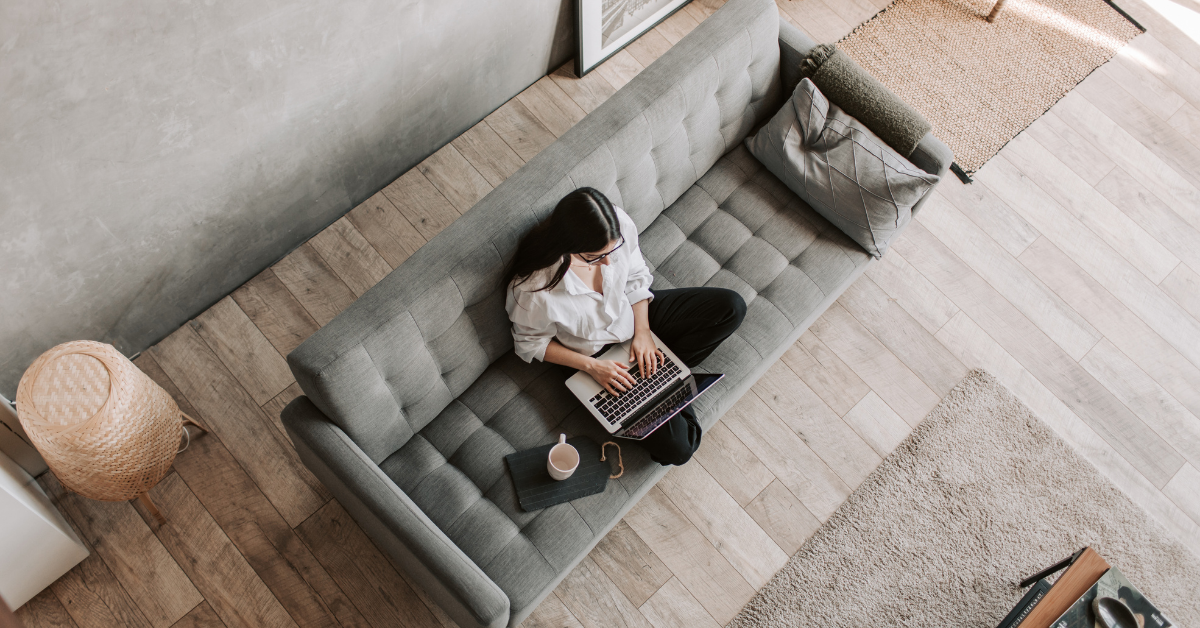 Bedrooms aren't the only places in the house that multipurpose office space is being set up – conservatories, dining rooms and even garages are getting converted into multipurpose space. Particularly while gyms are closed, we know there are hundreds of people working out in the space they're doing their day job in. With that in mind, it is even more important to ensure that you've got the right lighting solutions for different activities. You don't want to finish a workout with a migraine because the spotlight that is angled perfectly for your work has been right in your eyes while you've been on the mat.
Office lighting
Just as in other rooms, it is recommended to have a range of lighting solutions available so that you can have the optimal amount of lighting that you need while you work.
Ambient lighting should fill the room with light to the same sort of level as natural daylight – and can be provided by all types of lighting
Task lighting is used for particular reasons – in office space, it can be desk lamps or reading lights
Accent lighting is used to highlight certain aspects of a room – perhaps art, or architectural features
Ceiling lights
Your ceiling lighting should complement your office décor and styling, while completely illuminating the room and avoiding too much glare. Go for a stark and striking effect with this Edit Rod 15 Arm Ceiling Pendant Light in black, or for a simpler look this Lucide Talowe 45 Halo LED Flush Ceiling Light in black.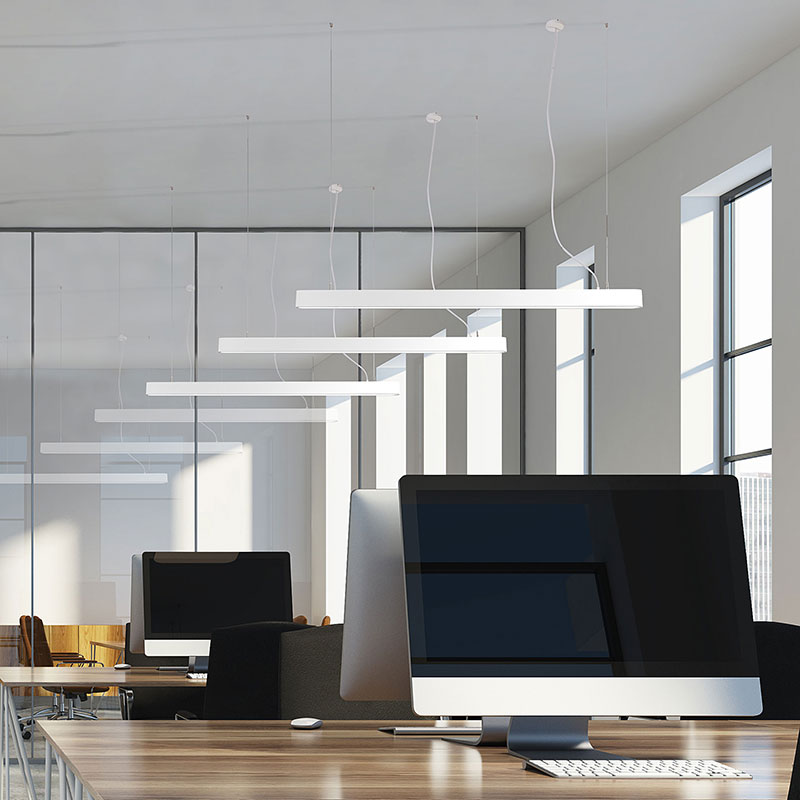 If you're looking for a more corporate, or perhaps an industrial feel in your home office, then an LED bar pendant may be a good ceiling fixture. This Edit LED Bar Ceiling Pendant Light can be fitted to up to 1200mm from the ceiling, and provides warm white light.
Wall lights
Wall lights can be used to provide ambient light, adding to the main ceiling light, but if you've got space for a reading chair, or a nook away from your desk – perhaps in a little used corner – then wall lights can help make the most of that area. Keep it simple with this Edit LED light in polished stainless steel, if you're still a fan of reading books and papers the traditional way. If you're mostly reading on an e-reader or tablet, make it even easier to use the space when your tablet is low on charge by choosing wall lights with USB charging built in. This Lucide Boxer wall light with LED reading light and USB charging port provides both ambient light and a directable beam, and is available in black and white.
Floor lamps
If you have the space, free-standing floor lamps can provide both light and character to an office space. The Lucide Esmee floor lamp, or the Joshua floor lamp are both striking, and look suitably industrious for an office, while a softer, more diffuse effect can be achieved by using lighting with different textures. We've featured the Lucide Goosy soft floor lamp on the blog before, but we love how it can provide a touch of warmth and softness to an office space.
Desk lamps
Desk lamps that have hinges, or swan necks are popular because they can easily be positioned exactly where the user needs the light. Desk lamps come in all shapes, sizes, and colours to suit your styling perfectly – and can provide a small pop colour. This Lucide Bastin desk lamp can be clamped just where you need it – and is available in a beautiful shade of rose pink, or a mid-blue.
For a more minimalist, and serene effect, this Edit Link Table Lamp in black provides a diffused light that works perfectly on uncluttered desks.
For a more traditional, or vintage look (even next to your laptop!) then this Edit Ornate Bankers Table Lamp in antique brass finish can provide the perfect , and is height adjustable, and tiltable.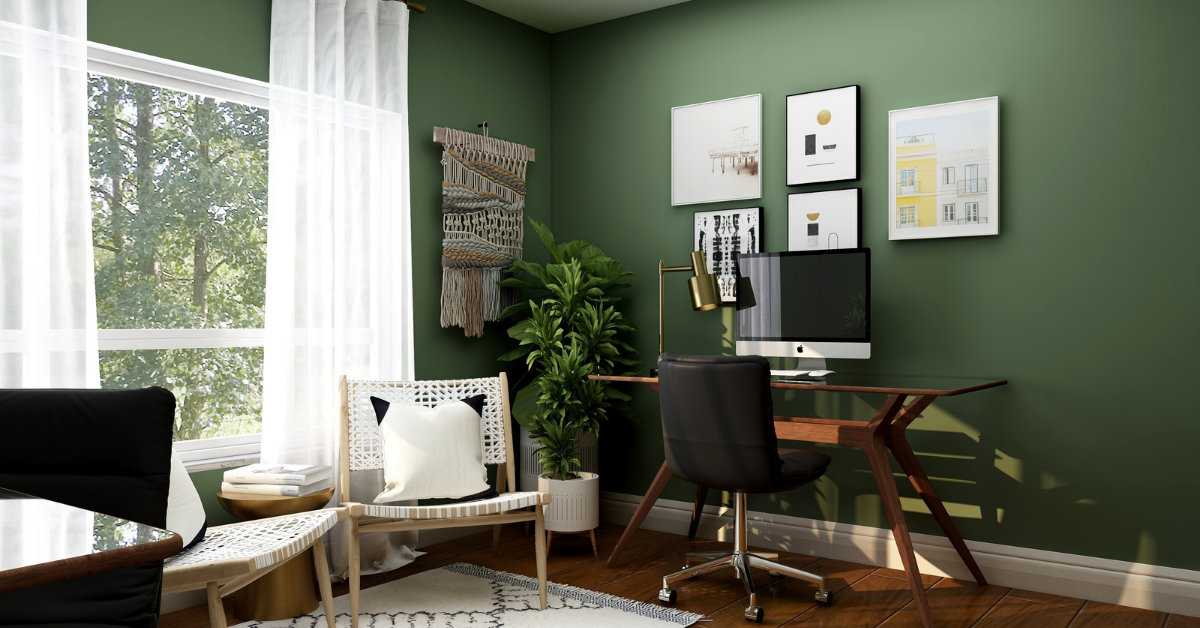 Tips for positioning lighting
As long as you follow the rule that you should have a number of different types of lighting available (so that your office space is flexible) there really isn't any particular rule that you have to follow to the letter – you just need to find what works for you. Here are a few tips to help you get your lighting exactly right:
Cut out glare
There are few things that will trigger a headache quicker than lighting that is bouncing off a computer monitor. While you'll need sufficient lighting in your office, you'll also want to ensure that ambient light is filling the light with space, without causing glare or casting unnecessary shadow.
Task lighting is a priority
Desk lamps can be really beautiful – and there are styles that can suit every style, from traditional 'banker' style lamps to modern table lamps, and all different types of materials, finishes and colours. But just as important as the style of lamp you choose is how you position it.
When you're working on something important, you need to be able to see clearly. Situate your desk lighting to the opposite side of your dominant hand, to avoid shadows being cast as you're working – so, if you're right handed, your task lighting should be situated to the left.
While we're talking about desk lighting – it is totally fine to check your desk lighting is flattering for your face when you're on those never-ending Zoom calls! Ring lights might give the most flattering light, but if they're not practical in your space then look for lighting with both warm and cool tones available, or add a smart LED bulb that allows you to choose the best light for your skin tone, and can be changed when you come off your calls.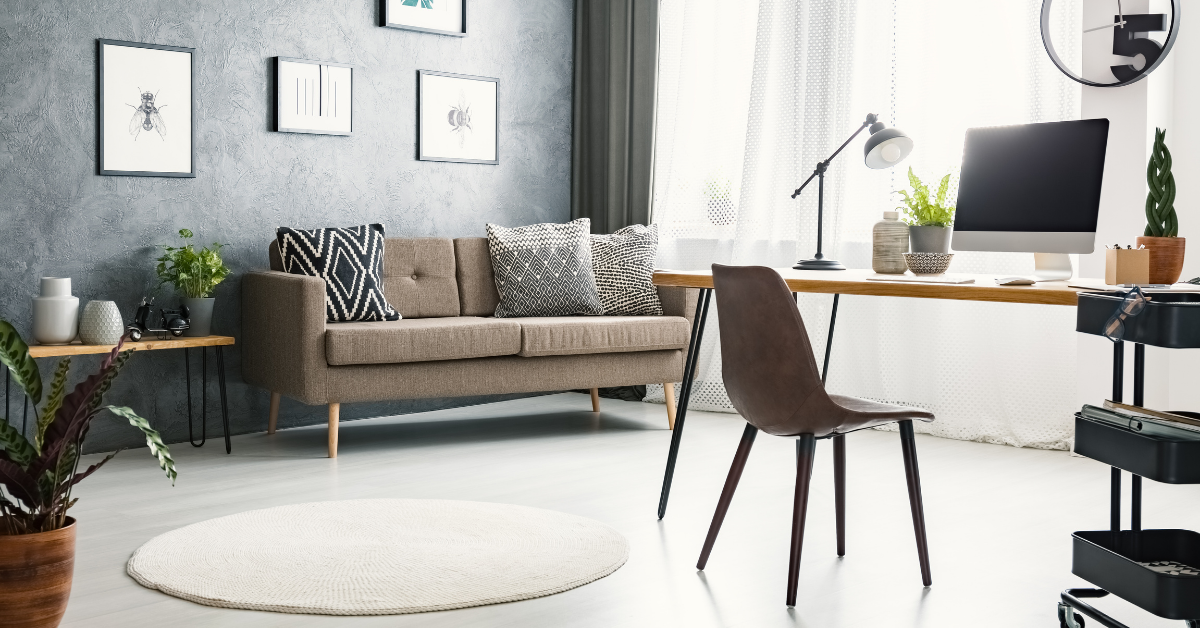 Make the most of natural light
While having great lighting is essential, the benefits of having access to natural daylight can't be ignored – particularly through the winter months. Having natural daylight is beneficial since it can help to reduce eye strain, headaches, and blurred vision. To make the most of the natural daylight without glare on screens, it is recommended to have natural light behind your screen, or to one side. By setting your workstation to face either north or south, you'll be able to ensure that shadows are avoided throughout the day.
Should your office become too warm or bright during the summer months, you can help to reduce this issue by adding solar blinds or semi-sheer voile curtains to diffuse glare without compromising your enjoyment of the natural daylight.
If your office has very little natural light, then ensure you have plenty of lighting available, and you may want to consider adding a light box to your desk, to help reduce the chances of your experiencing SAD (Seasonal Affective Disorder) in the winter.
Lightbulb colour is important
When it comes to the tone and colour of bulbs, it isn't a case of any old bulb will do. Lighting of different hues can have a massive impact on the way in which our mood, energy levels and productivity is, not to mention our feelings of self-control – which could be really important when we're in a heated Zoom call!
Getting the right shade of bulb is essential. Warm white bulbs can create a cosy feel, but they're more likely to make you feel relaxed and perhaps even likely to fall asleep – which is definitely not helpful for your workday. Cool white bulbs, and daylight bulbs are more likely to help you feel alert and more likely to perform better. Browse our range here.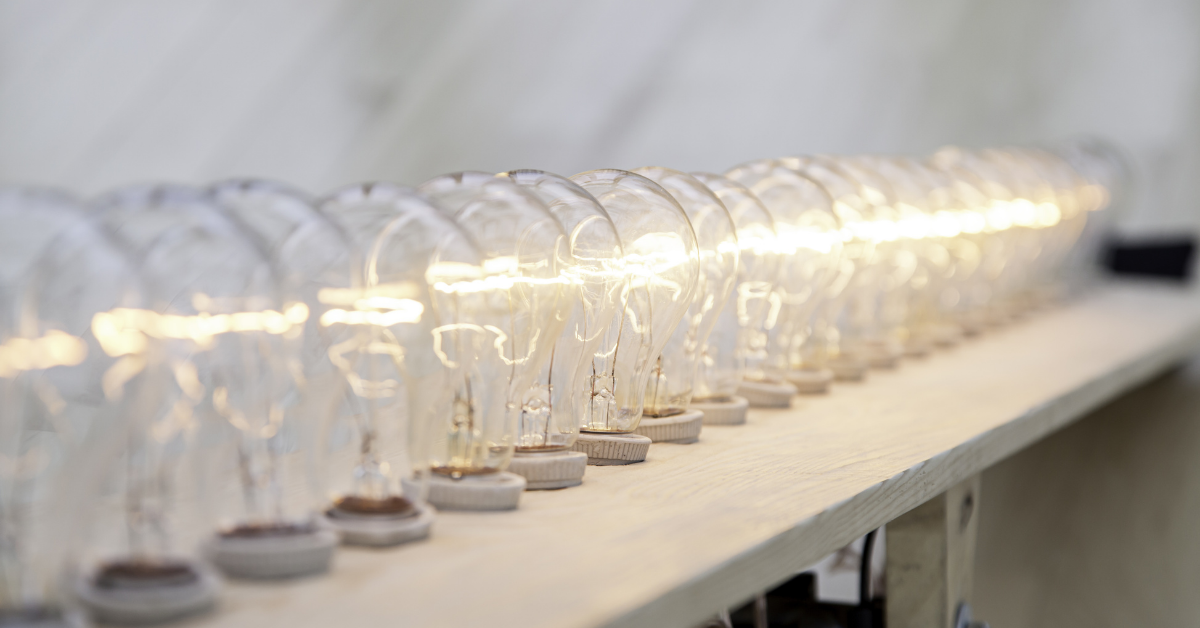 Use accent lights to make things interesting
Just because you're in an office, doesn't mean things should be boring – and lighting can help you to make the most of your space. A beautiful workspace is likely to inspire you, and so highlighting the features of your office that you love will attract the eye and help you to feel happy with your workspace. Accent lighting can be used to highlight your art, or interesting architectural features in your room.
Home office details
Once you've picked the theme for your space, it is all down to the details that can make all the difference to how much you love working in your home office.
Comfort is key
If you're working from home, ensuring your surroundings are comfortable will help you to do your job without distractions. Getting an ergonomic chair, laptop stands to prevent 'tech neck' and ensuring you're able to get the room to an optimal temperature are all essentials, even if your 'office' consists of just one wall of a room.
Flooring
Whether you decide to completely redo the flooring in your office or not, it is a good plan to have rugs, to help provide a feeling of warmth and to help divide the space up, but also to help protect flooring from chairs. Chairs on castor wheels can ruin carpet after a while, and can scratch even the highest quality laminate or wood finish.
Accessories
While you're designing your office, take stock of the accessories that you need, and don't have. If you're using accessories such as rugs, lighting, and soft furnishings to add the colour to your office, search for office essentials such as staplers and hole punches in the same shade. They don't cost a huge amount of money, but feel coordinated and organised, which mentally can help you to feel your work is more organised too.
Don't forget the tiny electrical details either. If your desk lighting doesn't have USB chargers built in, then swap out your electric outlets to include USB power.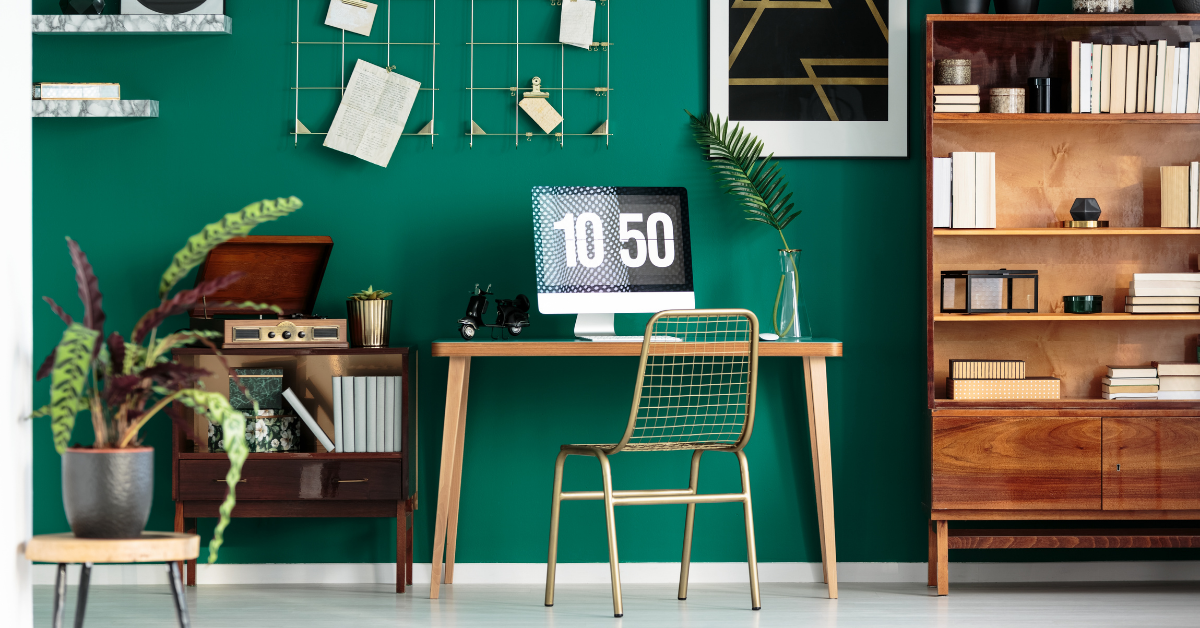 Clear the clutter
A tidy desk is the first step to a clear mind, and will help aid your concentration! If it isn't possible for your work to be completely paperless, make use of aesthetically appealing storage boxes with a system so that you know where to find what you need, and keeps your desk clear for other tasks. Don't forget to use cable tidies, or put wireless charging pads in drawers to keep things uncluttered.
Plants
Keeping your office feeling healthy is much easier when plants are added to the space. While all plants are great for our mental wellbeing, there are some foliage plants that are said help to remove toxins in the air. The Royal Horticultural Society has recommendations for plants that are easy to look after, and that can help to purify the air in your home as well as helping your space feel great.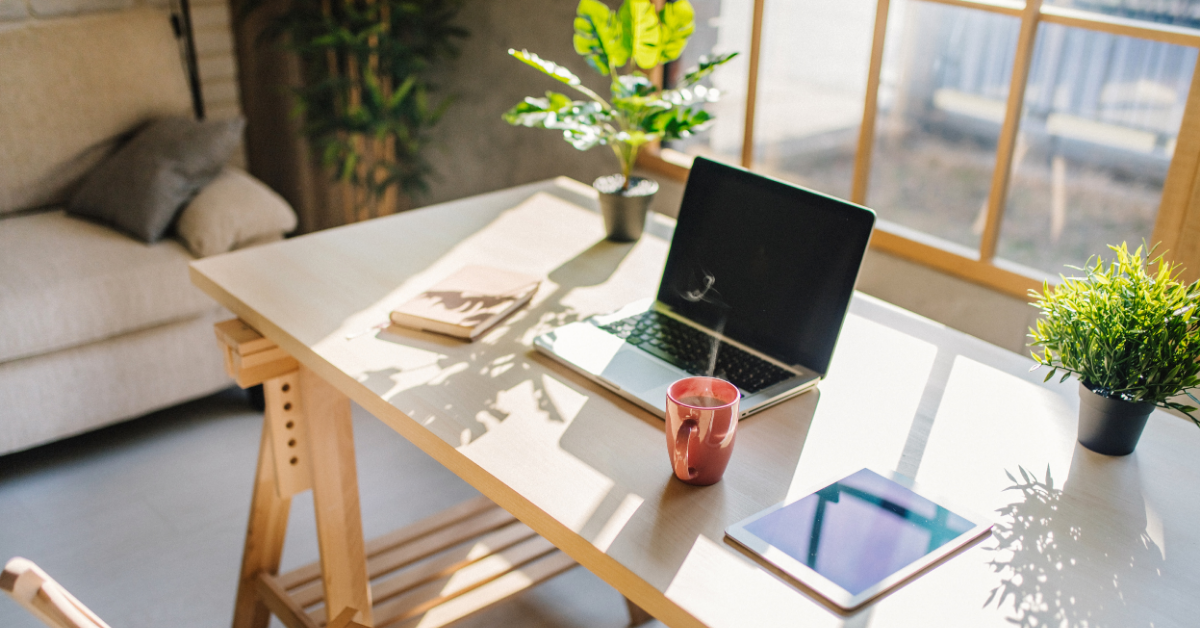 Find more home office lighting solutions here, here and here.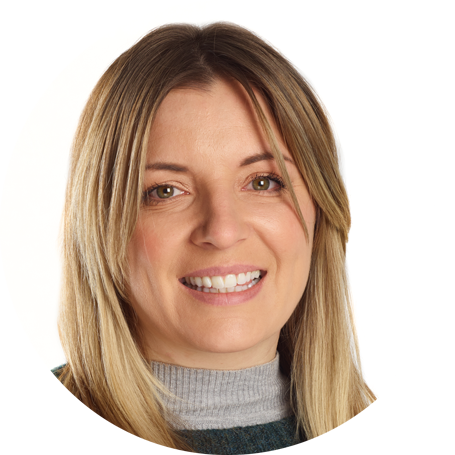 Maxine Clarke Senior Buyer
Maxine has been our decorative buyer since 2015. With her experience in working for consumer-led brands, she is the perfect person to pick out the latest lighting trends for both your home and business. Maxine has an eye for the best up-and-coming lighting from the UK and around the world and works tirelessly to add new brands to our portfolio. One of her trends to watch in 2020 is connectable garden lighting; with summer garden parties more and more popular, being able to build and extend your own outdoor lighting with spotlights, festoons and string lights has never been easier – simply plug and play.