Security Lights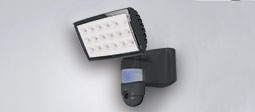 Security lights are clearly extremely important for protecting your family and your property. You've worked hard to earn your home, it's your castle, and it goes without saying that you need to invest in it to keep it safe. Just because, though, security lighting is for a completely practical purpose doesn't mean it can't be well stylised and suited to your home and its period features.
This type of lighting is obviously a lot more important in the autumn and winter months when the nights are longer and the burglary rate increases. The police recommend security lighting as one part of a comprehensive security plan.
What are you looking for?
Something strong that can cover a wide space?
If you are looking for a powerful and robust light to keep your home or business safe then check out our range of Vandal Resistant light. If you want to learn more about bulkhead lighting click here.
Are you looking for something stylish?
If you want a security light that not only blends in perfectly with the décor but also adds to the ambience of your outdoor space take a look at our range of Standard Lights and Lanterns. Another way to bring out the best in a modern or traditional garden is with one of our Post Lights.
Do you need something compact?
Are you looking for something neat and discreet? If so our range of Flush Security Lighting will fit the bill. However if you want something compact but with a more traditional feel, take a look at our impressive range of Half Lanterns.
Movement Sensor?
A PIR movement detection sensor is a very useful feature for your security light to have. Although you may be surprised to find out that there is such a wide variety of light fittings that come with PIR sensors. Why not check out our Buying Guide to Outdoor Sensor Lights.
Security lights are one of life's necessities for most homes these days. They can also add to the overall exterior décor Click here for a review of some good looking security lights. At Lighting Direct we have a huge range to choose from so you're bound to find one that suits your home perfectly.
Read more about Security Lights