Floor Lamps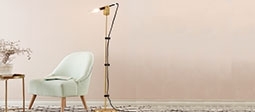 Floor lamps are an expression of interior design charm and sophistication. Some of them can offer an intensely traditional feel to a home, while others are sharp and cutting edge. It goes without saying that choosing the right one for your décor is essential. A well-chosen floor lamp should become a signature feature of a beautiful interior décor. They can work well in combination with other features of a room, for example if you have a living room with a stunning ornate fireplace the right traditional standing lamp will work so well with it. Click here for an interesting look into floor lamps.
What Style of floor lamp are you after?
Something classic?
If you are a lover of traditional elegance you will go mad for our range of classic floor lamps. They are a simple way to emphasise beautiful décor and make a room incredibly captivating.
Maybe contemporary is your thing?
A modern style needs to be sharp, striking and stylish. If you prefer your home to look cutting edge then you need to have a look at our contemporary lamps.
Glamor and extravagance?
Do you want a striking floor lamp that radiates eye-catching beauty? Well if you love décor with a glamorous touch then you need to check out these gorgeous lamps.
Something in black maybe
An attractive
black floor lamp
is a versatile accessory that will work well with many styles of décor. Black can be teamed with other colours in so many different ways to add definition and distinction.
What about price range?
Cost effective?
At Lighting Direct some of our floor lamps are more expensive than others, but all of them are of outstanding style and quality. Therefore if you are looking for a lamp that won't break the bank we have what you need. Click here for some affordable options.
Want to splash out?
If you are looking to invest in your home lighting and prefer to shop for premium products then click here for our top end range of lamps.
Floor lamps are a beautiful and timeless way to add character and distinction to your home. They can make almost any décor dynamically more interesting and vivid. This humble lamp is one of the homes oldest lighting features. However it has evolved over the years and its style has been adapted to many different environments. At Lighting Direct we try to offer a huge range of these elegant lamps.
Read more about Floor Lamps