Before you head to the hardware store to get supplies for a bedroom redesign, you need to think about the functions that you're decorating needs to fulfil. Decorating an adult bedroom is a pretty different task to that of a child or teenager that uses their bedroom for homework, or for a spare bedroom that functions as an office. The multiple uses for bedrooms mean that when choosing bedroom décor, you'll also need to ensure you've got enough of, and the right type of lighting for the room. In this post, we're going to take a look at some bedroom lighting ideas, touch on some great tips that ensure your lighting works well for you, before ending with some tips for bedroom décor in 2021.
How bright should bedroom lighting be?
Most homes require bedrooms to serve several purposes, from getting dressed and ready for the day, providing a place to sit and study, or to read, allowing us to relax ahead of sleep – and of course, to be romantic with our partners. With so many different needs from a single room, there is no wonder that many people opt to have a choice of lighting in their bedrooms. As a minimum, most bedrooms have lamps that are close to the bed, as well as the overhead light, to provide the perfect amount of lighting for any given moment. There are two main types of lighting that you need for your bedroom: task lighting, and ambient lighting.
Ambient lighting is designed to flood the room with light, providing nearly the same amount of lighting as natural daylight. This is often provided from overhead lights, using bright bulbs that make it easy to see what we're doing. With dimmer switches fitted, ambient lighting can also act as mood lighting, providing more flexibility.
Task lighting refers to functional lighting within easy reach of the bed, at a dressing table for the application of makeup, or at a desk – such as in rooms for children, students, or those of us who now work from home and have to maximise the use of space. This type of lighting needs the correct type of light bulbs to be installed – white or blue-tinged light bulbs for desk lamps or at a dressing table, and softer, warmer light bulbs for bedside tables that are to be used before sleep.
Depending on the size of the bedroom and architectural features, accent lighting may be used alongside ambient and task lighting – and having a choice of all three types is a great idea, since it provides the most versatility for different circumstances.
Bedroom lighting ideas
While our bedrooms are where we rest, and the lighting we choose needing to be functional and adaptable for our needs, it should also suit our personality, and reflect our taste in interior design. With so many different tastes and styles for bedroom decor, there are endless options for bedroom lighting to set just the right mood.
Add a sculptural shade
Create a striking effect by adding a beautiful, sculptural shade that catches the eye. Whether you add the shade to a ceiling light, or to lamps on bedside tables, the effect can be striking with the right ones. Use sculptural shades on bedside tables with minimalist styling to let the design of the shade take centre stage, or find an unusual ceiling shade to create interesting shadows.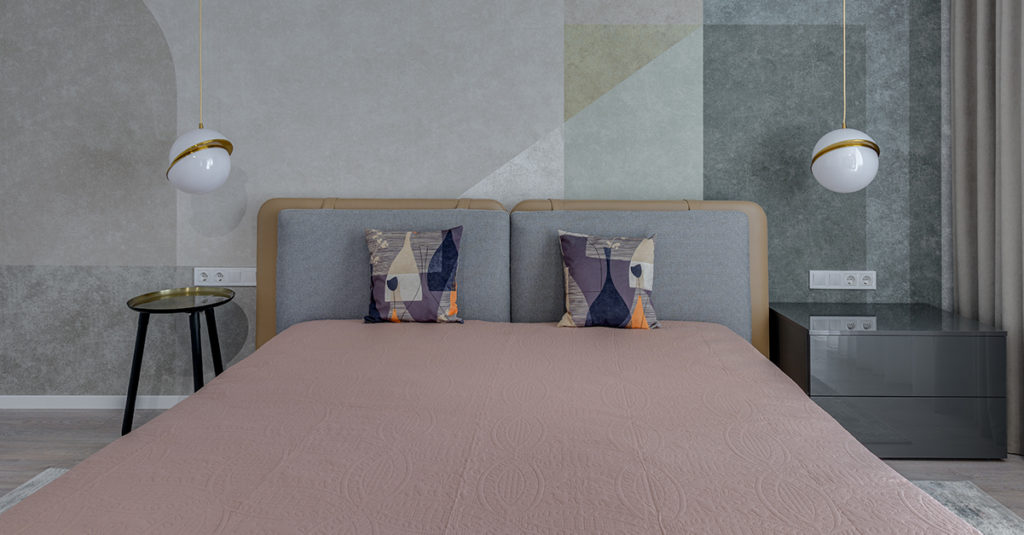 Use a chandelier
If you're lucky enough to have a bigger bedroom and higher ceilings to work with, then look at chandeliers to help create a glamorous effect. There are a huge number of options when it comes to chandeliers (and that don't necessarily mean weekly dusting is required!) and there are plenty of styles to suit every taste. A few examples include:
Choose an uncluttered ceiling pendant in an unexpected metal such as black nickel for a sleek modern look
A hanging candelabra design can add to cosy boudoir styling without the hassle or risk of burning candles
To create a particularly grand effect, choose chrome and crystals to send light and mini rainbows bouncing across the room
For a more retro feel, seek out sputnik chandeliers with multiple spokes to add a 1970s vibe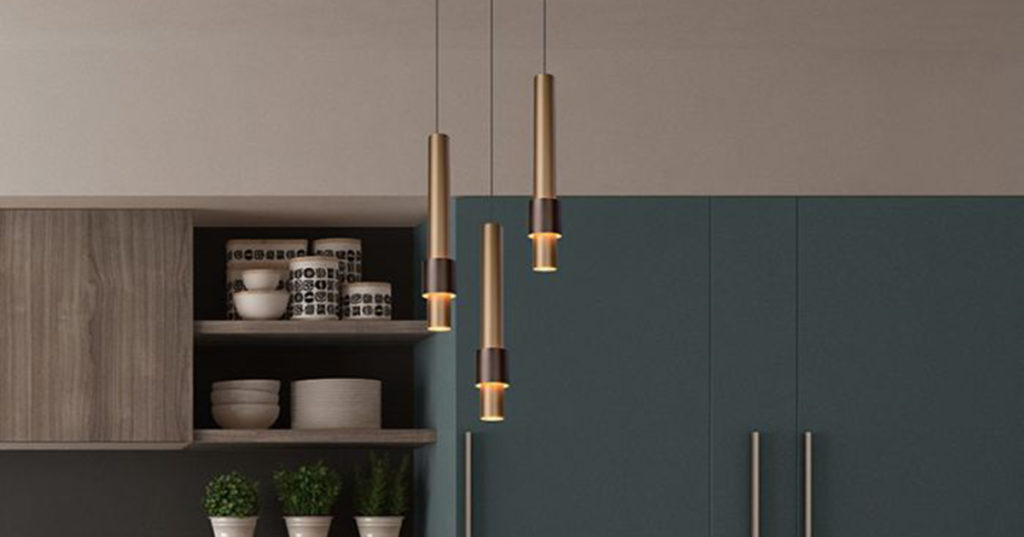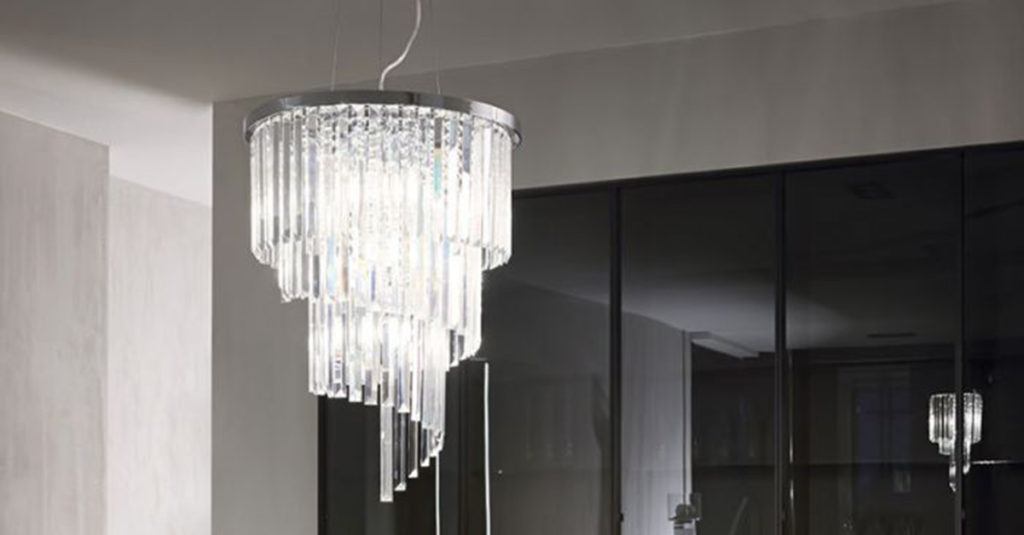 Choose soft light shades
A great bedroom is all about softness to relax into – and so accessories in the bedroom are all about textures too. Look for pieces that complement the feel of the room, in textures such as velvet or silk, or made from fabric with pleating. To add soft, textured lighting on a budget, try basic spherical pendant shades made from paper that can be found for just a few pounds.
On a standing tripod floor lamp, this unexpected feather shade draws the eye and gives off a glow that is easy on the eyes into the evening.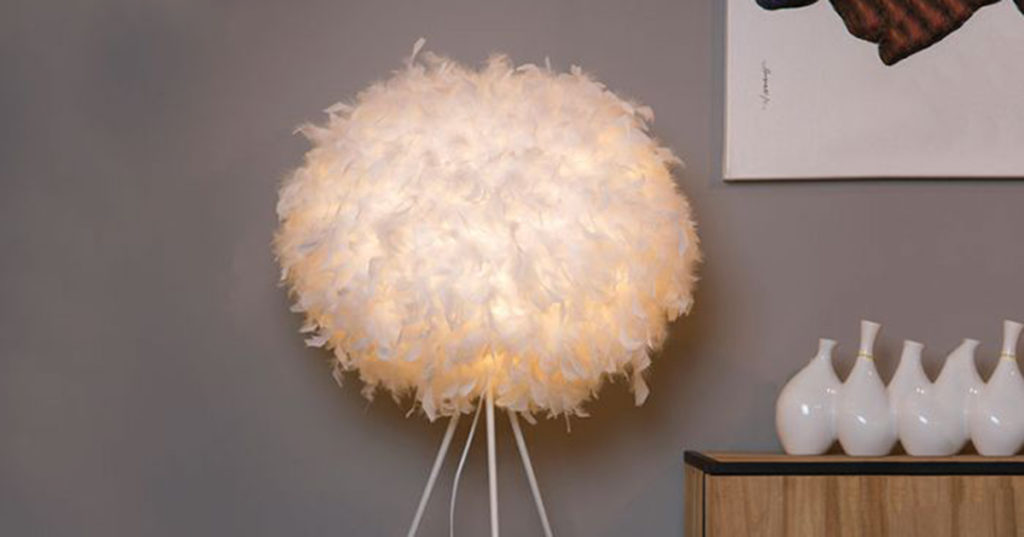 Make statement lamp bases the focus
There are some phenomenal statement lamp bases available today that can add interest to a bedroom. Choose from lamp bases in traditional shapes, but with unusual designs or striking colours, or find statuesque lamp bases that allow the shape to take centre stage. Searching online, it is possible to find lamp bases in the shapes of animals, with prints that complement the décor, or even that can hold plants – so it is well worth taking the time to browse for something really unusual and that suits the styling of the bedroom.
We've featured this orange table lamp before, but we love the playful bright pop of orange that it provides to an otherwise dark decor, while the zebra feature keeps it tied into the darker theme of the room.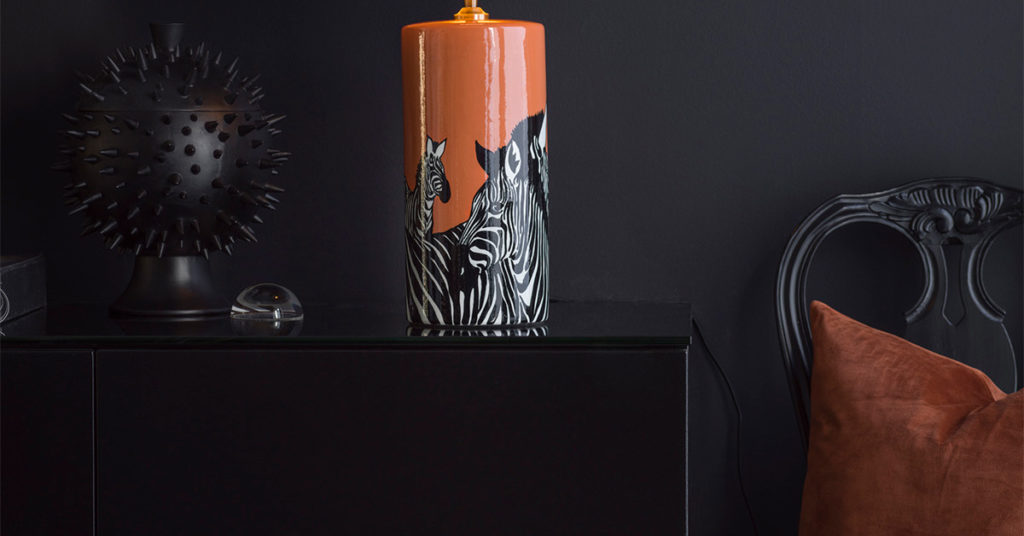 Keep it monochrome
Keep your bedroom simple and timeless, suited for visitors of any age by using a monochrome effect. Pure white walls feel crisp and fresh, with contrast from the furniture and black and white print with a dark frame.
If you're on a budget, this look is ideal since you can choose simple and inexpensive bases for your bedside table lamps, and choose simple shades. To create a different feel to the room, switch out bed sheets for a coloured set, and change the print in the frame to one that matches the colour of the bed linens.
Evoke the feel of a chic hotel
When you're decorating your spare room ready for guests, look to your favourite hotels for inspiration. Use shades from darker palettes to create a restful feel, with blackout curtains or shades to ensure your visitors sleep well. As in hotels, add wall lights on either side of the headboard to ensure no guests trip on their way back to bed. Be sure to use great quality bed linen and pillows to create a wonderfully comfortable room that your guests will want to return to, time and time again.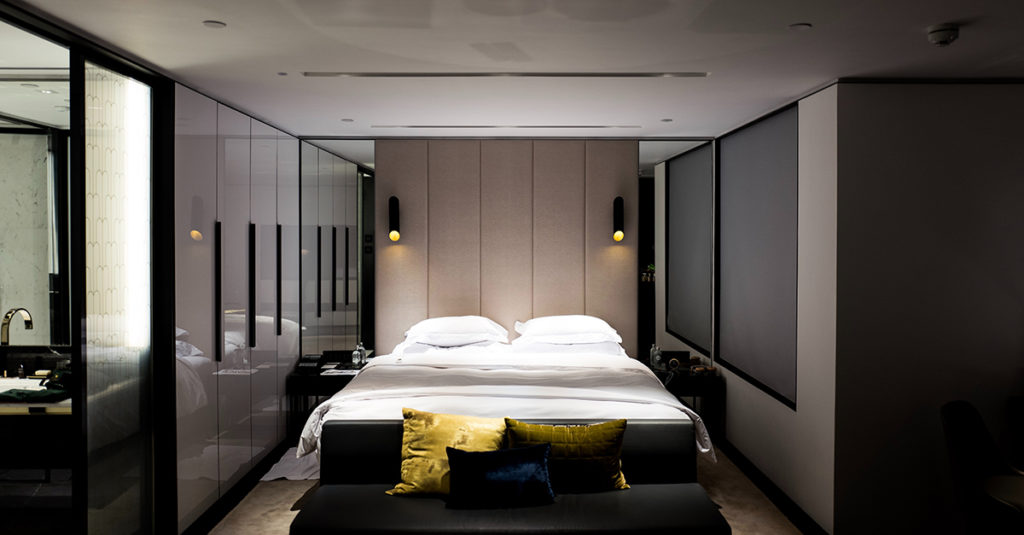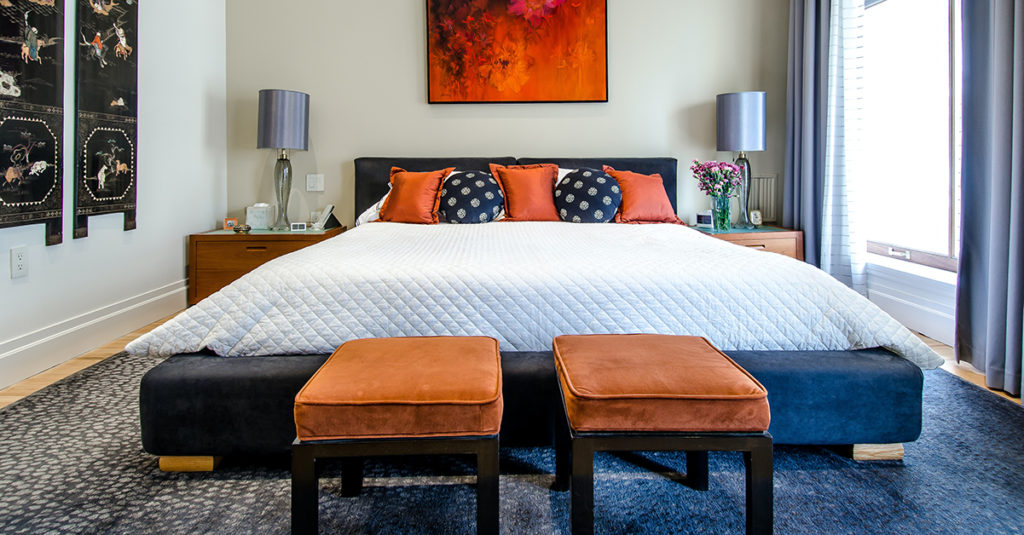 Use fairy lights to create atmosphere
Fairy lights have long broken their connection to Christmas and dingy student accommodations. While they're not a traditional style of lighting for bedrooms – particularly for adult bedrooms – with the right type of décor and styling, fairy lights can be an incredibly inexpensive way to update and create atmospheric lighting in bedrooms for children.
Run a string of fairy lights along bookshelves to allow children who definitely aren't afraid of the dark a little more visibility as they fall asleep, without the embarrassment factor of getting caught by their friends with a nightlight. For older teenagers, use a net of fairy lights above the bed to create a star-like effect, with piles of pillows and textured blankets to create a cosy, outdoorsy feel.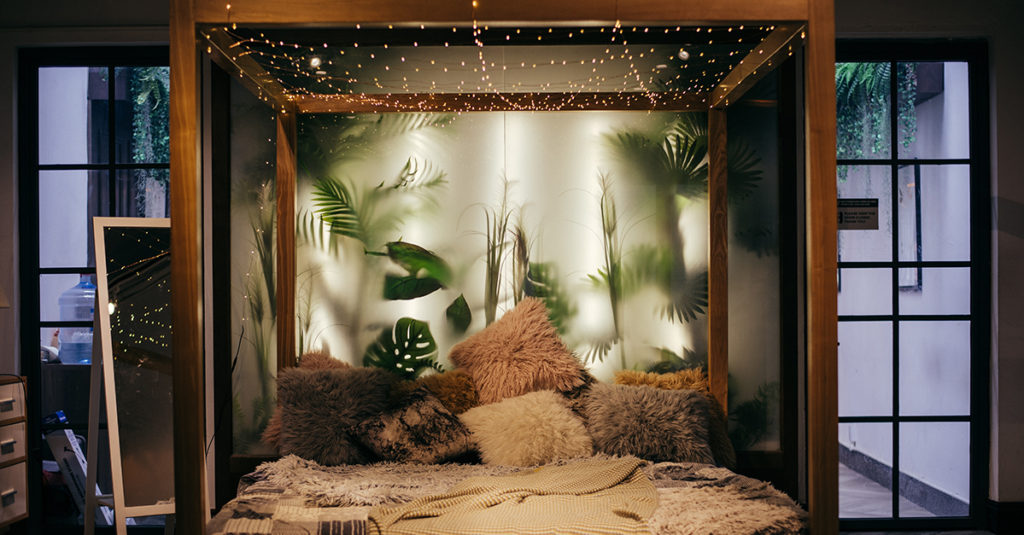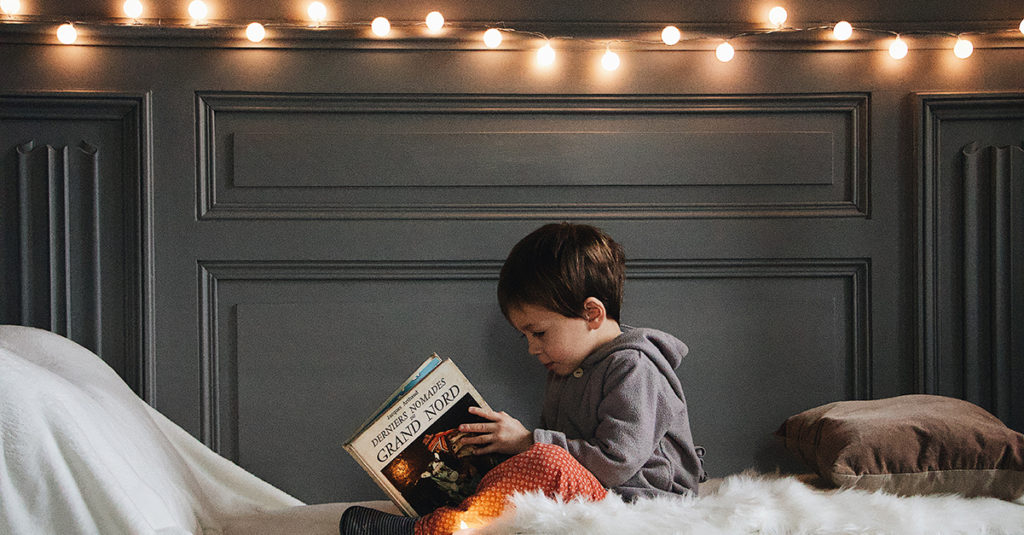 Bedroom lighting tips
When it comes to getting your bedroom lighting sorted, there are a few things we recommend thinking about before placing any orders.
Measure height carefully
As you're choosing the style of your ceiling lighting, be sure to think about the individuals that will be in your bedroom regularly. If your partner, or another member of your family is tall, ensure the fixture has enough headroom clearance – bashing one's head does not make for restful sleep!
Ensure your lights work for you
When you're choosing lighting options, and lightshades for your bedroom, make sure you've got enough light where you need it – and that you don't have too much where you don't want it. If you're a fan of reading in bed, be sure to check that you can see well enough with the bedside lights that you have chosen. With ceiling lights, think about whether the shade prevents the light from shining directly at your eyes when you're laid on the bed – keep relaxation in mind.
Choosing lighting accessories
When it comes to setting the mood perfectly in the bedroom, sometimes additional accessories are required. In addition to choosing the right lighting – whether that is overhead lighting, wall lights, or lamps for your bedside table – you might want to consider which type of light bulb will set the right mood, and whether dimmer switches will help you create the right type of ambiance.
Nobody likes having to get out of bed to turn off lights – especially when they have just managed to get comfortable. Consider whether adding a smart plug controlled by your home assistant (such as Google Home or Amazon Echo), or through an app on your phone would make life just that little bit more relaxing. Unbranded smart plugs are starting to be more readily available and so prices are dropping – so adding one to your lamp gives you the luxury of never having to move when you've just got comfortable ever again. We have a range of bulbs that work with smart devices, please read the description carefully to ensure they work with the set up you have at home.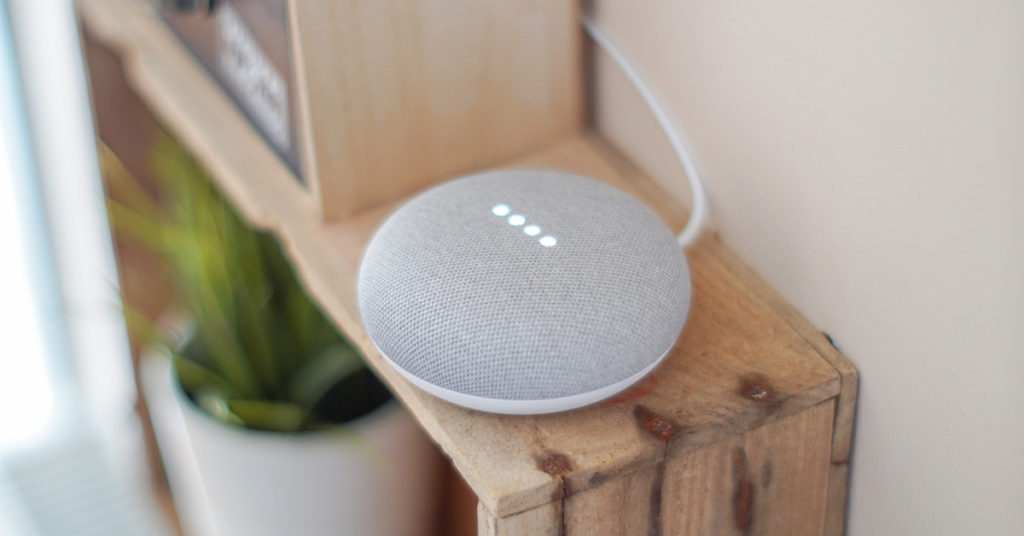 Combat Seasonal Affective Disorder
Few of us enjoy waking up in the dark in the middle of the winter. If you suffer from Seasonal Affective Disorder (SAD) and struggle to wake during the dark mornings (or just hate waking up in the dark), one of the best changes you can make is to switch to an alarm clock with a built-in light. These alarm clocks have lights that gradually gets brighter the closer it gets to the time you need to wake, mimicking the natural dawn. There is plenty of evidence to suggest that they really work too. While the Lumie range are by far the best known, there are plenty of generic versions available online that provide the same experience.
Fighting insomnia
Falling asleep can be a huge challenge sometimes, even with a really great bedroom. If you suffer from insomnia, a sunrise alarm clock can help, since there are usually settings to mimic sunset, which can help you to fall asleep. If you have dimmer switches in your bedroom, use those to set lighting to a low level to help you wind down before bed, and be sure to add blackout curtains or blinds to prevent the sun from waking you early during the summer months.
When you're decorating and choosing new lighting for your bedroom, don't forget to choose warmer shades for your bulbs, especially for lighting that you use just as you fall asleep. White and blue-toned bulbs mimic natural daylight and are likely to stop you from falling asleep – which is absolutely not the desired effect. While we're talking about blue light, it is a good idea to keep your phone or tablets out of the bedroom too. If you need to use tech into the evenings, turn on blue light blocking modes, and stop using them at least an hour before you need to sleep.
Bedroom decorating tips
We all know that our bedroom is our sanctuary, a place that we can go to escape the world and feel relaxed. But that doesn't mean the same thing to everyone, and bedrooms should also reflect our personalities and individual tastes.
Depending on what you want to achieve with your bedroom, you'll want to ensure the colours you use will promote a restful night's sleep. Although you'll naturally gravitate towards your favourite colours, it is better to use toned-down versions, particularly if you prefer brighter shades, and to use bright colours sparingly. Some colours are considered restful and calming, such as blues, lavenders, and pale greens, while cooler bedrooms may benefit from jewel tones or warm brown décor to evoke the feeling of cosiness.
Bedroom colours for 2021
If you're looking to decorate your bedroom before lockdown ends and you're looking for modern design ideas, you can't go wrong if you start by checking Pantone's colour of the year. This year, Pantone chose two colours for the year – 17-5104 "Ultimate Gray" and 13-0647 "Illuminating", a bright sunny yellow.
Shades of grey have been popular for bedroom design for some time, due to the calming and restful feel that they bring to the room. While the bright yellow of Pantone's Illuminating is likely to feel too bright on the walls of a bedroom for most of us, using Ultimate Gray on walls (alongside a white to prevent the room from feeling too dark) can create a perfect resting space. Add in pops of Pantone Illuminating throughout the room on cushions, bedspreads, and accent chairs for a truly 2021 bedroom.
If grey and yellow don't suit your taste, perhaps the shade Brave Ground that Dulux have chosen for their colour of the year for 2021. Brave Ground is a warm, earthy shade of taupe that feels restful in a similar way to Ultimate Gray, but with more depth. It acts as a neutral and pairs well with other muted earthy tones, blues, and shades of deep pinks and lavender.
Finally, we look to US paint manufacturer Benjamin Moore. This year, they chose Aegean Teal 2136-40 for their colour of the year, a sun-baked teal that suits every room throughout the home, but looks wonderful in bright bedrooms paired with neutral blinds and furniture.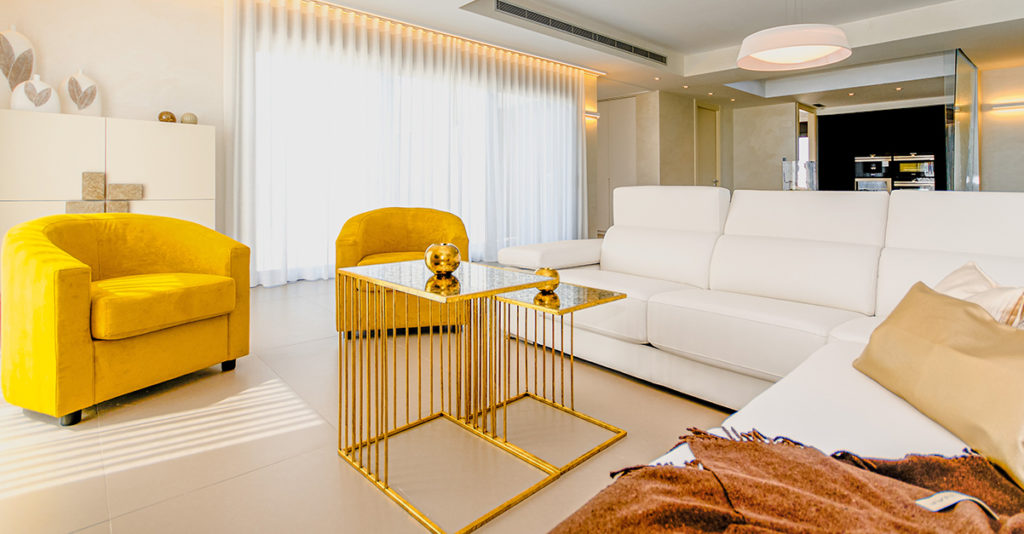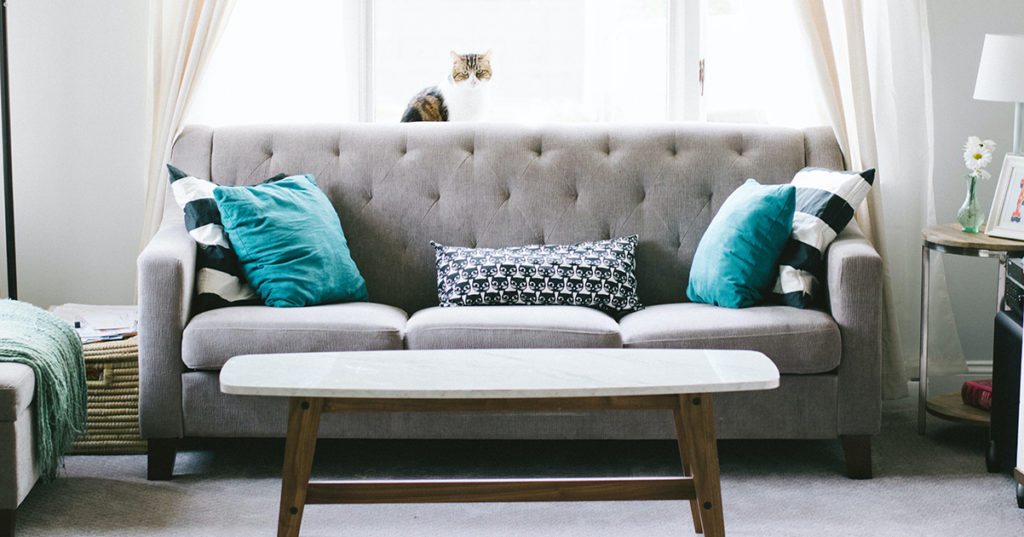 Bedroom furniture
Making choices about bedroom furniture depends on the space you have available. Before making any purchases, measure the space carefully, so that you can ensure the furniture you pick will suit the room. The bigger the room, so the size of the furniture needs to be bigger. If you're working with a small space, choose smaller furniture with clever storage solutions, and consider using mirrors to reflect light and make the room feel bigger.
Remember, a tidy space is much more likely to feel restful. To keep your bedroom free of clutter, ensure your furniture has enough storage. Choose bedside tables with enough space to hold the items you need for bedtime, storage boxes or benches to keep extra blankets or pillows, and use storage organisation systems (that are widely available online) to maximise the use of space in your wardrobes.
Bedding
Since the average person spends about 26 years of their lives asleep, it makes sense to have bedding that encourages restful sleep. Invest in the best quality linen that you can afford, either in 100% cotton or linen, with a high thread count. Having throws, blankets, and cushions available to the bed provides additional comfort and warmth for when you're sleeping.
For more bedroom lighting ideas, search our ceiling lighting, wall lights, and lamps.
Maxine Clarke Senior Buyer
Maxine has been our decorative buyer since 2015. With her experience in working for consumer-led brands, she is the perfect person to pick out the latest lighting trends for both your home and business. Maxine has an eye for the best up-and-coming lighting from the UK and around the world and works tirelessly to add new brands to our portfolio. One of her trends to watch in 2020 is connectable garden lighting; with summer garden parties more and more popular, being able to build and extend your own outdoor lighting with spotlights, festoons and string lights has never been easier – simply plug and play.