After a long winter, these first few spring-like days have got us all dreaming about the glorious days of summer – and how fantastic it will be when we're able to spend all that time in the garden. Although the days are getting longer as we write this post, the longest day is actually in June – which means there are likely to be plenty of nights that we need garden lighting if we're to make the most of our outdoor space.
The right type of garden lighting for you will depend on the size of your space, the access that you have to electricity, the safety of the area that you live, and your personal preference. There is a lot to consider when you're choosing garden lighting, but in this post, we'll guide you through the options available, so that you can make the best decision.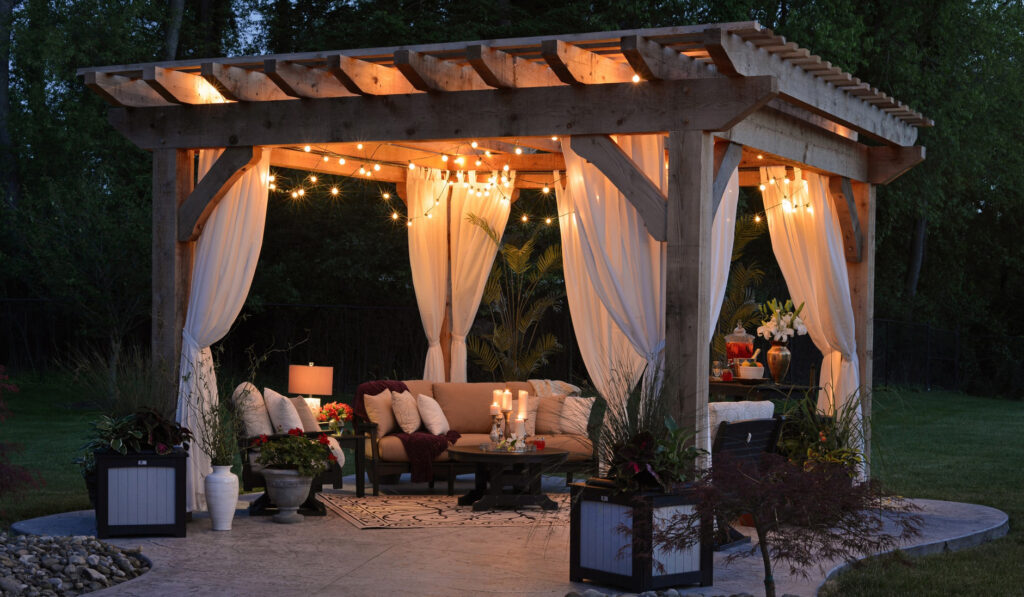 What Types Of Garden Lighting Are There?
You've probably already got security lighting in place to help you and your family access your home safely – most of us do. That is one type of outdoor lighting, but there's a big difference between a functional floodlight or porch lights by the entry to your home, and some stylish garden lights that add ambience to your garden throughout those balmy spring and summer evenings.
In your garden, just as in your home, you'll need to think about the function of each type of lighting, and make sure that you have enough of each in the space. There is some crossover in the categories, so don't get too worried about having enough of each type – just be certain your garden lighting looks great and works well enough for your needs.
Ambient lights provide a lot of light – perhaps not quite as much as daylight, but certainly enough to see family and friends with. These will include lanterns, lamp posts, wall lights, as well as festoons and fairy lights, depending on how they are used. Task lighting is used for a specific purpose – so this might be in an outdoor kitchen or above a patio dining area, or to light up paths. Wall lights, festoons, stake lights, in-ground lighting, and outdoor pendants are all useful for task lighting in the garden. Accent lighting is the fun bit in gardens – since it can be used to highlight certain elements of the space. Festoons and fairy lights, stake floodlights, and in-ground lights are all perfect to accentuate areas of the garden that we adore and want to draw attention to during the evenings.
Festoon Lights And Fairy Lights
Summer parties that linger on into the evening need lighting up – and what better way to create a festive, carnival atmosphere than strings of fairy lights, or festoons? You might prefer all-white lights, or you might want the celebratory feel that strings of coloured lights bring. Maybe, you want to add both! Whatever type of string light you want for your garden, there are loads of different options to choose from.
Many types of string lights are now made with LEDs – and as we've already mentioned, they don't require a lot of power to emit bright light. That means you can make the most of solar powered string lights – wherever, and however you want to install them.
This filament battery operated chandelier looks gorgeous under parasols, but there is a huge array of festoons available – whether you choose these heavy duty ones, or these multicoloured solar LED string lights.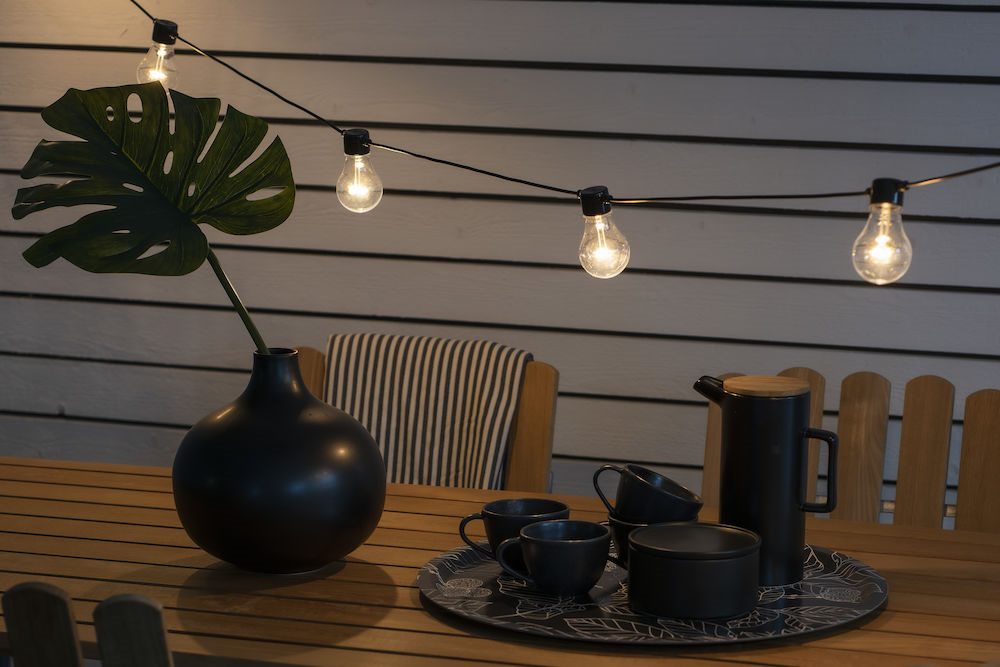 When it comes to fairy lights, there are even more options available to you. Of course, there's nothing to stop you making use of the fairy lights from Christmas, but there are even more summery styles that can light up your garden during the warmer months. We love these warm white cluster curtain string lights, that look beautiful on the edge of a pergola, or to help mark out a space.
To really draw attention to different trees and bushes, fairy lights on a net can be used for even more drama – this battery operated option works well – or you can find purely decorative styles, such as this style which has clusters of LED fairy lights, and can emit either multicoloured lights, or warm white.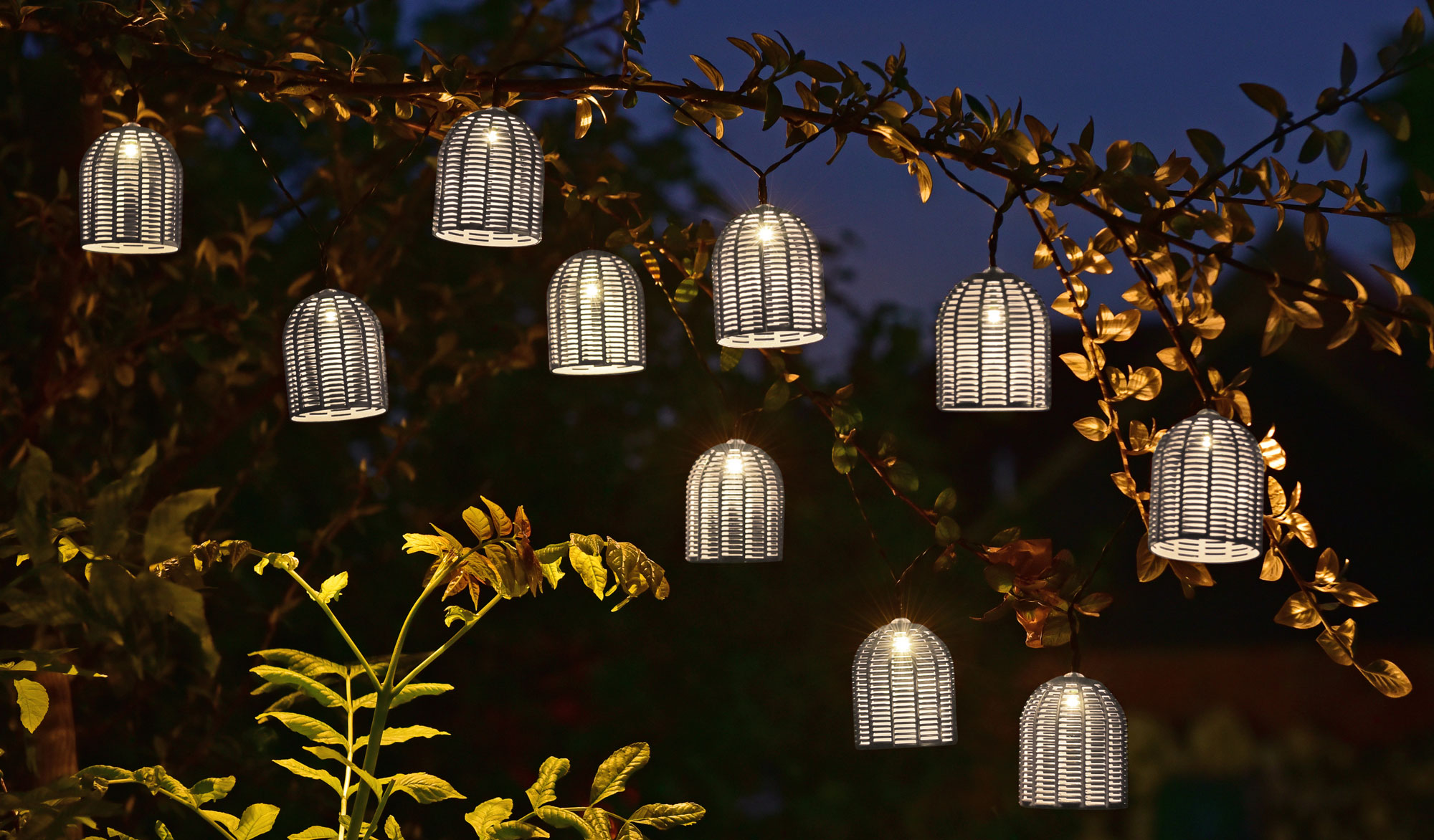 Stake Lights
When you're lighting the way to your patio, fire pit area, or simply want to cast a bit more light on your garden path, stake lights are one of the options you'll almost certainly be looking at. The best thing about stake lights is how easy they are to install. They simply push into the ground, and although there are some models that need to be plugged in, many are solar powered, so once you've placed them where you want them, you simply have to wait for the sun to charge the battery for them to start lighting up at dusk.
This pack of four solar LEDs in black nickel finish are perfect for marking edges of paths and flower borders, and these colour changing ones are great for parties – and are multifunctional, since the tops can be removed to be used as pretty table decorations too.
Stake lights can be used for decoration as well as practical lighting – this industrial lantern is a good option for areas that you want to light up without the need for installing wiring, as it uses solar powered LEDs. Another perfect addition is these hook lanterns that are solar powered and can be placed anywhere in the sunshine, to provide up to six hours of light.
If you've got a certain area of your garden that you want to cast light on – a particular tree, or maybe a water feature – then a stake spotlight is a great option. Typically these have quite a modern look to them – such as this Edit Porto Garden Spotlight – but you can find styles with different metals, and rustic styles such as this rust brown model that would look perfectly at home in a cottage style garden.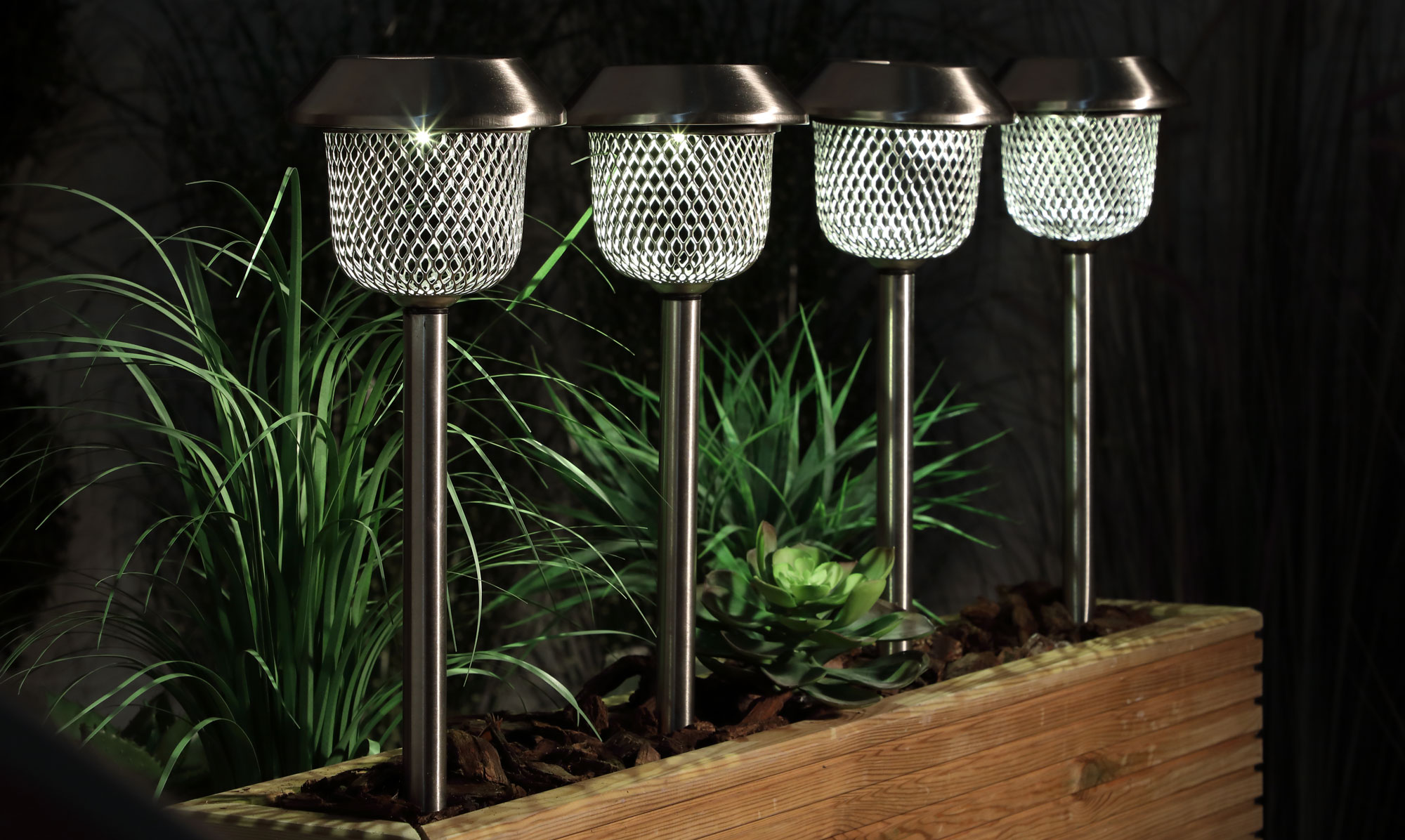 In-Ground Lights
If you're looking to permanently light up pathways, edges of patios, decks, and driveways, you'll almost certainly be looking at deck and ground lights. They're a great way to help prevent slips, trips, and falls, but once they are installed they also look incredibly pretty – and can add to the atmosphere in your summer garden, even though they're designed to be functional in nature.
The majority of in-ground lights make use of LEDs, so they provide a lot of brightness without needing a huge amount of power. There's a lot of options when it comes to in-ground lights, and some also have pretty finishes, like this puddle ground light.
While there are many types of in-ground lights that need to be installed properly, if you don't fancy sorting out the wiring, you still have options. These ground lights are solar powered, and have a small stake to keep them in place – and they're available in a convenient pack of four.
Table Lamps
Whether you're dining al fresco during summer evenings, or you're on the veranda with a great book and a drink, a little extra light on the table is always helpful, and can create a fun ambience too. Our mushroom feature table lights have colour changing LEDs, and have rechargeable batteries, while the Lola battery operated outdoor table lamp is also rechargeable, and is a sophisticated choice for conservatories.
The great thing about these types of table lamps is how flexible they can be – they might be used in the conservatory most of the year, but then on particular nights of the year, they can be safely brought outside for use during garden parties or outdoor dinners.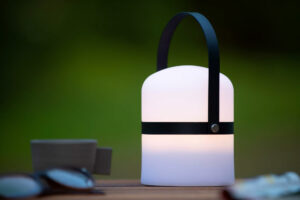 Pendant Lights
Pendant lights, in the garden? It doesn't sound like a logical pairing, but if you have a covered veranda, a pergola, a conservatory, or even a temporary gazebo, then an outdoor pendant light should definitely be on your list of garden lighting to consider. Garden pendant lights are ideal above outdoor dining areas and seating areas, and can provide large amounts of ambient light for dinners and drinks.
As with ceiling pendants for indoor spaces, there are loads of different styles to choose from – from traditional lantern styles to modern outdoor chandeliers. We particularly love how some of the outdoor pendants are made from rattan, giving a real holiday vibe that, alongside a few coloured fairy lights, creates the perfect atmosphere for a few summer cocktails. This Saona style, and this Positano style are both ideal for summer parties, and are USB rechargeable – so there's no need to search for new batteries.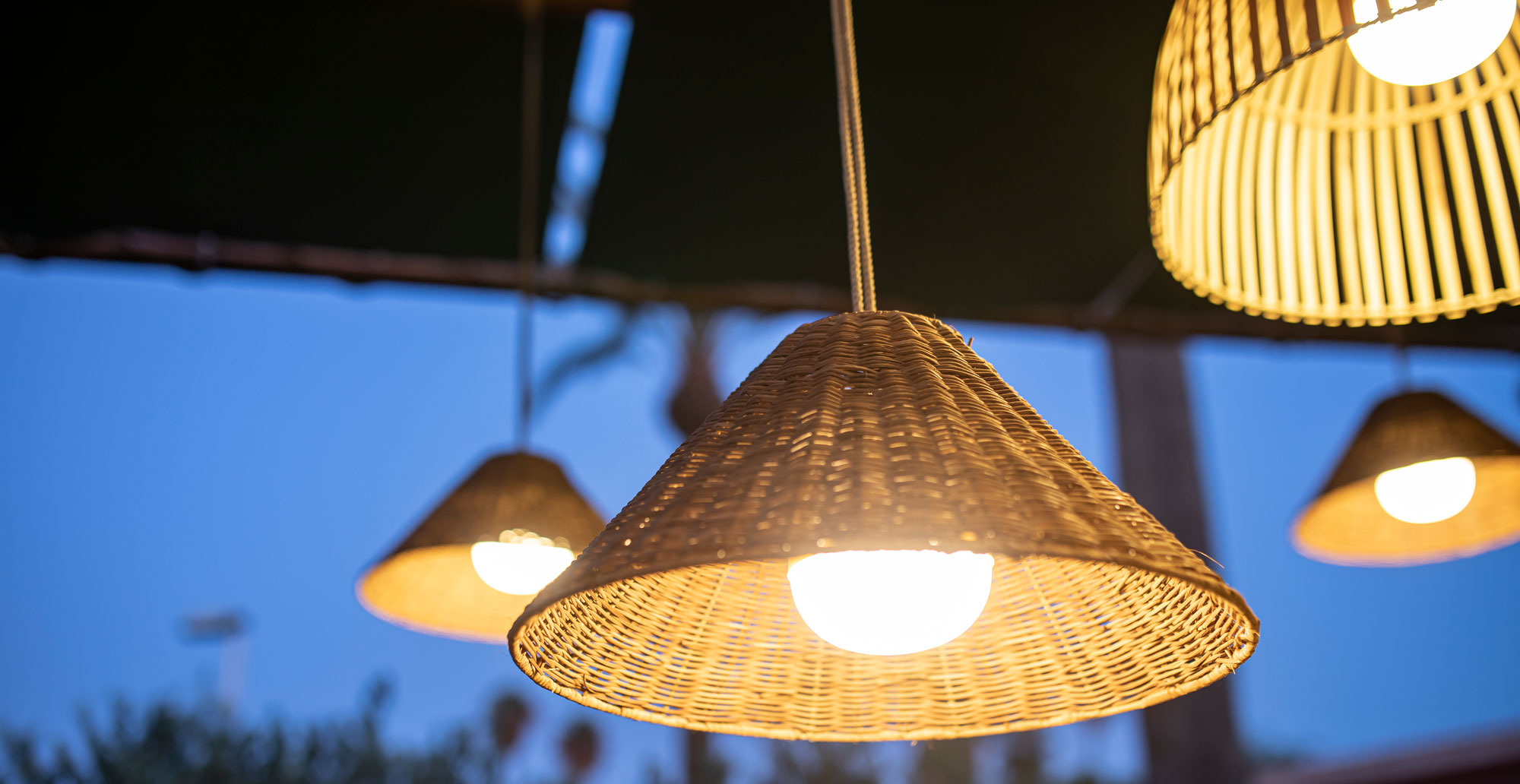 Lanterns And Lamp Posts
If there is a more classic garden lighting option than a great lamp post, or wall lamp, we haven't heard about it yet – and we're experts! Lamp posts are great for casting light over a wider area, while wall lanterns are perfect for lighting certain areas around the sides of the house. Although wall lanterns and lamp posts generally are traditionally styled options, there are modern designs to be found too – so be certain to check out the options available in our range.
How Can I Power My Garden Lighting?
Getting your garden lit up involves electricity – until technology evolves, there are no two ways around that. But although mains power is one option, it isn't the only one, and both solar and battery powered garden lights are realistic options now, since LEDs don't require a lot of power to create a really bright light. There are advantages to each type of garden lighting, and there are loads of factors that may influence your decision about the right type of power for your garden lights.
Mains Powered Garden Lights
For lighting that is to be installed permanently, connecting to mains power is the most reliable method of powering your garden lights. The advantage to using mains power is that as long as you have power to your home, you'll be able to power the lights in your garden. It is a dependable, safe way of powering the lights in your garden, and is ideal for larger lights such as lamp posts, and for security lighting.
Connecting garden lights to mains electricity isn't always possible, especially in areas that are far from the house, or where the property is rented and permanent changes aren't permitted. In those scenarios, solar lights and battery powered garden lights are preferable.
12v Garden Lights
If you have an outside plug socket, then 12v garden lights are an incredibly simple way to light your outdoor space. Simply place them where you want them, then plug them into your outdoor socket, and switch them on. You don't need to bury any cables, and they are easy to move too.
Easyfit garden lights are exactly as they sound – easy to fit! There are loads of extra lights that can be added to the circuit without requiring an electrician, so you can get a bespoke look for your garden, at relatively low cost, and without any hassle. Whether you buy a kit, or each component separately, they're simple to get started with. Consider bamboo style garden posts, golf ball festoons, or garden spotlights – they're all perfect additions to your garden.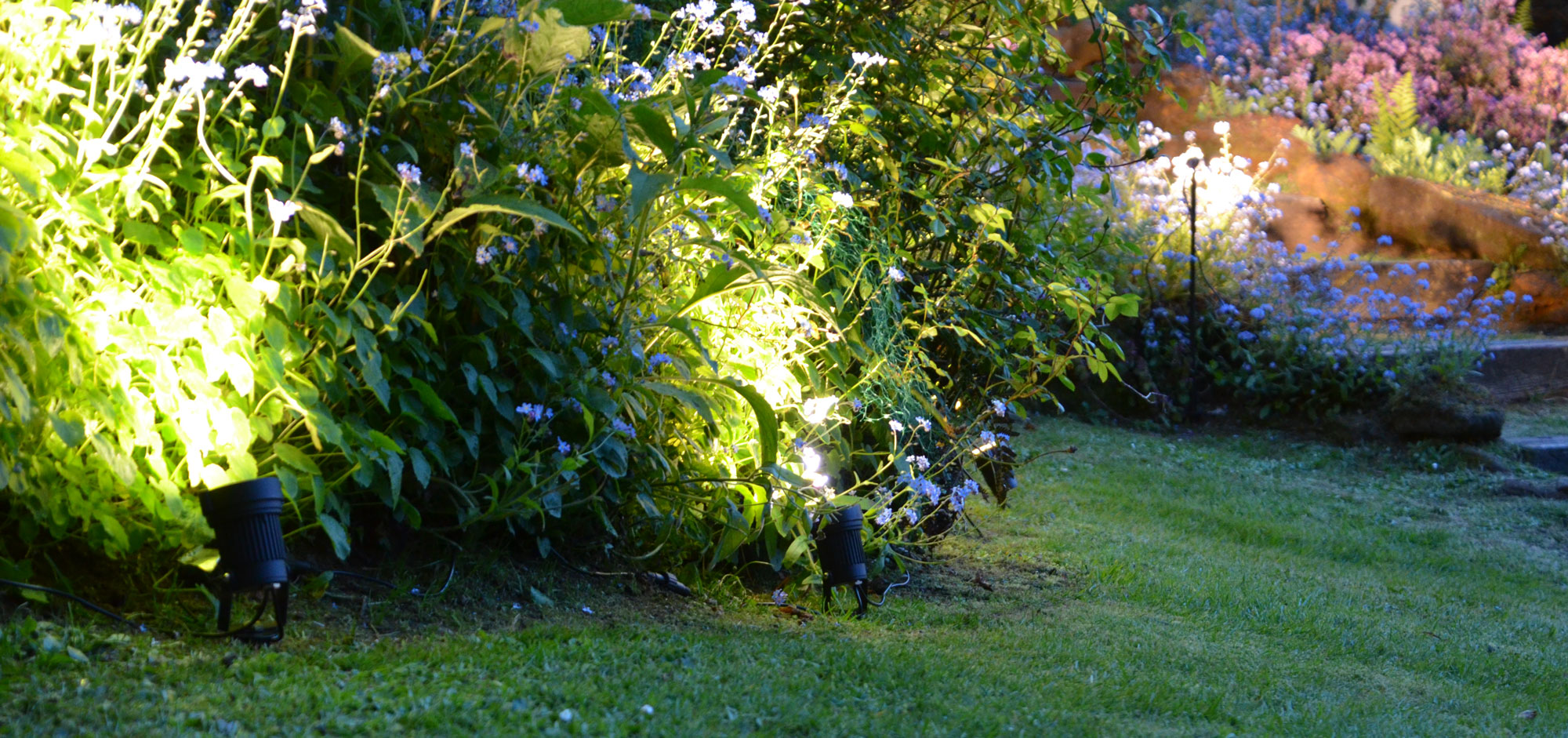 Solar Garden Lights
Solar powered garden lighting technology has come on a long way in previous years, and today solar garden lights are a great way to get light into your garden if you don't have access to mains electricity, or don't want to add to your electricity bills.
Most types of garden lights are now available with solar power, meaning that you don't have to compromise on function or form if you want a certain style. The main thing you need to remember is that unless the solar panel gets enough sun during the day, you won't get the brightness that you're looking for. If you're aiming to light up an area that is in the shade for most of the day, then consider battery powered garden lights instead – a USB rechargeable model is likely to be more dependable in those areas.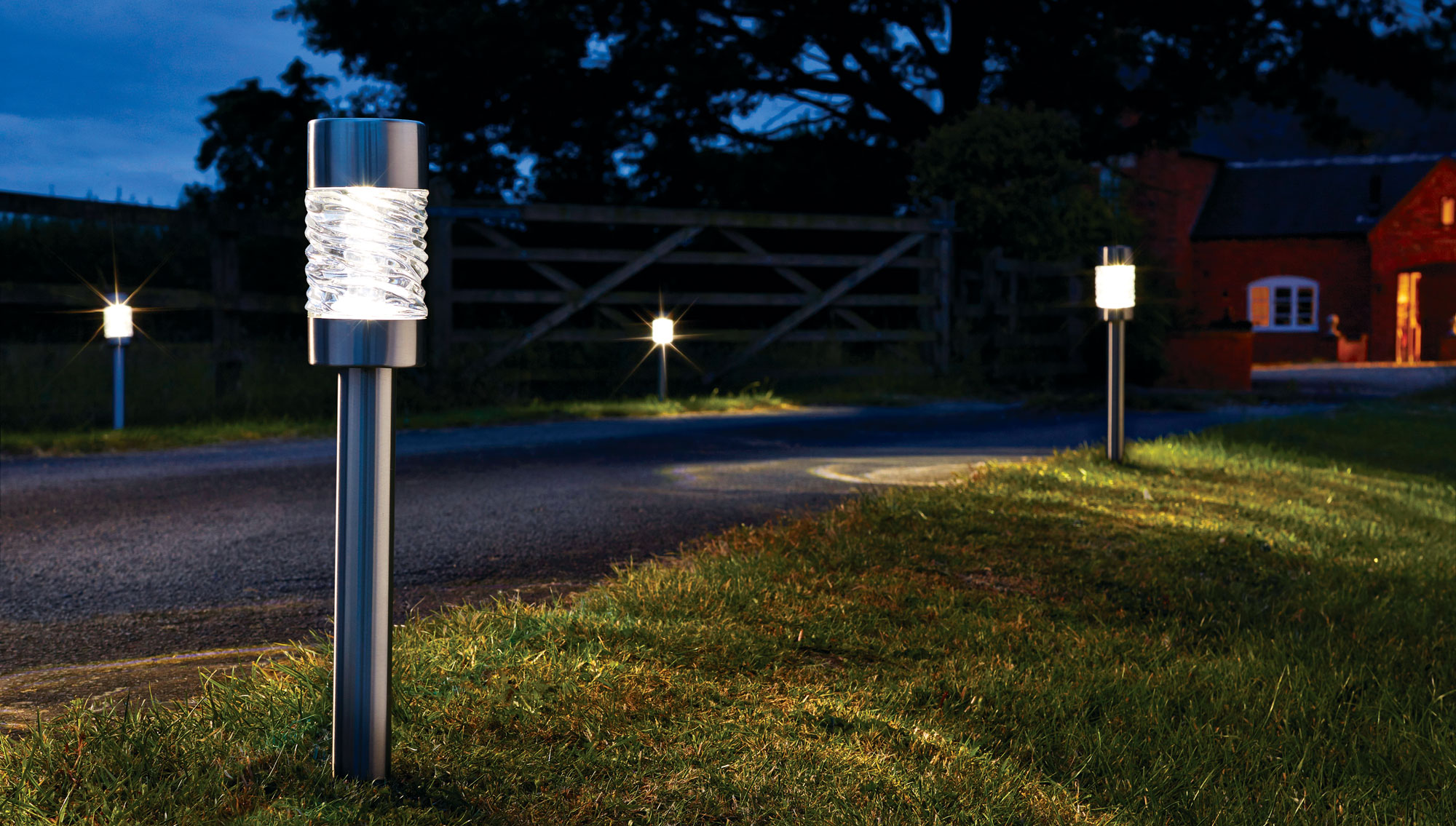 Battery Powered Garden Lights
When you need some light in your garden but don't want to install a light permanently – such as on patios and outdoor dining areas – then battery power is the way to go. If you're already thinking twice about buying a battery powered garden light because of the need to have multiple packs of AA batteries on hand, you might not need to worry about that as much as you might think. Of course, you have the option of buying rechargeable batteries for your garden lighting, but many battery powered garden lights are now USB rechargeable – so all you need is the cable that is supplied with most models, and are often interchangeable.
Which Type Of Garden Lighting Is Right For My Garden?
There are way too many options to consider for us to give a one-size fits all answer, but as we mentioned at the start of this post, the first thing to consider is whether you want to tie yourself to just one type of garden lighting. As with indoor lights, when you're dressing your garden for the spring and summer, layering your lighting will mean that you can get the right effect for whatever type of event is happening in your space.
Secondly, you'll need to decide which type of power is best for you to make use of. If you're in a home that isn't yours forever (perhaps you're renting, or have a five year plan!) then solar or battery powered might be a better option – but if you're able to install permanently, mains power could be for you.
Garden Lighting And Safety
It might go without saying, but when you're lighting up your garden, you can't just bring indoor lighting outside and hope for the best. The weather during the great British summer is generally not as dependable as we'd like it to be, and there's always a chance of an unexpected rain shower, or windy period, and if indoor lighting gets wet, there's the risk of shock – or that it will simply be ruined.
With that in mind, be certain to look for lighting that is designed specifically for use outdoors, with a safety rating of IP44 and above, to keep you and your family safe, and so that your garden lighting can be used for years to come without any risk.
If you're installing pond lighting, to create even more ambience around your water feature, you'll need to be looking at either IP64 or IP68, which can be submerged.
Our Final Thoughts
Lazy evenings with sunset drinks that turn into a summer night party need the right type of lighting – and when there are so many options to choose from, there's really no reason to keep those parties going. Whatever type of lighting that is right for your space, you'll find a huge selection for all requirements and budgets in our range, and of course, if the garden lighting you choose doesn't suit your needs perfectly, our returns policy means that we can help you get the right model for you.
When you've got your garden all set up for summer, don't forget to share your photos on Instagram, and tag us @lighting_direct – we love to see your purchases in their new homes!