Plug and Play Lights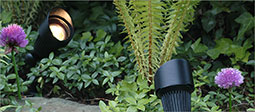 Plug and play lights are an amazingly simple and fun way to install stylish garden illumination yourself. This, of course, means you save money by not having to hire an electrician and you can get your garden lighting going as soon as you get home. This type of lighting will suit you down to the ground if you are a lover of DIY, at only 12 volts you can do all the work yourself and extend your garden lights at a later date with the easy connectable fittings. If you have invested lots of time and effort into creating a beautiful outdoor space you'll want to plan and install your lighting exactly the way you want. Plug and play lights give you the satisfaction of installing and bring your garden lighting to life without using a professional.
If you are searching for amazing value, great quality plug and play lights then explore our Easyfit 12 volt lighting kits here.
Read more about Plug and Play Lights