Plug and Play Lights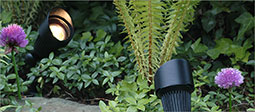 Plug and play lights are an amazingly simple and fun way to install stylish garden illumination yourself. This, of course, means you save money by not having to hire an electrician and you can get your garden lighting going as soon as you get home. This type of lighting will suit you down to the ground if you are a lover of D.I.Y. If you have invested lots of time and effort into creating a beautiful outdoor space you'll want to finish it off yourself. Plug and play lights give you the satisfaction of installing and bring your garden lighting to life without the help of anyone else. If you need more in-depth information about plug and play click here.
What are you looking for?
Good value for money?
It is always great to find a bargain and save a few pennies. If you want to light up your garden but don't want to spend too much you need to take a look at our cost effective range of plug and play lighting.
A premium product?
Every now and then it's important to treat yourself and splurge. Therefore if you are not working to a budget you may want to start by having a look at our premium range.
Something more versatile?
If you need a light that is totally protected against dust and against long periods of immersion under pressure have a look at our IP68 rated lights. They are suitable for installation in swimming pools.
A modern stylish look?
Installing lights with a contemporary feel can really help to make a garden look refreshed and modernised. If you are looking for plug and play with a sharp, sleek and contemporary look click here.
Plug and play lights let you safely install the garden lighting you want. If you are looking for a hassle free solution that doesn't require an electrician this type of lighting will suit you perfectly. After all if you have personally landscaped your garden why would you want someone else to finish it off and steal your thunder?
Read more about Plug and Play Lights