With COVID-19 keeping us all at home since the start of last year, there is little wonder that we're all thinking about ways that we can make the most of our homes. Although we've not quite reached summer, we're definitely already dreaming about morning coffee on the patio, lazy summer days spent in the sunshine and of sociable evenings that stretch long into the night.
Considering the current uncertainty around the possibility of overseas travel this summer, many people are already planning ahead in order to make the most of our patios – and here are some of the most stylish ways to make the most of your space this year.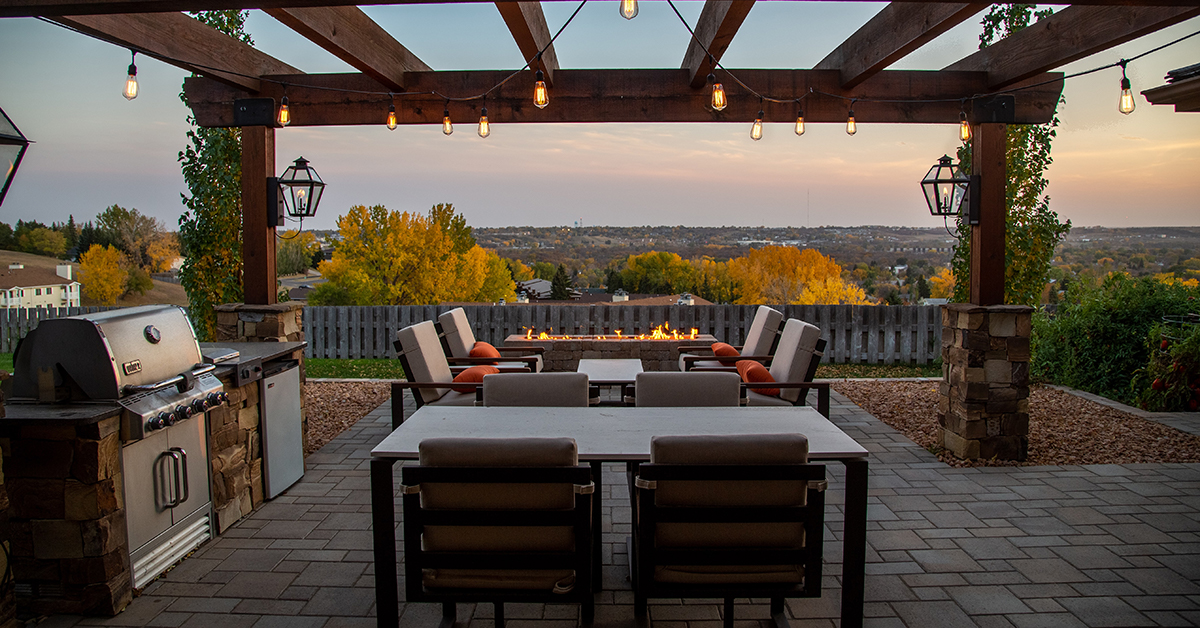 What if I don't have power to my patio?
There are lots of reasons that lighting with alternative power to mains electricity might be required for your patio. If you don't have access to power, you don't want to employ an electrician, or perhaps you're in a rented property that you don't want to invest cash in – they're just three reasons to look at alternatives. But no power doesn't mean that you can't have great lighting solutions for your patio area – battery and solar powered lighting technology have come a long way, and can be just as effective as mains power.
While there are many battery powered options to choose from, using lots of batteries might not be as eco-friendly as you'd prefer your lighting to be – and if you're using your patio all summer, those batteries quickly add up. Lighting manufacturers are now harnessing the flexibility of rechargeable USB powered LEDs, which just requires you to remember to charge them.
If you'd prefer to use the power of the sun, there are all kinds of solar powered lighting solutions available, whether you want them to create beautiful effects in your garden, have purely functional lighting, or both. Whether you prefer battery or solar power, there are so many options to get the lighting that you need. From traditional lanterns, decorative festoon lighting and delicate strings of fairy lights, right through to superbright floodlights with PIR sensors for security, having direct access to electricity is no longer a requirement to create the perfect atmosphere for your patio area.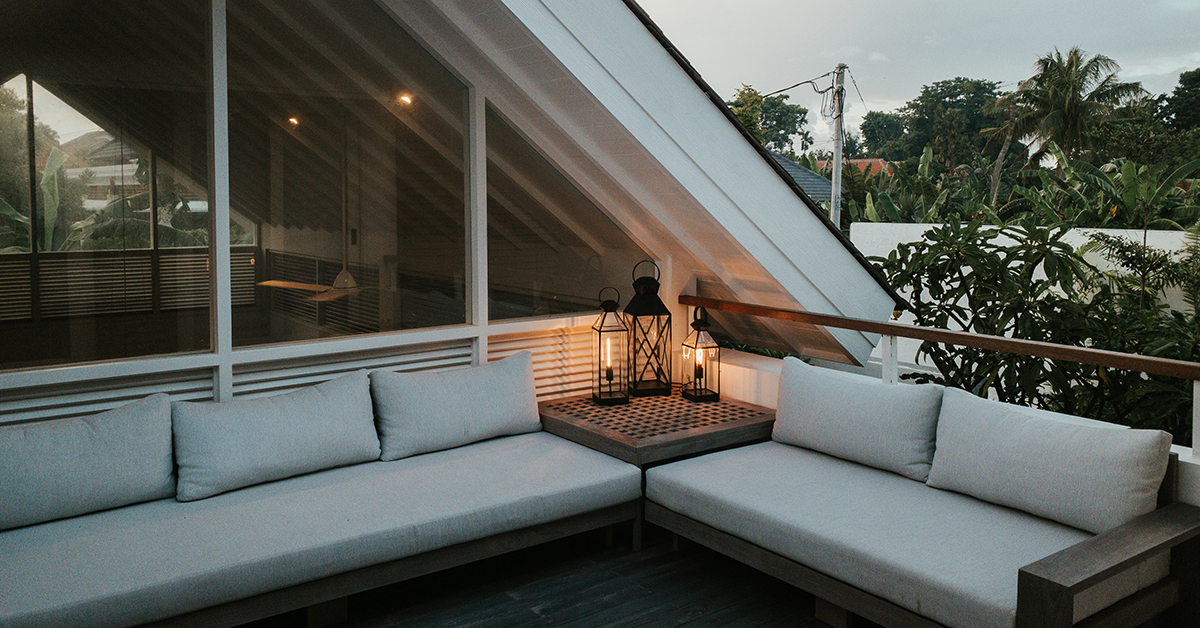 Traditional lanterns
While it can hardly be called a trend, if you're looking to invest in your space, a traditional lanterns will keep your patio area looking stylish for years to come. If you fancy a change, it is easy to create different looks each summer simply by switching out your patio accessories.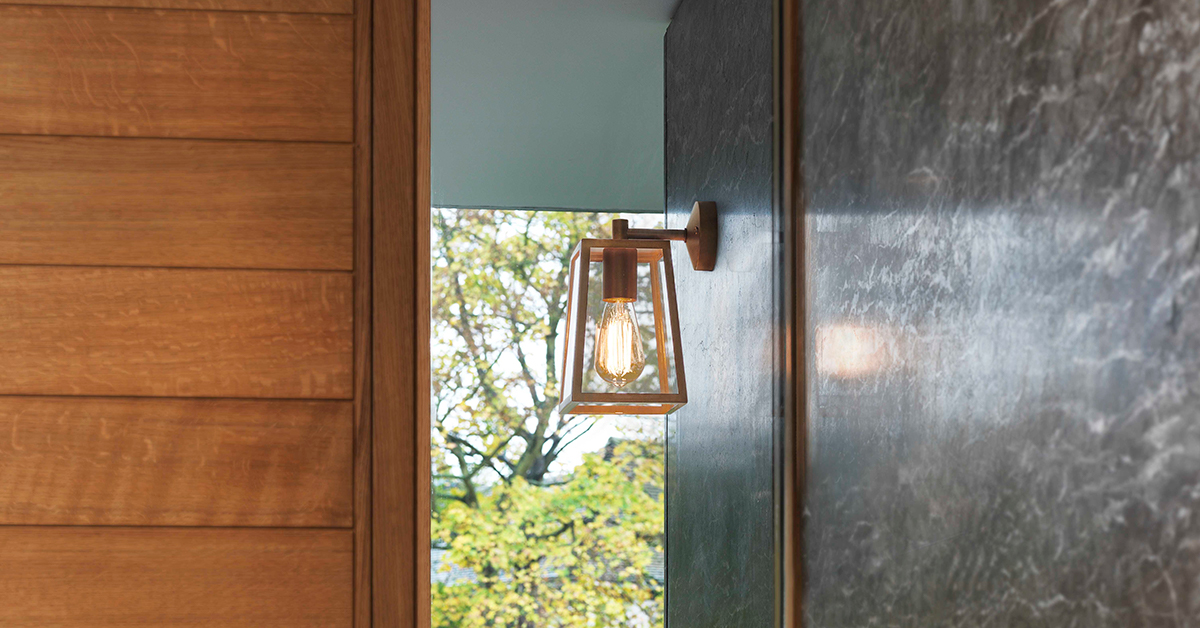 Where patio areas have access to power, wall lanterns look fantastic and can illuminate your patio wonderfully. You can choose from lantern models with different types of bulbs, but we highly recommend our range of LED lanterns. LEDs mean that your lanterns will shine brightly, with a long, energy efficient lifespan – particularly if you've chosen a solar powered lantern.
Some lanterns (such as this ASD coach half lantern for the wall) also have PIR sensors, so that as soon as the sensor detects movement, the light is activated. While that's great for security, it's also great if you're heading out onto the patio area for a quiet drink in the evening, since you don't have to fumble for the switch or remember to turn it on as you leave the house.
Adding a classic Victorian style stainless steel lamp post to your garden means that your patio area can be illuminated from sundown year-round, since it has an integrated solar panel that automatically adjusts the brightness according to the amount of battery available. This type of lamp is just as suited to modern patio furniture as it is on the patio of Cotswold cottages.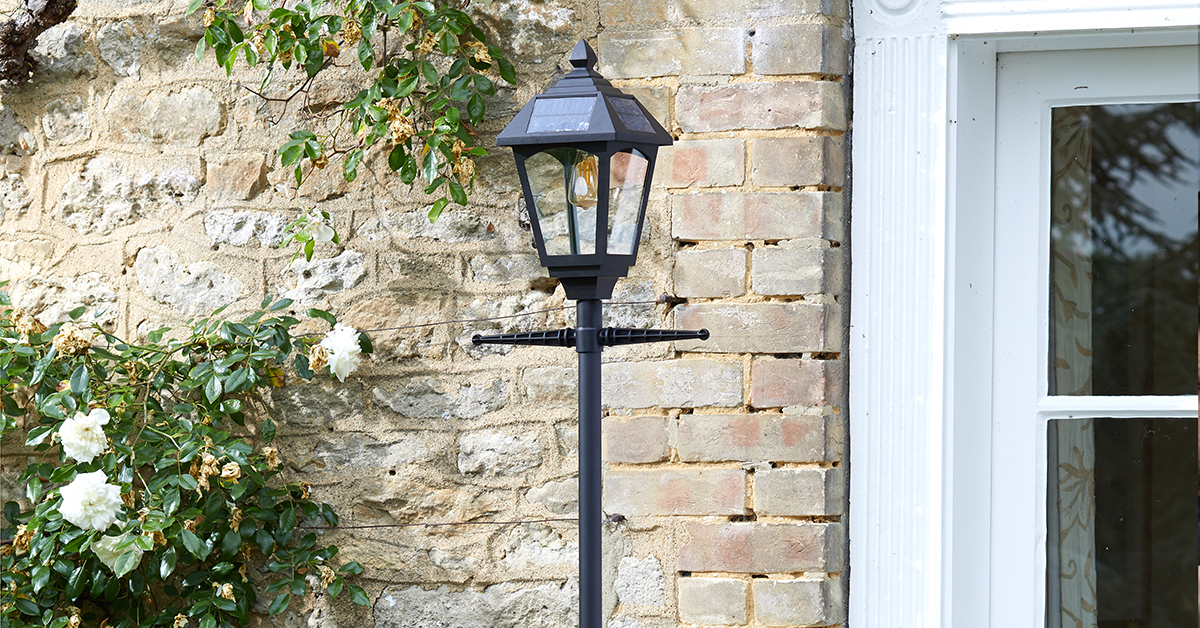 Traditional style storm lanterns on patio and decking areas has never gone out of style – and we doubt they ever will. There is (of course) the ability to have traditional wall lanterns, but there is also the option of having them dotted around on tables and on the ground with candles rather than with bulbs. While traditional storm lanterns can look fabulous with candles flickering – which is why they've been popular for a number of years both indoors and outdoors, they're not all that practical. If you have young children (or simply accident-prone people!) around, they can present a danger. If you're using portable storm lanterns as part of your patio décor and lighting, you can get the look of having candles without the danger by using battery operated white wax candles. They'll help to give you the effect you want, but without the risk of fire if they get knocked over.
A room outdoors
There's a trend of creating an 'outdoor room' on patios, conservatories, and gazebo areas – and there's little wonder, since it can create a really lovely cosy and comfortable space, and make smaller homes feel bigger. If you're looking to create a room outdoors, we love this Emma solar LED table lamp that feels like it could be just at home on your bedside table than being used outdoors. While it can charge from the sun (and will stay lit for up to 6 hours once it has been fully charged), there's a charger cable too, for those nights that go on longer than expected.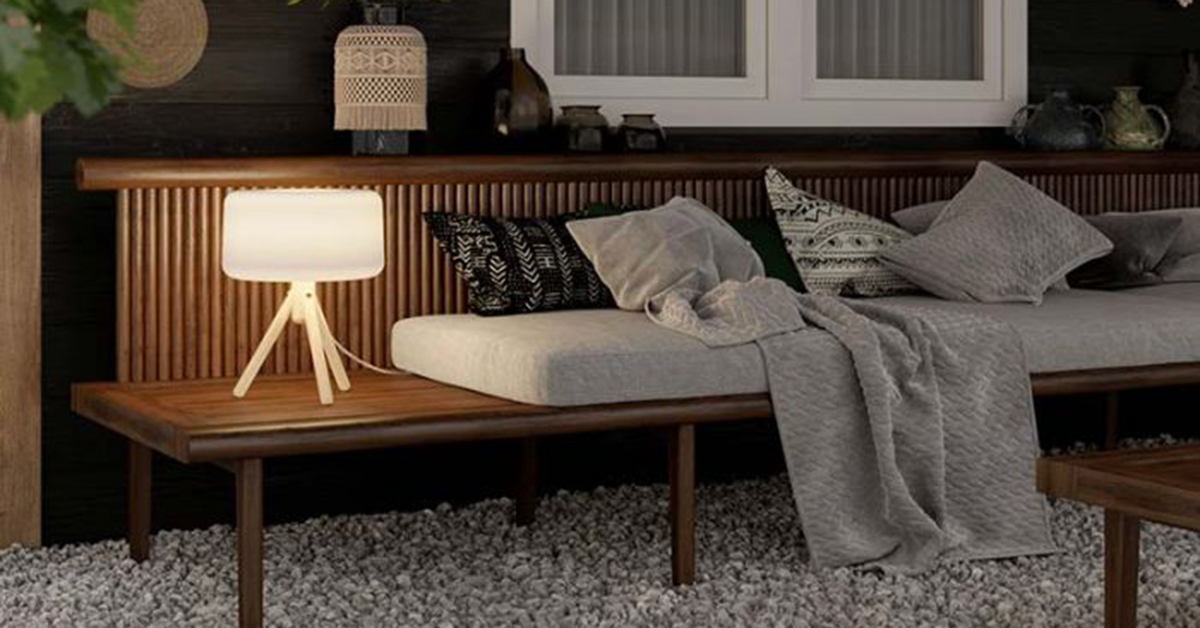 For a covered area on a patio – if you have a permanent fixture such as a pergola or gazebo – then overhead pendant lights that can hang over tables for well-lit dinners that turn into drinks and card games long into the night. This Edit jungle ceiling pendant light made from rattan makes a fabulous addition if your patio has access to electricity, or add these Lola battery operated LED table lamps to create a more intimate atmosphere.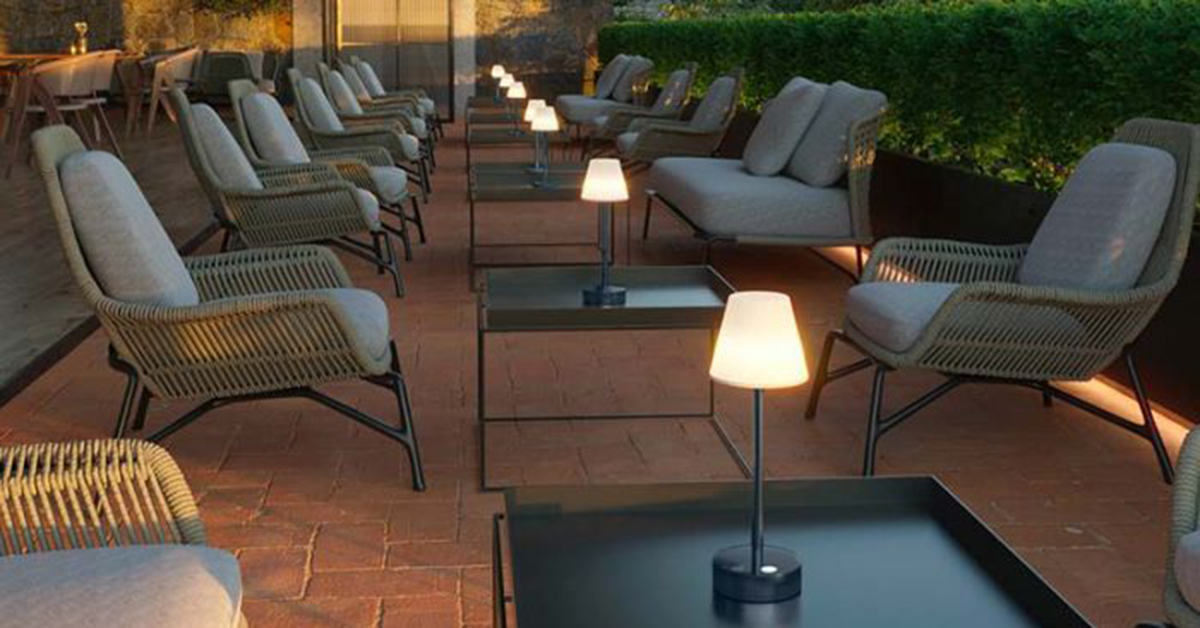 Light the way
Show the way to your patio by adding in-ground lighting along the path, or help guests to know where the edges of your space are by adding lighting in borders. These type of lights look fantastic, and they're also perfect for keeping your family and guests safe. Tripping over or twisting an ankle doesn't make for a good start (or end to!) a relaxing evening!
We have a huge range of deck and ground lights that provide the ideal amount of light, no matter how long the path or the availability of electricity. Whether you prefer stainless steel, brass, want to set your light into decking so they can be walked on, or your requirement is simply that they're easy to fit and solar powered – we've got options that will suit your style.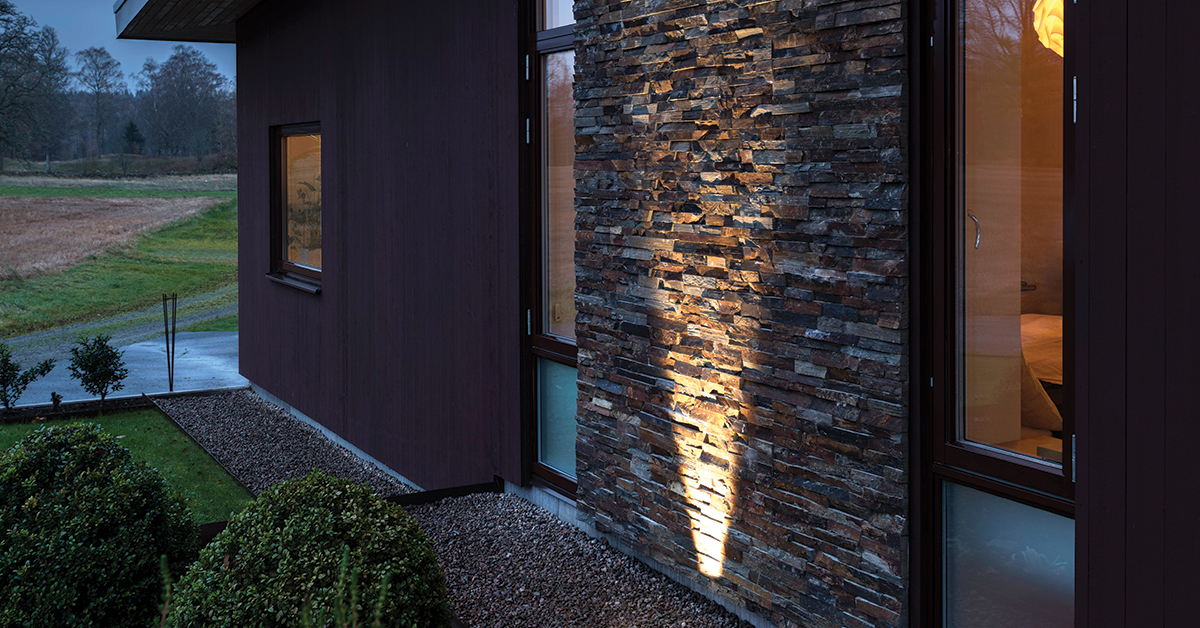 If you don't want anything permanent along your path or patio (such as if you're in a rental property) solar powered stake lights look fantastic to line edges. Choose classic white, or create a pretty, festive feel with these crystal colour changing LED solar stake lights.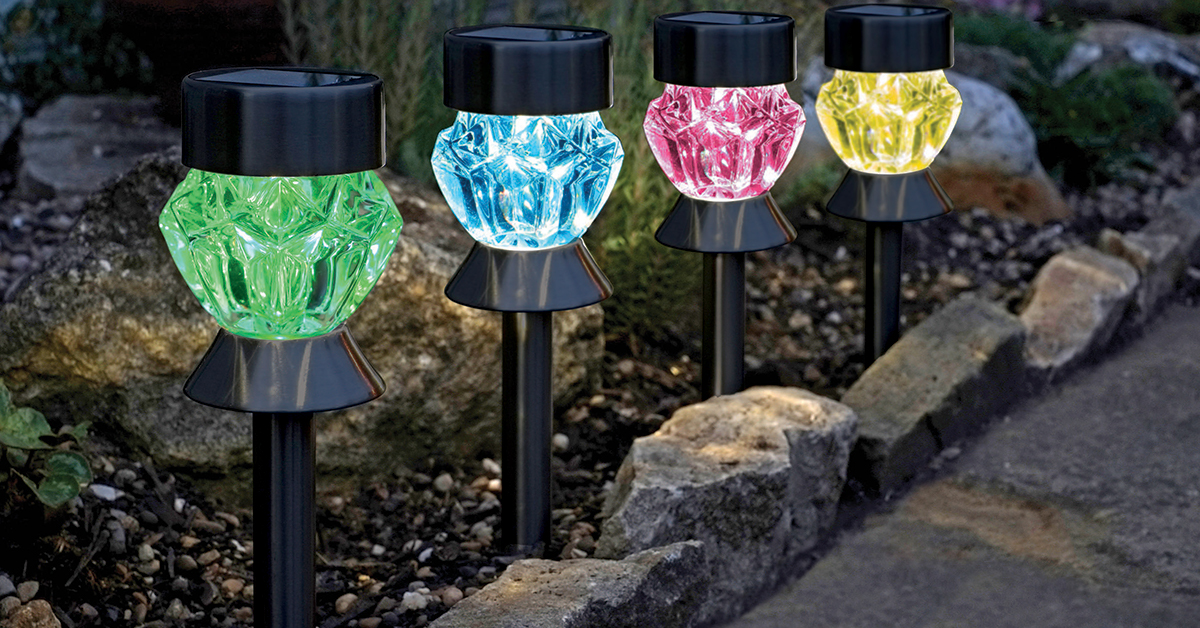 Party lighting
Festoon lights have been a staple for home design and for celebrations of all kinds for years for good reason. They're simple but so effective – and anything that reminds us of fairy lights makes us giddy in the best possible way. In gardens and on patios they provide a wonderful festive atmosphere, providing more than enough light for impromptu barbecues and drinks into the evening.
Whether you choose from purely white bulbs, or strings of different colours for a party atmosphere, festoon and fairy lighting looks phenomenal in a variety of lengths, shapes, and shades. There are plenty of portable options, from solar powered fairy lights to this beautiful battery powered spiral festoon chandelier.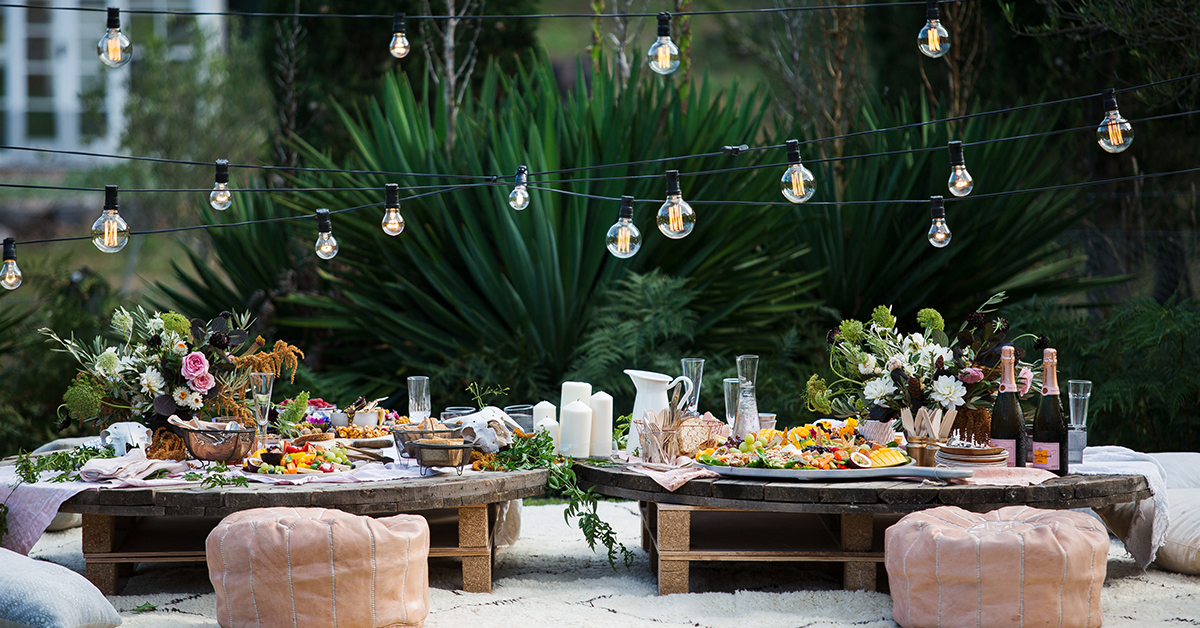 If you're having a garden party, recreate the celebratory feel of midsummer fireworks without the effort (or bothering local pets) add these 365 solar LED stake lights throughout your garden. With no installation required, and just daily exposure to sunlight to charge, they switch on at dusk and stay lit for up to six hours after charging.
Your own private beach
There isn't many of us that don't enjoy a trip to the beach in the summer – and while that might not be possible for everyone, every year, there are ways to recreate that relaxed, beachy vibe in our gardens and on our patios.
Wall lighting offers plenty of nautical and seaside styling options. For a modern look, this Edit coastal fjord light, looks great and feels reminiscent of a port hole, or for more traditional look with brass, this Edit coastal hook wall light feels like it could be found on a ship that set sail years ago. Simply add accessories such as chair cushions in navy blues and crisp whites to complete the look.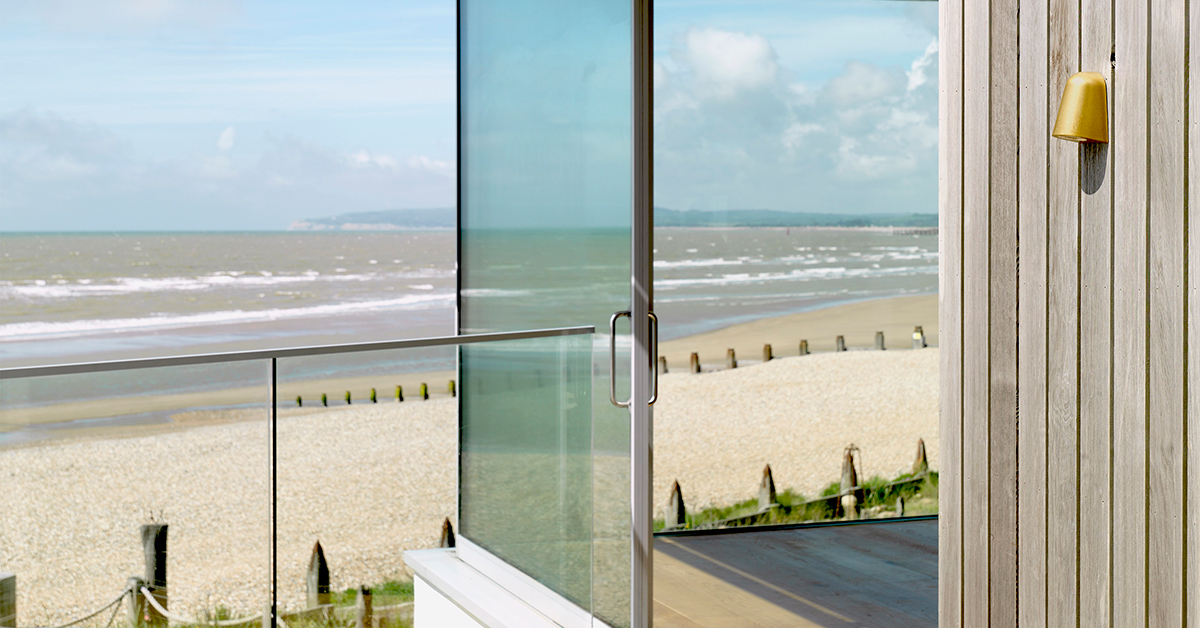 If you want to create a nautical theme but with a temporary, easy to move solution, try these Nora battery operated LED pendants. They remind us of coastal buoys, and would work well alongside other nautical accessories, and can be hung high from walls or gazebos. There's a remote control to change the colour or switch them on and off, and they're easily rechargeable with USB, making them both convenient and sustainable.
If you're looking to evoke the giddy feeling of being on the prom, hang strings of colourful festoon lights or fairy lights along edges and around trees or furniture. Fish and chips, or ice cream are optional – but definitely recommended!
Designing your space
When you're looking at how to make the most of your patio area, there are plenty of other considerations before you choose your aesthetic or style. Since we're all making the most of our outdoor space, we want to be able to enjoy it into the evening. That means getting sufficient lighting solutions to make the warmer evenings – and having the flexibility to be able to enjoy the space on our patios on those slightly cooler evenings too. But there are daytime considerations too – and some of these may impact how you choose to design your space too. First up though – safety.
Safety and security
Since we're talking about outdoor lighting, before you make your purchases it is important to consider where the lights are going to be used or installed. The great British summer doesn't always provide us with sunny weather, and if the lighting is going to be used year-round, then the IP rating (Ingress Protection) is really important to consider. If there is any chance that your lighting may end up exposed to, or under water (even if that means just shallow puddles) then check the IP ratings of the light before you buy. You can find out more about which IP ratings are appropriate on this page.
If you want to increase security on your property at the same time as creating a stylish patio, many of our outdoor lights also have PIR sensors, so they will automatically come on as soon as motion is detected. While this won't stop a particularly committed burglar, it will act as a deterrent to any chancers.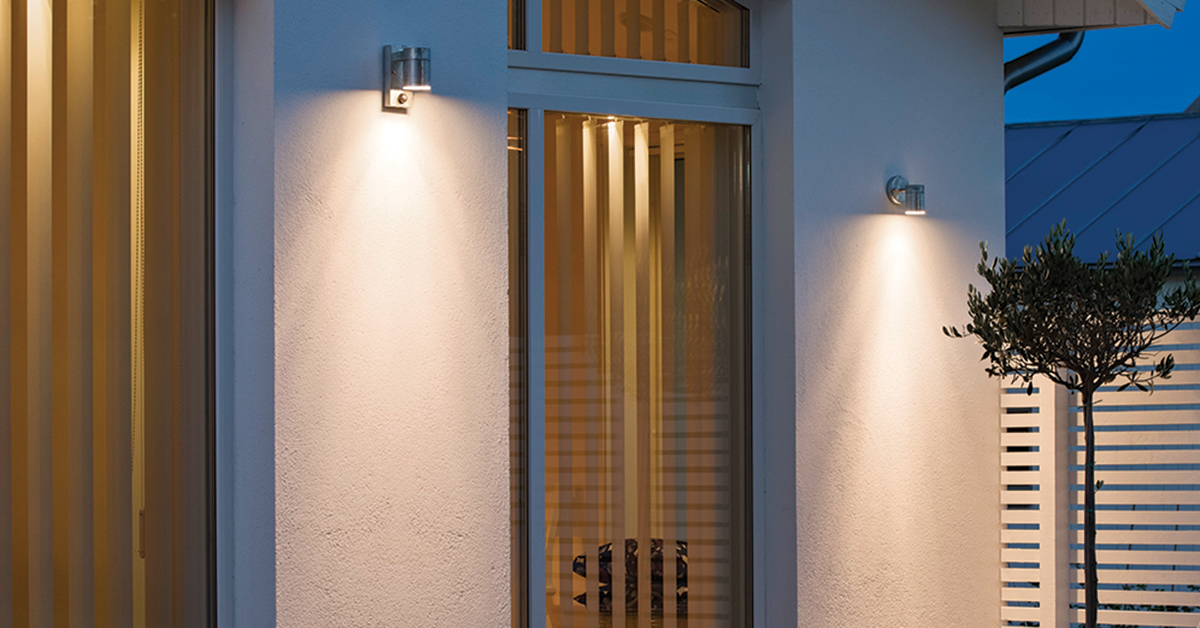 Ensure sufficient shade
Which direction your patio faces is likely to be one of your first considerations – as well as who will be using the space, of course. Families with young children, or those who want to protect their skin will want to ensure sufficient shade, while avid sun worshippers will want to be able to take advantage of the sun when it shines.
If your patio area is south facing and so completely exposed to the sun, you might not be able to make use of the space as much as you might like to on the hottest days of the year without adding shade. Depending on how you style your patio area, and the amount of space you have, you might choose a parasol for your seating area, a gazebo, or a sail-inspired shade that can help to protect delicate skin. If you have a little more room in your budget, then a retractable shade that is fixed to a wall could be the right option.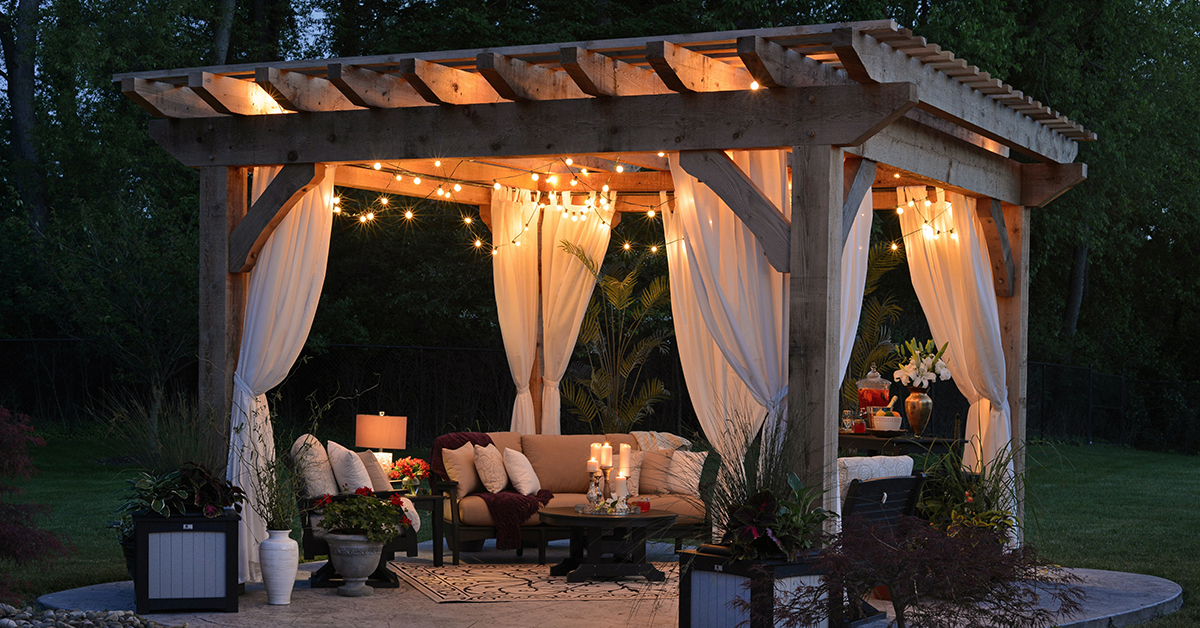 Must-have accessories
While you're getting your patio prepped for summer, it isn't just the lighting that you'll want to have ready for when the weather allows. Finding the right accessories now will mean you can really enjoy those wonderful long sunny days, even if they are followed by slightly chillier nights!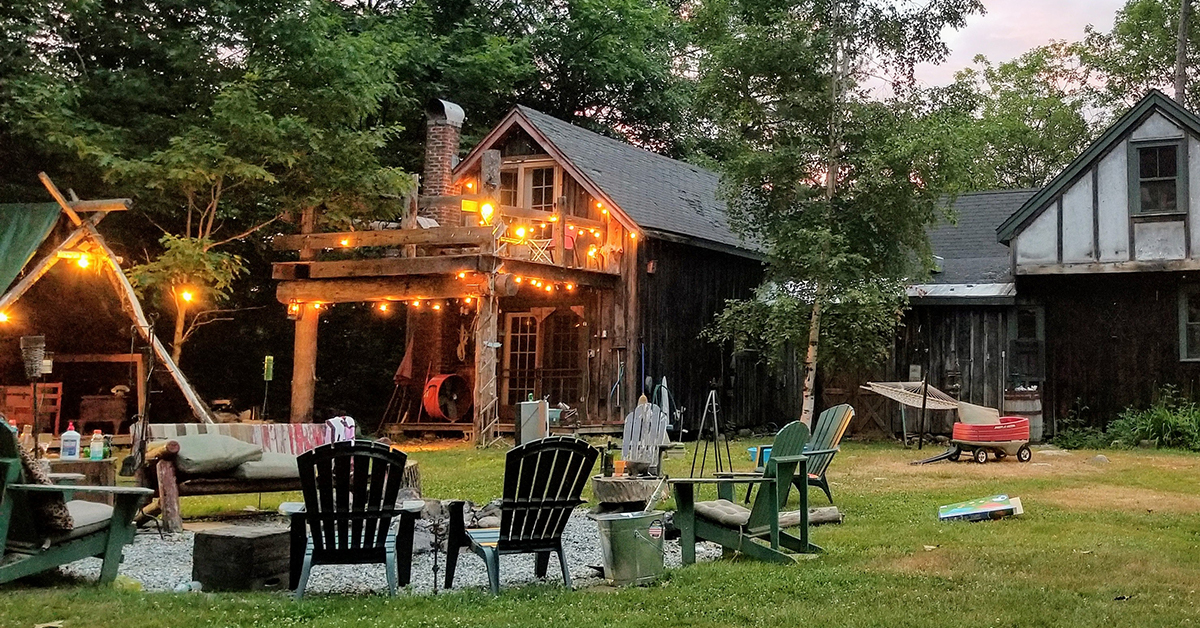 A great sound system
The size of your patio space, the proximity of your neighbours and the ways in which you are likely to use the area means that a sound system for each garden is likely to look pretty different. It might be that you choose a portable Bluetooth speaker for a smaller space, or perhaps you opt to have speakers built in (especially if you're anticipating being able to have bigger parties!). Whether you're listening while relaxing or while partying, being able to turn music on and turning it up means that a sound system is an accessory you won't regret investing in.
Wi-Fi
This might not be a huge consideration for some, but those of us that are working from home through 2021 will find the temptation to work from the patio on sunny days almost irresistible. If working on your laptop with a cool drink next to you sounds like a much more enjoyable way to get through your day, then check your Wi-Fi reaches ahead of time – especially if you want to be the envy of your team on your next Zoom call. If not, then it is easy to increase the range of your Wi-Fi with a range extender. They're typically less than £50 – which could work out as a great investment, especially if there is more than one of you using the garden.
Comfortable seating arrangements
What type of seating will suit your patio will depend very much on how you intend to use the space. But comfort is definitely key to ensure that you'll really get the most use of your patio area. Whether you decide on benches, seaside style deck chairs or dedicated patio furniture, be sure to add plenty of cushions, pillows, and have blankets and towels on hand for added luxury.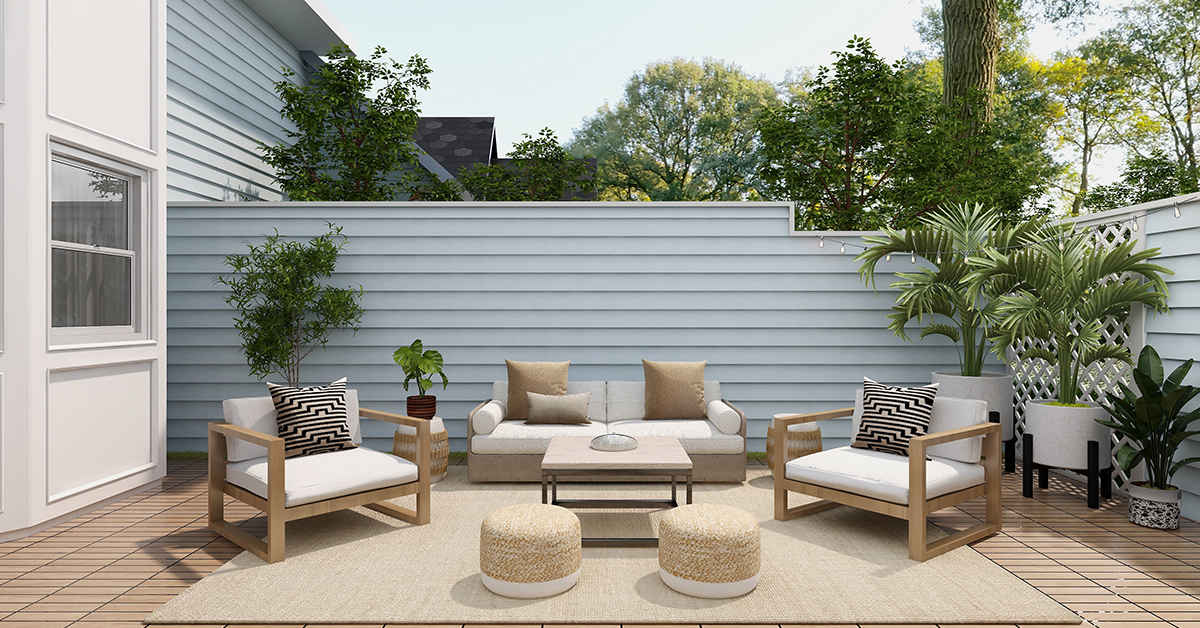 Storage
Sunny days require SPF, towels and in many cases, toys involving water for children to play with. Having those things to hand means that you don't have to go back indoors to find them. Adding hooks and storage boxes that are cleverly concealed can help you to enjoy lazy summer days without needing to keep trailing in and out the house.
Ways to keep the chill off
In the UK, we don't get too many evenings that it is super warm – so having the ability to keep the evening going without being forced to retreat because there's a chill in the air is a good plan.
Whether you decide to invest in a fire pit, have blankets dedicated specifically for outdoor use, or have a patio heater, having those available will keep you enjoying your space for longer, both in cooler summer evenings and into the autumn.
Browse all of our outdoor lighting here.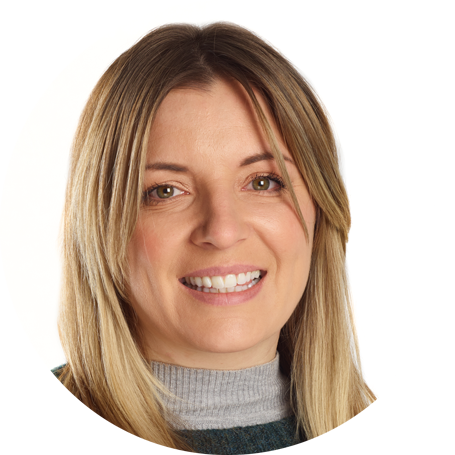 Maxine Clarke Senior Buyer
Maxine has been our decorative buyer since 2015. With her experience in working for consumer-led brands, she is the perfect person to pick out the latest lighting trends for both your home and business. Maxine has an eye for the best up-and-coming lighting from the UK and around the world and works tirelessly to add new brands to our portfolio. One of her trends to watch in 2020 is connectable garden lighting; with summer garden parties more and more popular, being able to build and extend your own outdoor lighting with spotlights, festoons and string lights has never been easier – simply plug and play.