Decorating our homes is a matter of personal style and taste, but most of us want our homes to look stylish and modern too. Taking a look at the interior design trends before we start choosing new décor for our homes means that we can pick and choose from the trends that we love, while putting our own personal twist on the look. With that in mind, in this post we'll be taking a look at what is going to be on-trend for decorating our homes this year, and which trends are fading away.
Trending colours for 2022
Before getting started with interior design trends, it is always well worth knowing the trending colours of the year – especially if you're planning to do a quick update to your home with a colour refresh. There are several places that we can find the colours that are likely to trend this year, starting with colour experts, Pantone.
• Pantone chose Very Peri for 2022 – a deep blue with red undertones.
• Paint powerhouse Dulux chose Bright Skies for 2022 – an airy shade of blue that is reminiscent of spring skies
• US paint favourite Benjamin Moore chose October Mist, a pale silvery-green
• Vogue claims that shades of brown will be the colour to watch for interior design in 2022
• Shutterstock suggests four colours will dominate this year: Calming Coral, Velvet Violet, Pacific Pink and almost all shades of green
When we look to colour psychology, natural colours – and all of these are – are soothing, and help us to feel grounded. After the difficulties that the last couple of years have presented us all with, there's little wonder that these types of colours are trending, so essentially, the more calming the colours, the more on-trend you'll be. Choose from a soothing palette of blues, greens, and browns, and you can't go wrong.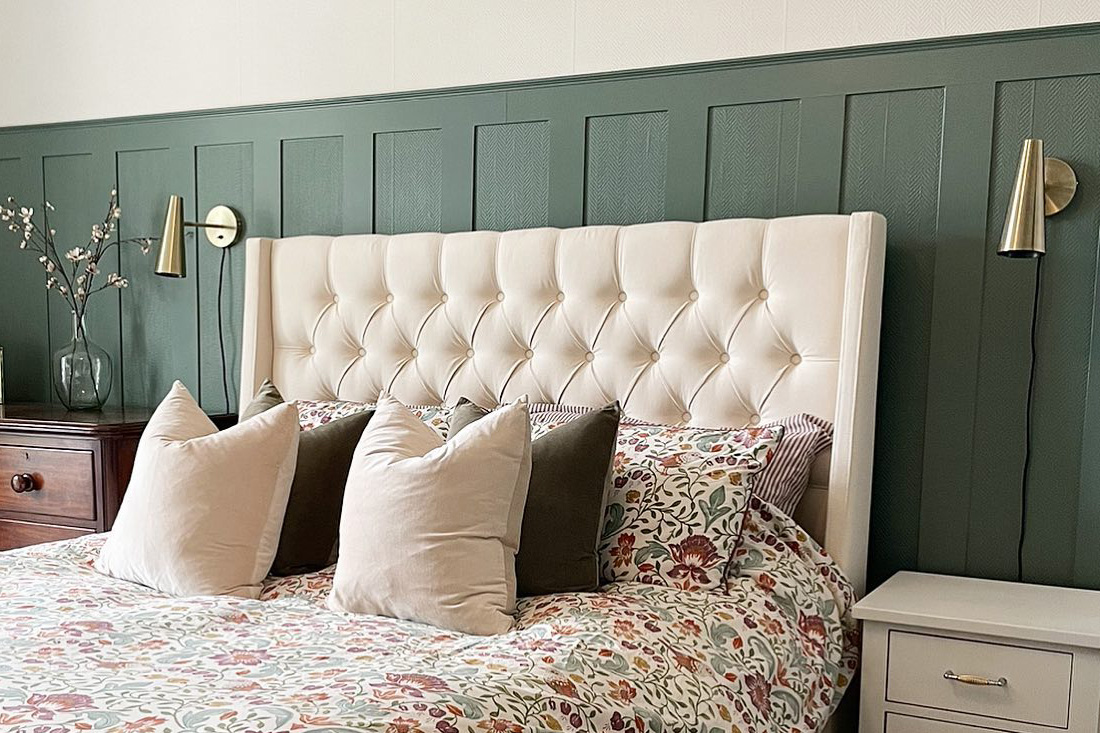 @mummydoesdiy
Trends for 2022
There are a number of trends that were popular in previous years that are still ongoing, and we'll talk about those in a moment – for now, these are the most popular of the newer interior design trends for 2022.
Japandi
If you know anything about interior design, you'll be well aware of the Scandinavian interior design trend that has been ongoing for ages. While the minimalist Scandi style remains popular, there's demand for something a little different – and how better to create a different look than by creating a fusion of styles? Japandi is a perfect blend of Japanese interior design and Scandinavian style.
Scandi style is full of light, natural timbers, with natural and outdoorsy accessories – and where colour is used, lighter, and muted shades are preferred. Japanese interior design tends to feature minimalist features, with darker timbers, and natural materials such as bamboo. It is the emphasis on natural materials is what makes the two styles work so well together, to create the Japandi style.
For lighting the Japandi trend, look for pine-effects, sleek white, or black. When you're choosing lighting for the bedroom, keep surfaces clear and fit wall lights in place of bedside tables – this Edit Dove Wall Light is perfect.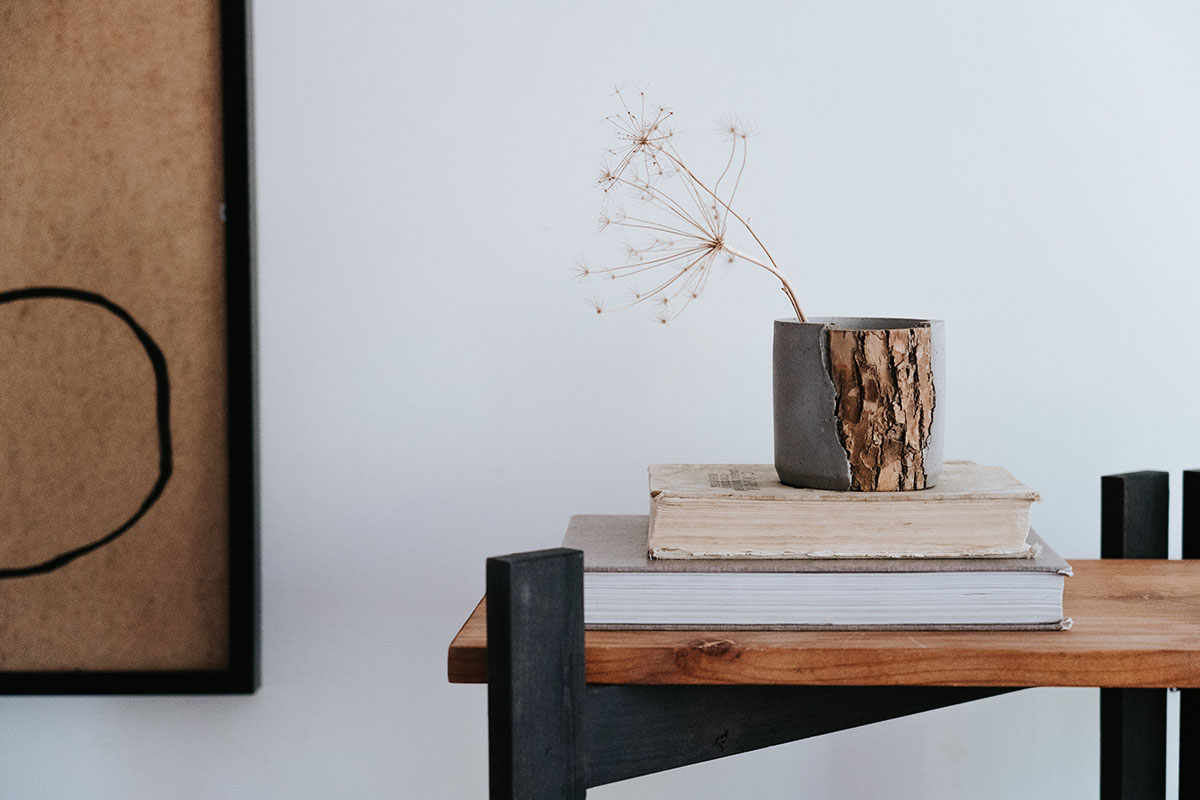 Multifunctional spaces
We're all maximising the use of our space in our homes as we continue to work from home – whether that is full time, or just part of the time. Rather than shoving a desk in the corner of a room, we're expecting to see much more thoughtful use of spaces in the home this year. Perhaps we're creating a space that acts as an office, workout space, and spare bedroom, or a space for a hobby as well as a yoga studio. Whatever you need that space to do for you, getting the space organised, looking great, and with the best furniture and accessories is high priority this year. In multifunction spaces, you need to choose lighting carefully – a pendant or chandelier isn't likely to be best if you're working out underneath it! Instead, find unobtrusive downlights for the ceiling, and add floor, desk, or table lamps that can be easily moved and add style to the space. This natural wood table lamp works well on a desk, or can be repurposed easily as an occasional bedside table lamp next to a sofa bed for guests.
Outdoor rooms
In the same way as we're making the best use of rooms inside the home, we're also focusing this year on how to make the best use of the space we have outside our homes, and making our gardens work harder for us. Creating outdoor spaces that can be used throughout the summer months mean that we're able to enjoy our time at home more, whether they're in the shape of summer houses, pergolas, patio areas, or outdoor kitchens. Festoons are the perfect way to light up an outdoor space whilst also creating a relaxed atmosphere.
Access to electricity isn't the challenge that it once was, either – our range of solar lights are as effective (if situated with enough access to the sun) as mains-powered ones, and look great too. We love this Lucide outdoor light in anthracite – it suits gardens of all styles.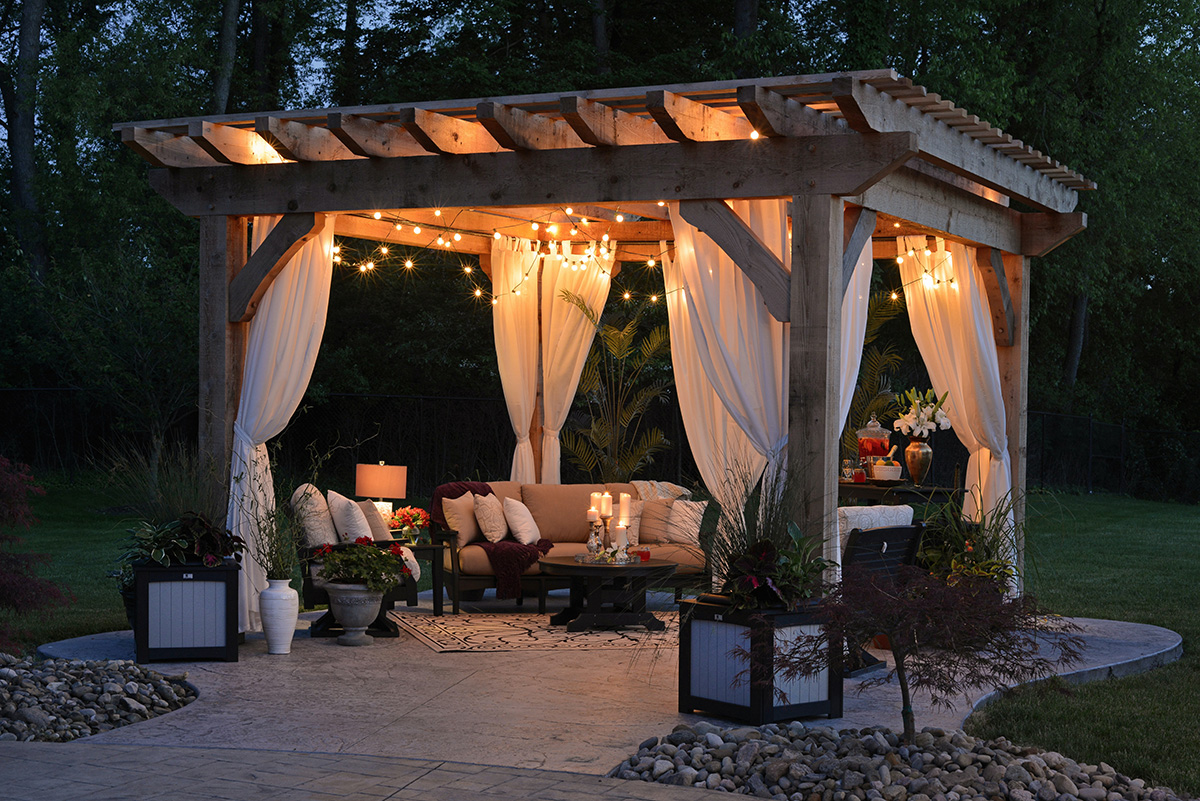 Peaceful spaces
Our homes have always been our sanctuaries, but after the past couple of years, there's a massive interior design trend to make spaces even more peaceful than ever. To get on board with this trend, you'll be looking for soothing hues of off-white, blues, greens, and washed-out pastel shades for décor, with plenty of lighting options, to allow you to create the perfect tranquil lighting setting, no matter what you're using the room for. This small & simple floor lamp creates a subtle glow against a wall – perfect for moments of zen.
Colour drenching
What the heck is colour drenching, you might be asking – and while there are some pretty complex terms to understand in design, colour drenching is one of the simpler ones. It simply means using the colour you've chosen for the room from top to bottom – from the ceiling to the floor – so the room is drenched in colour. Painting the ceiling a colour other than white has been a concept that designers have played with on and off for years, but this year, we're expecting it to be huge. You can really go all out with this, choosing furniture and lighting options in the same shade – simply filter our catalogue to find the lights with shades in your chosen colour. Or pick a light you can paint – our plaster and ceramic wall lights are white, or can be painted to match your wall colour.
Statement lighting
You won't be surprised to hear that we're huge fans of this trend! In many cases, choosing lighting is left until last when decorating a space, but this year, designers are starting at the top and working down. Choosing a fabulous statement lighting piece first means that you can choose your décor accordingly – whether you pick a gorgeous chandelier, a bold pendant, or you choose a light based on the interior design style you want your room to have. This cascade ceiling pendant is simply gorgeous for entryways and halls with high ceilings, and this fern chandelier in gold would be a perfect statement piece in a conservatory dining area.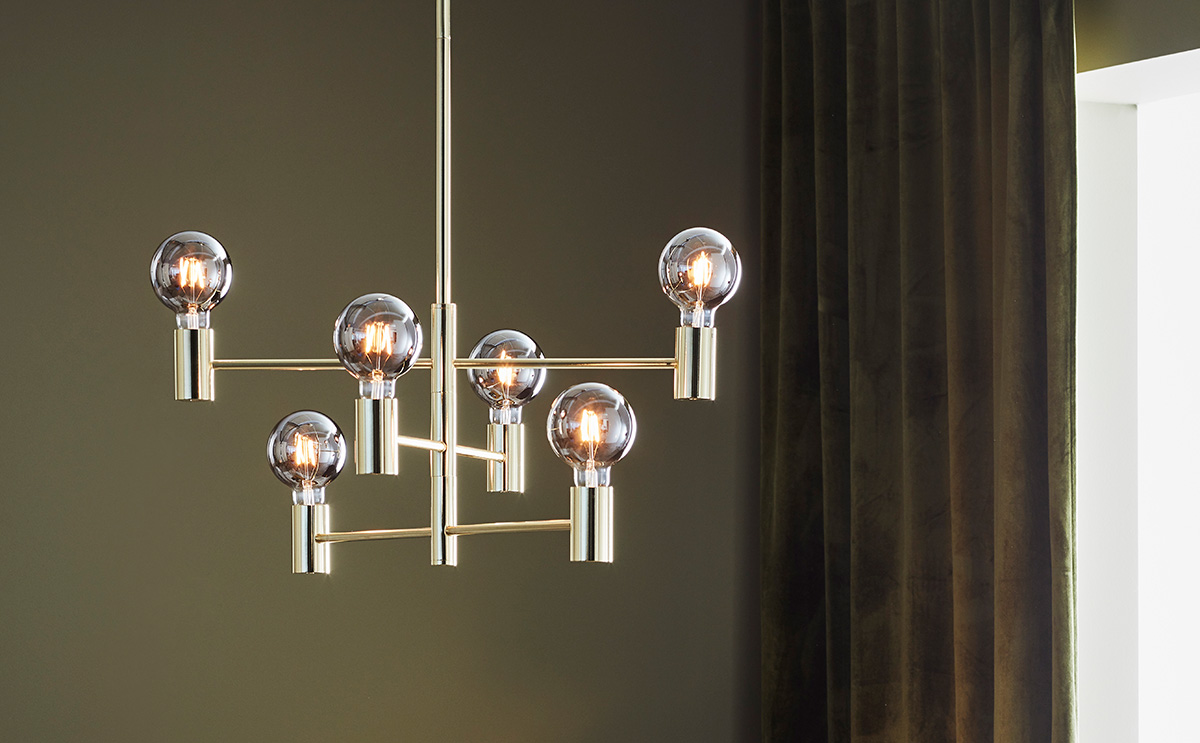 Bold patterns
Minimalist design – although it can look stunning – is being put on the backburner this year in favour of bringing bold patterns and bright colours to our homes. And it isn't necessarily a single feature wall – designers are using patterned wallpaper, rugs, and soft furnishings, as well as art prints and textured lighting to make a huge visual impact. Of course, if clashing patterns is a bit too much for your taste, pick one or two options, such as a light and a rug, to gently bring the trend into your home. For example, you might bring in the wild with a leaf print pendant shade, and a floral print rug.
Classic style
If you want your home to look sophisticated without needing to be updated any time soon, then classic style is most definitely the trend you need to be looking at. Using classic décor styles means that your home will always look great,
What's great about the classic style trend is that it can be a really sustainable option – because you can choose investment pieces that will look great indefinitely. Solid wood furniture and Chesterfield-style sofas look great alongside classic chandeliers, floor, and wall lamps. We'd add this classic bankers lamp on our desk in the study to work whichever hours we choose.
Sustainability is at the forefront of most of our minds now, and buying investment pieces – whether new or previously loved – as well as those made from reclaimed or recycled materials is definitely a huge trend that goes hand-in-hand with classic style.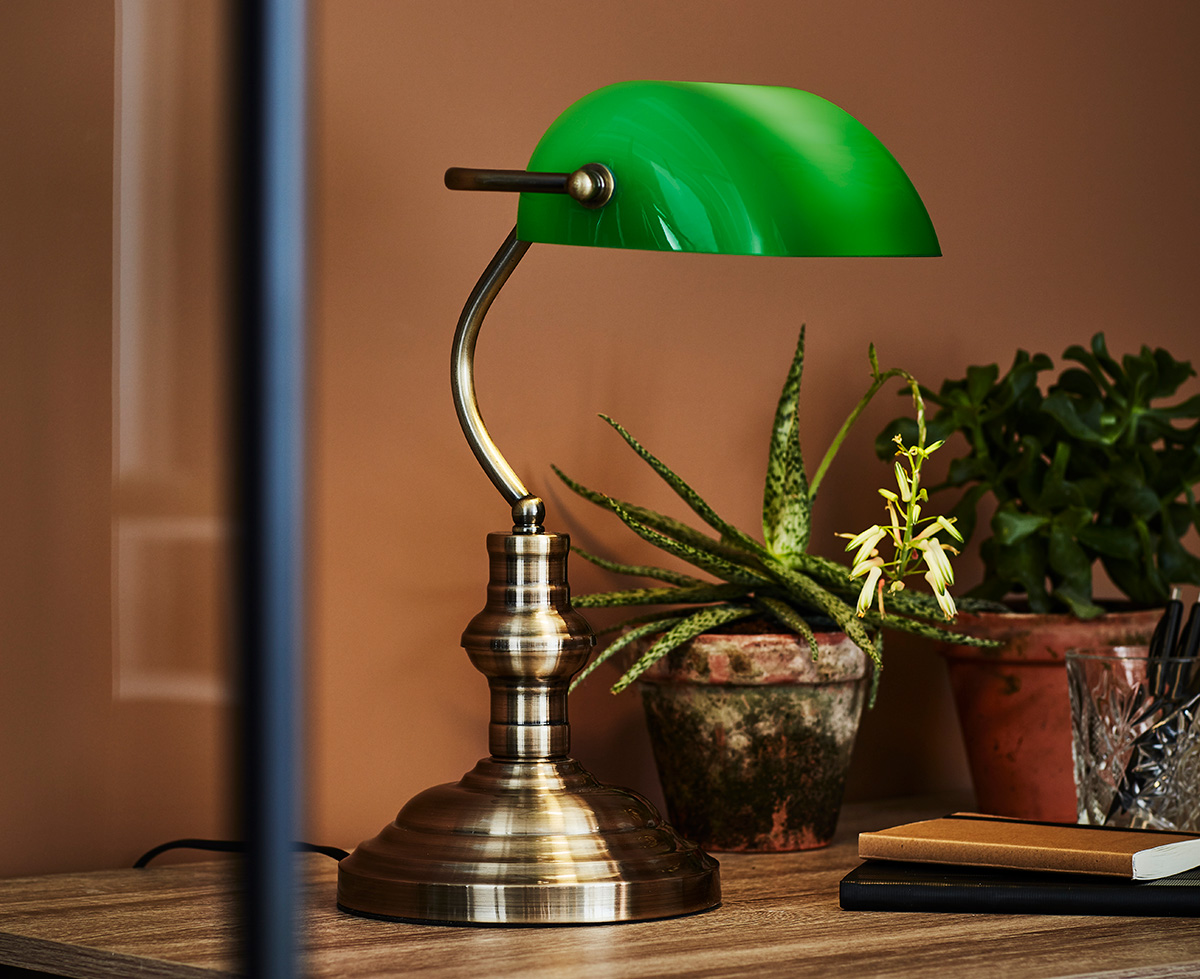 Art trends
Choosing art for your home really is incredibly personal – and since it is you that is looking at it each day, there's little point in investing in trendy pieces unless you really, really love them. However, if you're happy to be led by the trends, there are two main trends when picking art for the home this season: 3D art, and work from up-and-coming artists.
3D art is definitely something that we haven't seen as popular as it is right now. Artwork that energises flat walls, perhaps even a piece that takes up all of one wall as a real point of visual interest, or that can be configured differently to keep the interest going – they're the pieces to search for this year.
Buying pieces of artwork from young, or up-and-coming artists has always been a great way to invest in your art collection, and can return a great investment if you purchase before the artist becomes well-known. However, the current trend is to look for new, fresh perspectives on the world through art – and nowhere is that better than from up-and-comers, especially where the artist has a different world view. Supporting artists of colour, artists that are members of groups such as the LGBTQ+ community, and artists with disabilities is particularly popular at present.
Of course, art looks much better when it is properly lit, and so be certain to find the best picture light for your artwork – choose one with an adjustable head, like this lovely bronze one, which is also available in brass finish. Alternatively, to spare messy wiring and costly electricians, opt for a battery-operated picture light.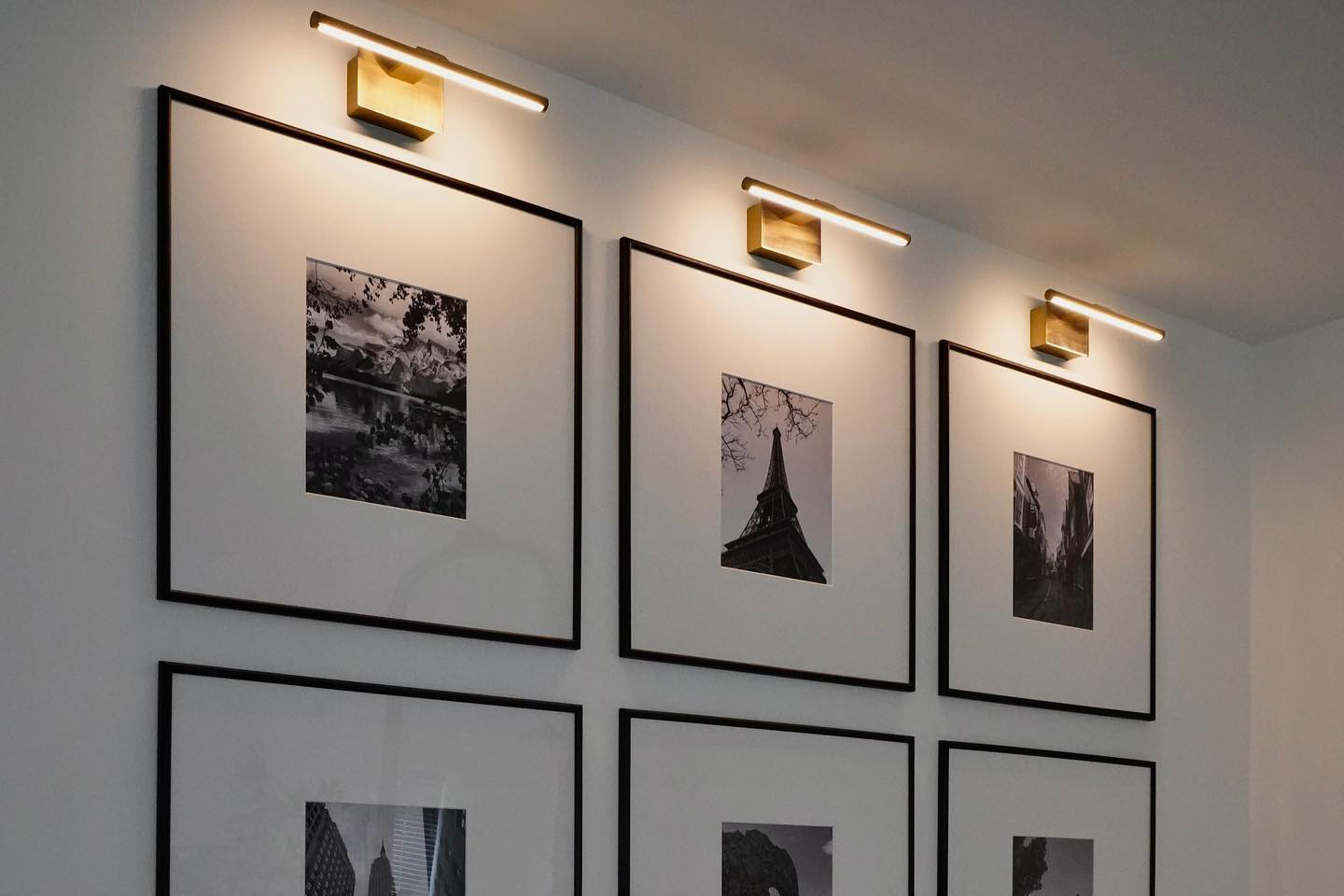 @av.home
Ongoing trends
Although these trends are exciting, many of the trends that were big in 2021 are continuing to be popular through 2022. If you've been loving these interior design trends on Instagram and wondering if you could still use them in your home, then the answer is definitely yes – go for it!
Cottagecore
The so-called 'cottagecore' trend – the comforting, rustic design came about as a response to the pandemic, and will continue to be popular this year too. Get the country cottage look with pretty colours, dainty prints, and natural wood furniture, but definitely don't be matchy-matchy – this look is comfortable, lived-in, and works even better where different patterns and types of furniture are layered together. This three-light bar pendant would look fabulous above a rustic kitchen table, while this saloon wall light in antique chrome makes a perfect replacement for a bedside table lamp – and is also available in a copper finish.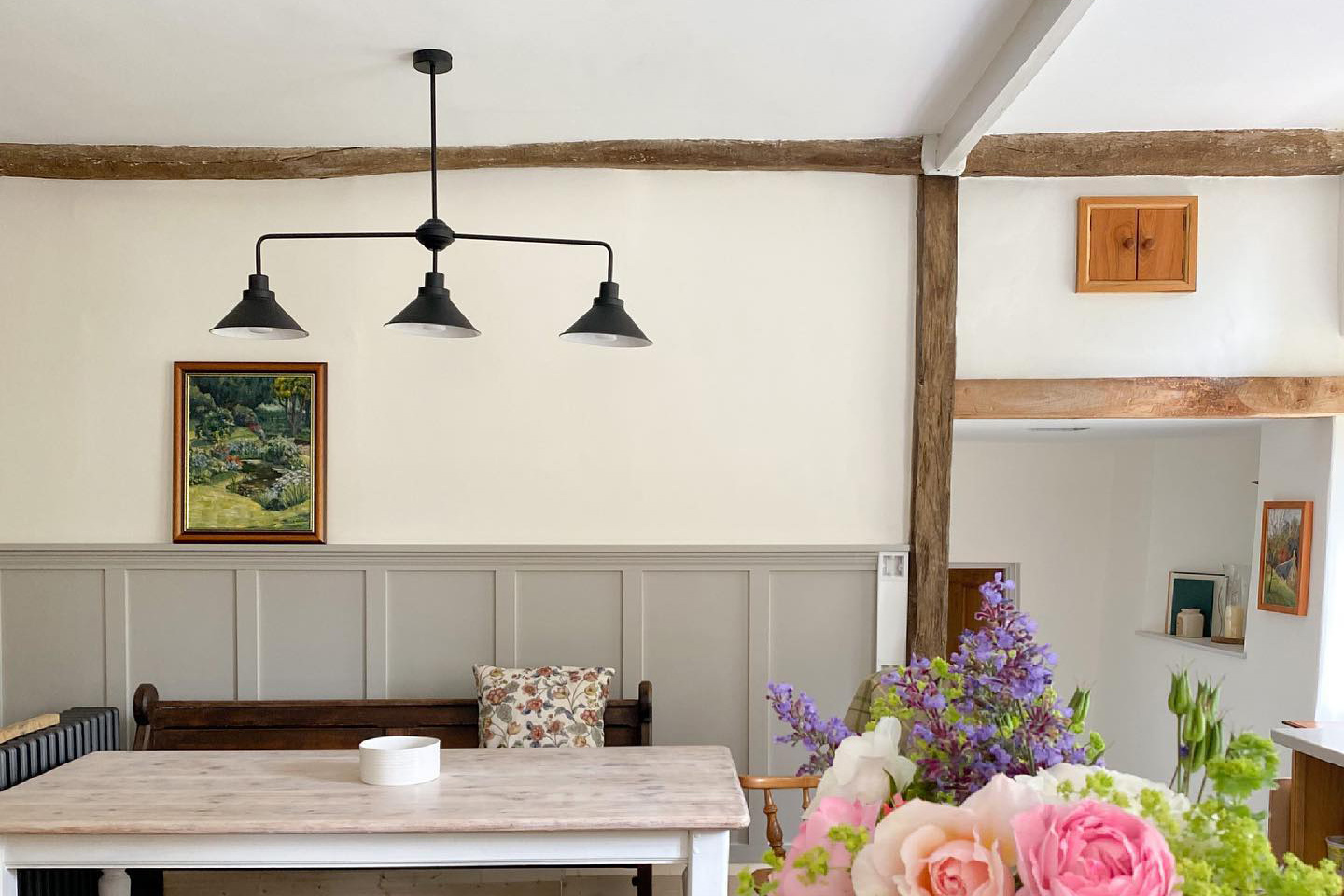 @thatcotswoldclaire
Oceanic hues
As we've already mentioned, blues and greens are going to continue to feature heavily in homes for the foreseeable future, because as restful, peaceful shades that are strongly associated with nature, psychologically these colours are great for our mindsets. Our range of lighting has styles in these shades, but if you don't want to find an exact colour match (which can be really hard to get right) then look at lights in silver, chrome, or gold finishes – these work perfectly with the hues and can reflect wall décor.
Use of textures
Bringing different textures in can create visual interest where the chosen colour palette is minimal, and designers have been doing this for ages. This is still an ongoing trend, and it weaves in well with some of the other trends we've mentioned here – so layer up those blankets, add textured shades to lamps with natural fabrics, metallic fixtures with basket effects, or textured glass. This ceiling pendant will cast lovely patterns, while the Possio wall lights have a concrete shade paired with a wooden backplate which creates a lovely mixture of materials and textures.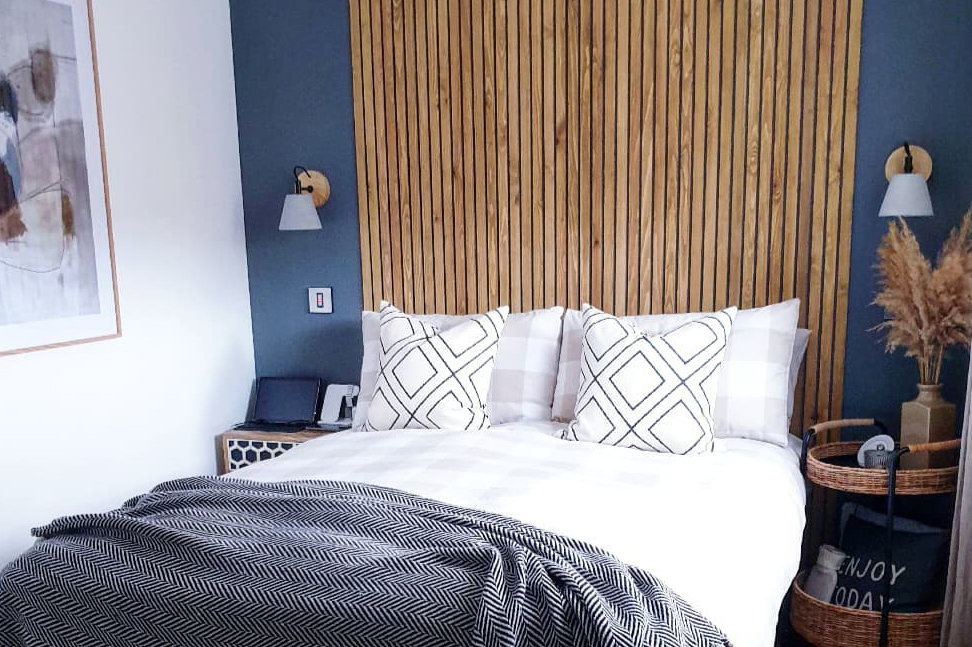 @little.home.me
Statement pieces
We've touched on how statement lighting is going to be a huge trend this year, but statement pieces on the whole will continue to dominate – although this year's statement pieces are more functional. A classically styled living room can get a talking point with a stunning statement armchair, for example, or a bedroom might get a stunning headboard.
Fading trends
When you're planning to redecorate your home, you don't want to end up bringing in a trend that will look dated almost as soon as you've finished it. With that in mind, here's a quick roundup of the trends for the home that we expect to become less popular this year.
Open floor plans
Let's face it – since 2020, we've all realised how important being able to find a bit of our own space is to us. Where homes are being built from scratch, or they are being redesigned and remodelled, architects and interior designers are being much more careful about how to use the space. With homes in the UK tending to be on the smaller side, and the increase in people working from home, segmenting space so that there are quiet and private spaces is more important than ever. If you love an open floor plan, by all means go for it – you need to be happy in your home – but the trend is definitely fading.
All-white minimalist spaces
While all-white minimalism can look absolutely stunning, it is really high maintenance! Keeping homes clean is time-consuming enough, and the pandemic has taught us to savour the better things in life – and definitely that there are better things to do with your time than keeping all-white décor clean. With that in mind, designers are favouring rooms that are saturated in colour, so leave that tin of white emulsion where it is and get inspired.
Non-functional decorations
Although accessories that are beautiful for the sake of being beautiful, as we're all making the most of our homes, function is important too. So there's been a leaning towards clearing away sculptures and artwork that isn't functional in favour of replacing those items with useful pieces like candlesticks and sculptural lamps that serve as art as well as having a purpose.
Final thoughts
We're loving these new and ongoing interior design trends for 2022. With so many beautiful options to play with, you can choose the ones that suit your taste best, and mix and match. Remember, it is your home, so use these trends to inform your design choices rather than following them religiously, and you'll create a home that you will love for years to come, and that your friends and family will adore visiting.