Reflector Bulbs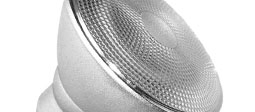 Reflector bulbs are another great example of modern lighting technology. They use many tiny reflectors inside the bulbs themselves to focus and concentrate the light in a forwards direction. This makes them an ingeniously clever way to project a spotlight beam. At Lighting Direct we believe in the importance of offering you the consumer the best choice and range of innovative lighting technology.
What sort of bulbs are you looking for?
Incandescent?
If you don't want to spend too much on your bulbs but still want a quality level of light output then you need something from our incandescent range.
Compact fluorescent?
This type of lighting has improved dramatically over recent years, but it's still affordable and energy efficient. Our range of fluorescent reflectors are top of the line.
Halogen?
For a very high quality of light output why not check out our halogen reflector bulbs.
LED?
It's always a good idea to invest in LED lighting no matter what type of bulbs you are buying. More and more people are making the move to LED's for energy efficient long lasting lighting. Why not have a look at our range of LED reflectors.
What tone of light?
If you are looking to create a specific atmosphere in your home then giving some consideration to the colour temperature and hue will help you to achieve the desired result.
Colour temperature (variations in tones of white light):
Light colour:
Light level control:
If you are looking to create the perfect mood for the living or bedroom you may also want to have a look through our dimmable reflector bulbs.
Reflector bulbs are without a doubt an ingenious way to push light forwards and create concentrated output. At Lighting Direct we aim to stay one step ahead of the market so we can bring you the latest and greatest innovations in the world of lighting.
Read more about Reflector Bulbs