Nowadays you need a living room that offers many different things in one versatile package, and good lighting can help you achieve that. Maybe your living room is part of a family home that needs a main light source for when the children do their homework, separate lighting for dinnertime and cosy, ambient lighting for relaxing in front of the TV. For those who want a high-tech, modern living room, we have a complete range of spotlights and floor lamps, perfect for parties and weekend entertaining. Whatever your requirements, we're sure to have the exact lights you need for creating a living space that you'll never want to leave. Click here for living room light fittings.
Dimmer Switches
The days of the lone light bulb hanging forlornly from the ceiling are well and truly over – nowadays lighting makes a statement – it lets people know what you, your home and even your family is about. It should also be about enhancing your life – emphasising design features or even being a feature in itself and it should transform your living room from a singular one-dimensional room into a space that has many uses and functions. Living room lighting also means choice when it comes to using a main light, using lots of smaller, secondary lights or combining both for complete lighting control.
You may want to use just a main light if your living space is a constant hub of domestic activity; if you work from home in the evenings, or help the children with their homework. To make switching between a starker main light and a warmer, softer light easy, you could install a dimmer switch for instant control. You can also use softer, secondary lighting such as floor lamps, table lamps or uplighters to disperse light or light up areas and corners of a room that are usually left in darkness, which helps to open your living room up. A picture light over pieces of art or photographs can create eye-catching features, and try installing reading lamps for those evenings when you just want to sit with a good book and shut out the world.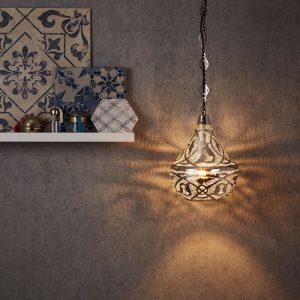 Enchanting Illumination
Lovers of glamour out there will be drawn to the Edit Souk Ceiling Pendant which is an excellent choice for darker rooms as it reflects light really well. Install this gorgeous ceiling light for illumination that sparkles and bounces – perfect for creating a wonderful centre-piece in the middle of your room.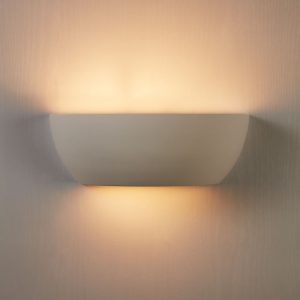 A Time For Reflection?
Classic and simple, the Edit Mathis Plaster Up & Down Wall Light can be painted to fit in with any colour scheme thanks to an unglazed ceramic finish; but what makes this really special, is the fact that it softens light and prevents glare by throwing light upwards and down. It is a very useful light for installing in rooms that need strong illumination without the glare, such as a study.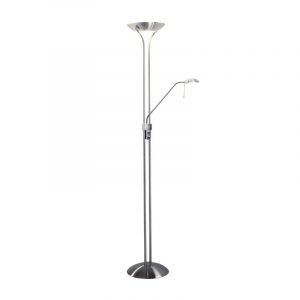 The Perfect Lighting Relationship
A versatile light for your living room is the Montana 'Mother and Child' Floor Lamp – Satin Chrome. This cool looking light has dual functionality, serving as a standard floor uplighter – perfect for creating cosy ambience – or making relaxing with a good book easy thanks to a task-specific reading light. This is also a great tool for keeping energy bills down as you don't have to keep the main light on just to read, or it can be an excellent tool for those of you who need the added comfort of a reading light coupled with a main light to avoid eye strain. Place it in a corner along with your favourite armchair to create the perfect reading space.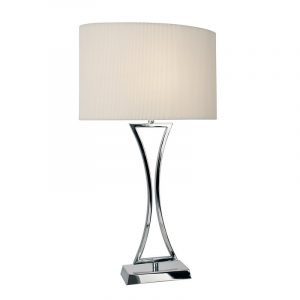 Home Sweet Home
If you like traditional styles, but you like them to have an edge, then the striking Dar Oporto could be the table lamp for you. The rich, eye-catching tones of the design make this a lamp that could sit easily in most rooms from the bedroom to a grand hallway. Its classic, thoughtful design means it won't go out of fashion any time soon and will be around for years to come.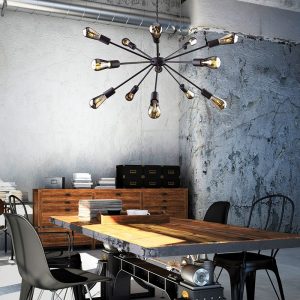 Buck The Trend
Now for the piéce de resistance – the Edit Rod 15 Arm Pendent is for those of you who enjoy something more than a little different. This industrial style light would make an excellent, eye-catching centre-piece that will bring a bit of drama in to your home! Why not place it in the middle of your room and build up the rest of your décor around it? If you have a very large living space, you could even hang two at opposite ends of the room, to make a bold and interesting statement – perfect for hosting parties, entertaining or just relaxing and playing cards with the family.
So, now that we've established how important living room lighting is, why not have a browse through our selection and take your pick?
Looking for more inspiration? Try our Lighting Ideas section.

Maxine Clarke Senior Buyer
Maxine has been our decorative buyer since 2015. With her experience in working for consumer-led brands, she is the perfect person to pick out the latest lighting trends for both your home and business. Maxine has an eye for the best up-and-coming lighting from the UK and around the world and works tirelessly to add new brands to our portfolio. One of her trends to watch in 2020 is connectable garden lighting; with summer garden parties more and more popular, being able to build and extend your own outdoor lighting with spotlights, festoons and string lights has never been easier – simply plug and play.