You can give your home an instant facelift by simply adding the right type of lighting to your outside walls. It's an easy way to create a stunning first impression and give your house real character. Click here for outdoor wall lights.
How to make your outside wall a feature in its own right:
Exterior wall lights:
Be as creative or as basic as you like when it comes to brightening up an outside wall. Use exterior lights to give an artistic edge, or use lights as a way of adding extra security and safety.
If done right, minimal touches to your outside wall create a big impression. The Nordlux  Twin Wall Light adds minimal Scandinavian style, using a sleek stainless steel column to house an up-firing and down-firing light.  You can add as many of these lights as you like to give your exterior wall a modern look. The light is protected against dust and water spray too, so it will remain looking stylish no matter the weather.
If you'd prefer to give your outside wall a more classic look, why not try the Caris Outdoor Wall Light. It features a dome-shaped glass diffuser, giving your home a welcoming feel.
However, if you have anyone on your property that isn't welcome, the Caris Outdoor Wall Light is also useful. It has a PIR movement sensor, which automatically turns the light on when someone comes within 8m and 110-degrees of your house.
Brick and tile lights:
If you're building an extension or a new outside wall, you may consider giving it a unique design twist by incorporating lights into the brickwork. Both the Mono LED Brick Light and Sorrento Low Energy Brick Light fit into standard brick-sized gaps to add a slice of style to the outside of your house.
Both lights feature a stainless steel rim, are protected against dust and rain, and come in alternative low energy options.
Bulkhead lights:
With powerful lighting capabilities and robust designs, bulkhead lights are ideal for outside areas that require a lot of light, such as driveways or outdoor work areas. Often the top choice for business premises, we have a selection of bulkhead lights that are both practical and pleasing on the eye.
The Night Eye LED Bulkhead – PIR is made from tough polycarbonate and features a prismatic diffuser. It illuminates automatically when it detects anyone within a 7m – 140 degree sensor range.
The Half Moon Exterior Wall Light – Black shows just how attractive bulkhead lights can be. Sporting a contemporary design, this light is supremely stylish – the perfect way to welcome guests to any style-conscious home.
It comes in a range of finishes, including graphite, aluminium and white, and it's totally protected against dust and splashing water. The British weather won't damage this light. A 15-year extended guarantee against corrosion is included for additional peace of mind.
Spotlights:
Spotlights are a discreet way of styling up an exterior wall, and they're a versatile lighting solution for outdoor areas. You can usually adjust the direction your spotlights aim light, and even use them as a burglar deterrent.
The Night Eye 150W PIR Security Spotlight can be panned and tilted into different directions. You can even adjust the dusk to dawn sensor, so you can set the level of darkness required for the light to be activated when someone steps within range. When someone or something is spotted within 10m and 160-degrees of the sensor, you can decide how long the light shines for – anywhere between five seconds and 18 minutes.
It's a great security option for an exterior wall at the back or front of your house, while also giving your home an edgy look. A pulsating 'system live' LED light can be activated as an advanced deterrent and to give your wall eye-catching appeal.
If you're looking for a spotlight without security features, check out the Marlow Wall Spotlight, which is available in black and satin silver. Its die-cast aluminium casing gives it an appealing look and a robust design, and it's totally protected from dust and water.
A 90-degree, adjustable, tapered head enables you to direct light in different directions, as required.
Wall washers:
Wall washers offer a slice of chic style to your outdoor walls, creating an elegant glare and inviting ambience. Their downward facing basin looks do have a hint of retro about them – so if you're after a touch of retro style, these are the lights for you.
The Torino Large Wall Washer and the Scorpius Wall Downlight are good options for lighting up entrances, driveways and garden walls. Add a row of lights to brighten up pathways or create an inviting ambience. Both sets of lights come in different finishes, and the Torino Wall Washer comes in different sizes too.
So…
If you have an exterior wall in need of illuminating, now you know the best ways to succeed in your task. The only question remaining is which method to choose?
Why not take a look at our full range of Wall Lights.
Alternatively for more inspiration try our Lighting Ideas section.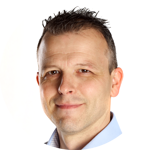 Andrew Evangelidis Head of Buying
Andrew is an experienced buying professional who takes an entrepreneurial approach to identify new lighting solutions and ensure Lyco have first-to-market ranges for our customers. Having previously worked for well known brands such as Wickes, Carphone Warehouse and Toys R Us, Andrew has now turned his hand to sourcing commercial lighting and ensure our customers receive top brand quality products at marketing leading prices. He manages a team of commercial and decorative buyers who travel the world finding new products that our customers don't even know they need yet.