We have tons of clever little bathroom lighting ideas that can help you to achieve the right look and feel. The bathroom is after all one of the key areas for creating an impression of cleanliness and the image of a well-kept home. Remodelling, restoring or simply updating this area can help to breathe a sense of freshness into your whole home.
The right lighting plays a big part in defining the theme and style that is created in the bathroom. Get it right and the room will feel like a stylish and relaxing sanctuary, but get it wrong and you may end up with an overly lit room that seems a bit sterile and boring.
Define Your Goals
Total Restoration
If you are looking to completely remodel your bathroom then start by defining what you want to achieve. Ask yourself what type of theme are you going to go for? Do you want a minimalist ultra-modern look or maybe a more period design. Then you need to pinpoint which light fittings are going to help you to achieve this theme.

The Downlights are an excellent choice if you want a clean sharp modern look.  This will, of course, depend on the size of your bathroom, but the fewer you use the more tonal and atmospheric the lighting will be.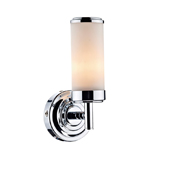 Layering the bathroom light is a great way to create a comforting ambience. The Century Wall Light works well to add to the contemporary theme. A pair of Centurys would look great either side of a bathroom mirror. This light has a opal glass diffuser for a gentle illumination, so when used in conjunction with dimmable Fireguard spotlights you can reduce the light and create a soft tone for a relaxing hot bath.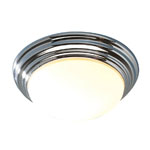 Period Style
If you like the idea of using a combination of wall and ceiling lights but are looking to create a subtle period feel in your bathroom then you may want to consider the Barclay Semi Flush. This beautifully simple fitting is perfect for the bathroom, but it really comes into its own when teamed with other lights from the same range.

The Barclay Wall Light is the perfect accompaniment for its ceiling light counterpart. When installed together in a bathroom they set a rich and inviting tone for the room not only in terms of the light but also the style. These fittings will help to create a subtle and understated art deco feel.

Simple Changes – Big Impact
If you don't have the money, time or inclination to spend on completely remodelling here are some simple bathroom lighting ideas that can make all the difference.
Is your bathroom cabinet looking a bit old and worn out? Maybe the mirror is a little cracked or the style is completely out of date. By simply installing a new mirror cabinet you can update the whole feel of the room. The Mirror Cabinet is a great way to breathe new life into your bathroom. It's ultra-contemporary and has a built in light for shaving and make up application.

If you have recently decorated your bathroom but feel that it still lacks something then you may want to consider the Mashiko 360 Wall Light. This fitting can be installed either vertically for stylish decorative lighting or horizontally in which case can be used as a shelf for your bathroom paraphernalia. Either way it will be a striking and eye-catching feature for your bathroom.
There you have it, a few quick bathroom lighting ideas for you to chew over. When choosing the lighting for your bathroom or anywhere else in the home it's always a good idea to decide what you want to achieve in terms of both style and ambiance then you can work towards your goals.
For more lighting inspiration click here.