How can ambient lighting play its part in lifting our spirits during the chilly winter months? Like the much loved hedgehog many of us would like to hibernate during the cold winter days and long dark nights but a more practical solution to warm up our homes can be achieved by the clever use of ambient lights.
Think roaring fires, hearty meals, soft warm blankets and furnishings and embrace the winter months with our ambient illumination tips.
Creating the perfect ambience
As its name would suggest, ambient lighting is all about creating the right mood for your room. Our focus here moves away from practical lighting and concentrates solely on the effect that can be created by injecting warmth and energy into your home.

Batten down the hatches and fashion your own indoor sanctuary by using the Edit Wall Light to achieve a homely and cosy atmosphere. With a soothing wash of light your room will become a warm, relaxing and inviting space for you to curl up on the sofa sheltered from the outdoor elements. Textures and colour are also very important for ambience and a rich walnut veneer wall light will have you dreaming of your very own log cabin.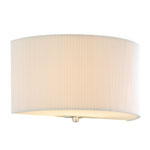 A textured fabric shade as seen on the Zaragoza Wall Light will help create your snug setting and the gently dispersed light will bring soft subdued illumination to your living space.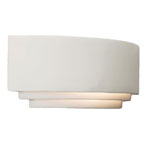 Discreet Lighting
Creating the right look and feel in any room is a skill. A solitary ceiling pendant can seem stark if used alone but when paired with floor, table or wall lights can paint a very different picture thanks to the layering of light. Take the Amalfi Ceramic Wall Light which will add a soft projection of both up and down light creating a toasty atmosphere in which to relax and unwind. Why not paint it in a deep rich tone and make your very own snug. All you need now is cosy slippers or luxurious cashmere socks.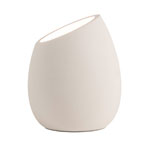 Uplighting
Following the theme of choosing a discreet light source for your ambient lighting, why not consider uplighting. The Limina Plaster Floor Uplighter can be tucked behind a sofa or comfy armchair to project light upwards creating your very own haven in which to snuggle down and read a good book or enjoy a steaming mug of hot chocolate.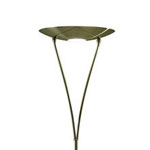 For a different approach take a look at the Opus Uplighter Floor Lamp in antique brass. Harking back to the flame lit lighting of Ancient Rome, the Opus will create a dramatic ambience and brighten up your room. This light will make you forget all about the grey and gloomy evenings.

Flexi-lighting
Prepare your winter soups and hardy stews in a kitchen that is equally inviting. Why not try illuminating display cabinet shelves or under counter worktops with versatile LED flexi strips. 5M LED Flexi Strips in a warm white light will create a space where friends and family are happy to gather for a meal and a catch-up.

Dim and Diffuse
Don't forget simple tricks such as dimming for creating the perfect ambient lighting. In the early evening use whatever natural daylight is available to banish the winter blues but as night draws in think about using a dimmed light to take the edge off the darkness and make your home the ultimate cosy retreat. The Edit Glaze Flush Fitting will bring such a soft diffused light to your room that nothing will entice you to leave this idyllic setting. Use accessories too such as ornate mirrors to reflect light around your space.
Ambient lighting will create a cosy environment in your living room, subtle night lighting in a child's bedroom or layered lighting in a kitchen. Simply find the right balance for you.
For more inspiration try our Lighting Ideas section.

Maxine Clarke Senior Buyer
Maxine has been our decorative buyer since 2015. With her experience in working for consumer-led brands, she is the perfect person to pick out the latest lighting trends for both your home and business. Maxine has an eye for the best up-and-coming lighting from the UK and around the world and works tirelessly to add new brands to our portfolio. One of her trends to watch in 2020 is connectable garden lighting; with summer garden parties more and more popular, being able to build and extend your own outdoor lighting with spotlights, festoons and string lights has never been easier – simply plug and play.