LED strip lights are fun and versatile, a modern innovation that can be used for tons of different applications around the home. The most common include under cabinet lighting for the kitchen and display lighting.
They can also be used as party or decorative lighting to add character and a touch of modern style to any given room. Alternatively you may want to install them permanently as accent or mood lighting.

LED technology is perfect for striplighting
LED lighting is durable, long lasting and hardwearing. This makes it well suited to strip lighting applications. It can be bent, stuck in place or even left outside in some cases. All in all this is a new generation of lighting you can get creative with and brighten up your home.

The many uses for LED strip lights
Easy to install display lighting:
If you are looking for a quick way to highlight beloved family photos, ornaments or sporting trophies without the hassle of installing new light fittings then an LED strip light will work perfectly. The Surface Mounted LED Strip light – 121 LED is well worth consideration as you simply mount it where required plug it into the mains and you're all set. It's entirely up to you how you use this strip light. It's 31mm long with a 1 meter mains cable so it can serve loads of functions all around your home.
Extra task lighting for the Kitchen:
Another great application for LED strip lights is as under cabinet kitchen lighting. They are an elegantly modern way to add extra task lighting for food preparation. The LED Linkable Strip light is an excellent choice for under cabinet lighting as you can join multiple strips together to suit the dimensions of your kitchen. You can place them exactly where you need them over your worktops so you will always be able to see what you are doing.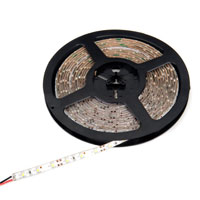 Party or decorative lighting:
Party lighting should be fun, colourful and versatile. The 5M LED Flexi Strip lets you get creative with your decorative lighting. It can be cut every third LED so you can have different lengths of strip lighting. Also with an IP65 rating this 5m LED strip is also durable enough for life outdoors. It even has a dimmable function so you can create the perfect atmosphere either indoors or outside. All in all this is a great example of how fun, versatile and hardwearing LED strip lighting can be.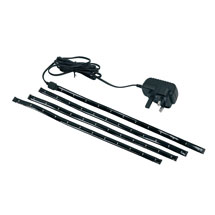 Stick them all around the home:
As you've seen so far LED strip lighting can be used in loads of different ways around the home. However if you want something you can stick anywhere you need to have a look at our Self-Adhesive Black LED Strip lights. They are a wonderful option for adding decorative lighting quickly. These self-adhesive strip lights can be used in awkward areas such as picture-frames, doorframes and bookshelves. You can run them down the banister of your staircase or even stick them to the ceiling, it's completely up to you. However they must not be placed in wet areas like the bathroom or outdoors.
LED strip lights are tons of fun and can be used in many different ways for both practical and decorative lighting. We have only looked at a few examples in this article of strip light applications. If you think about it I'm sure you can come up with loads of other uses for them in your home.
Need more inspiration? Try our Lighting Ideas section.
Maxine Clarke Senior Buyer
Maxine has been our decorative buyer since 2015. With her experience in working for consumer-led brands, she is the perfect person to pick out the latest lighting trends for both your home and business. Maxine has an eye for the best up-and-coming lighting from the UK and around the world and works tirelessly to add new brands to our portfolio. One of her trends to watch in 2020 is connectable garden lighting; with summer garden parties more and more popular, being able to build and extend your own outdoor lighting with spotlights, festoons and string lights has never been easier – simply plug and play.