When searching for outdoor lights you may well have come across the terms Post, Bollard and Pedestal lighting. You can be forgiven for finding these references confusing as Post and Bollard lighting in particular are often used interchangeably.
Let's take a look at each type of lighting in turn.
What Are The Differences
Bollard Lighting
As a rule of thumb, a bollard light will be thicker in structure than a post light which ties in nicely with the suggested origin of the name 'bole' meaning tree trunk.
Carve out areas by placing bollards such as the IP44 Fedor Short Bollard along pathways to guide you after dark. Alternatively separate your exterior space by placing bollards between your patio and lawn area. This particular model of bollard has satin chrome finish, clear pvc diffuser and tubular decorative filament bulb so will emit a subtle light and won't over illuminate your garden or walkway which can spoil the effect.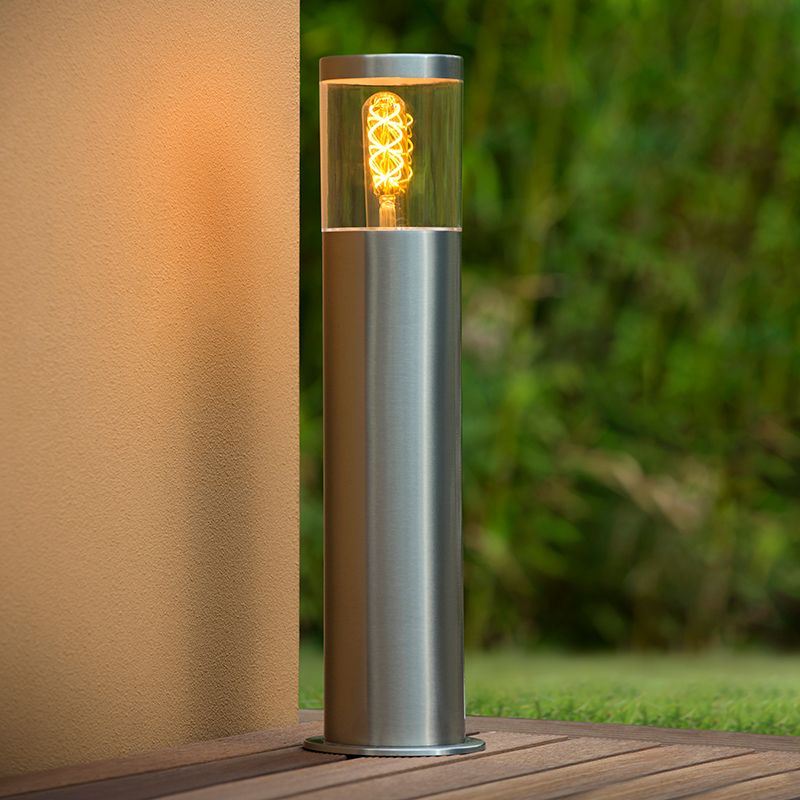 Much smaller in height, standing at just 160mm, is the Linum Light. This mini bollard will work well marking out the edges of your decking, patio areas or for low level pathway light. Unlike the Fedor Bollard it is low voltage and is part of the Techmar Plug and Play connectable lighting range which makes installation very quick and straightforward. Using LED technology, it is very energy efficient too.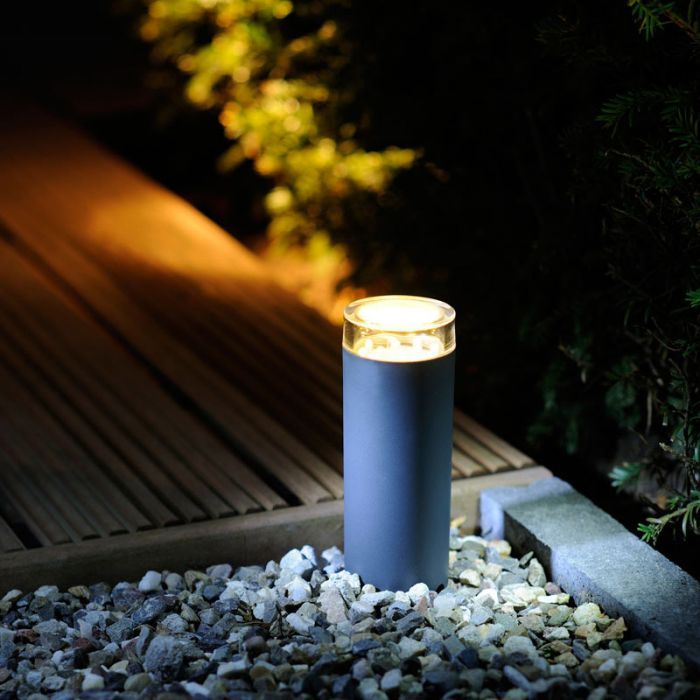 Post Lighting
Post lights tend to be more slimline in structure than bollards. They can be used to highlight borders, driveways or be positioned outside a summer house for smart illumination
The Edit Inox Post Light has a PIR motion sensor so the light will be activated when it senses movement within a certain detection range. This makes it ideal for illuminating paths or perimeter borders.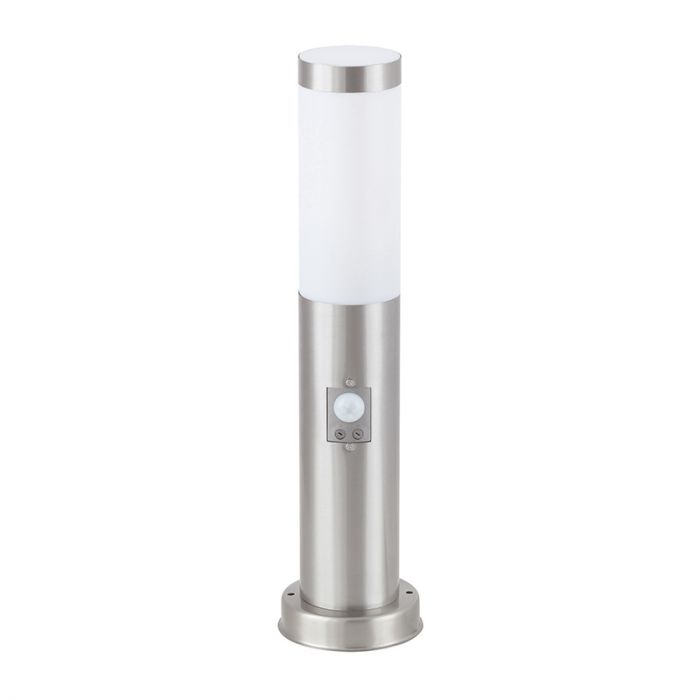 At the furthest end of the height spectrum come the post lanterns and lamp posts. They are designed to make a statement and work well at both the front and rear of larger properties. Their height ensures, in most instances, that the light is not obscured by plants and bushes. The Turin Grande Post Lantern – Black is height adjustable and stands proud at between 1910mm and 2790mm. It is suitable for use in coastal locations.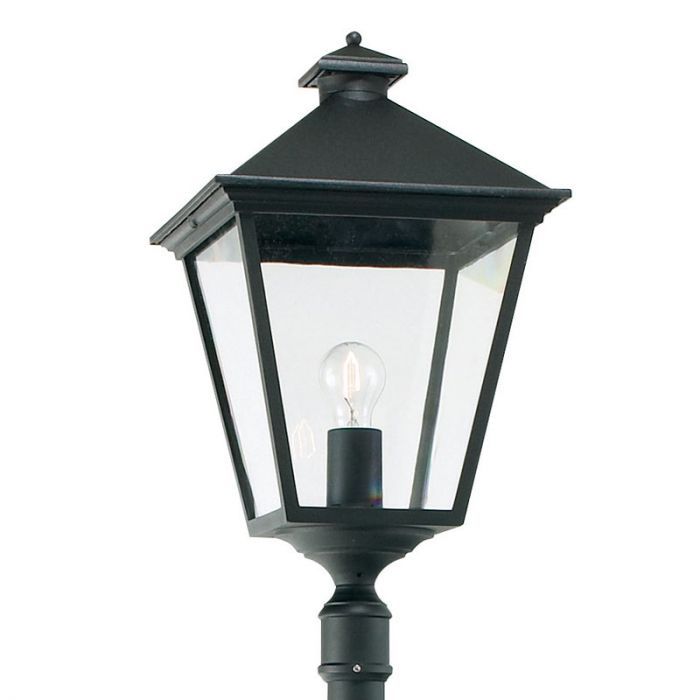 Pedestal Lighting
Another option for outdoor lighting comes in the form of pedestal lighting. A pedestal is a base on which something is supported; in this case lighting. These fittings tend to be shorter in height so that they can be perched on top of walls at the entrance to your home or at the side of steps.
Pedestal lighting comes in a variety of styles from modern to traditional, simple to decorative, giving you maximum flexibility of choice. If you are looking for a high quality piece of traditional lighting then the Turin Pedestal Lantern – Black is a strong contender. It will be a smart addition to your outdoor lighting perfect for guiding you into your driveway after nightfall.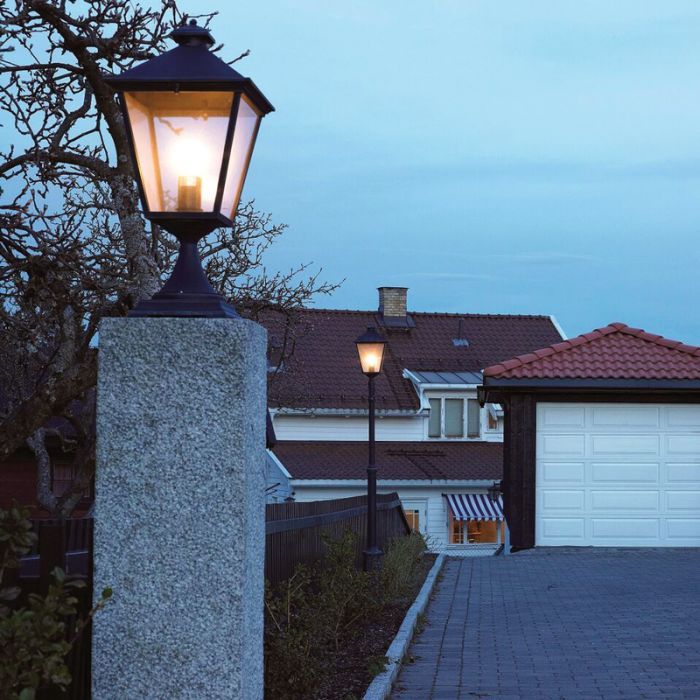 For a modern twist on pedestal lighting choose a model such as the Lucide Claire Pedestal – Anthracite. It is IP54 rated so suitable for outdoor use and has stunning clear glass diffusers for a clean aesthetic.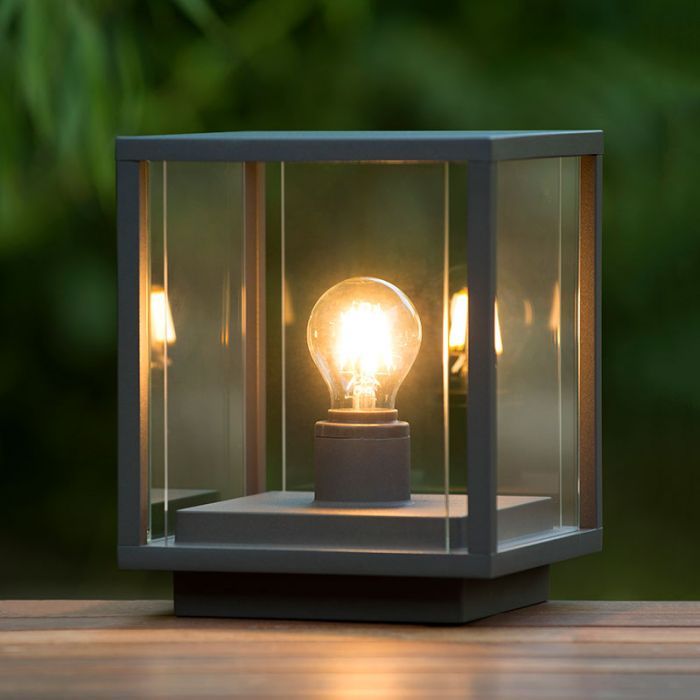 We hope that you now have a clearer picture of the differences between bollard, post and pedestal lighting. For a full range of what we have to offer go to our Posts and Bollards section.
For more interesting tips and guidance check out our Lighting Ideas section.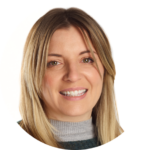 Maxine Clarke Senior Buyer
Maxine has been our decorative buyer since 2015. With her experience in working for consumer-led brands, she is the perfect person to pick out the latest lighting trends for both your home and business. Maxine has an eye for the best up-and-coming lighting from the UK and around the world and works tirelessly to add new brands to our portfolio. One of her trends to watch in 2020 is connectable garden lighting; with summer garden parties more and more popular, being able to build and extend your own outdoor lighting with spotlights, festoons and string lights has never been easier – simply plug and play.