Lighting your driveway adds an extra layer of safety and security to your home.
If you're returning home late at night, driveway lights can guide you and your car safely into position without scraping paintwork or damaging fences, garden furniture, or walls.
There are a number of factors to consider when choosing lights for your driveway. The style of lighting you want and the type of installation required is fundamental.
Installing your driveway lights
Low voltage lighting
One of the chief advantages of low voltage outdoor lighting is that it can be safely installed without electrical expertise. This is a good option for anyone willing or able to partake in a little DIY.
Regular electrical current
You can run electricity from your house out to the driveway, but you'll need a qualified electrician to carry out the installation. Outdoor mains cables have to be buried in a deep trench (deeper in unpaved areas) to avoid potentially fatal accidents.
Choosing the perfect driveway lighting
Ground lights
When it comes to lighting a driveway, most people tend to opt for ground lights. They're a popular choice because they give the driveway a modern look, are unobtrusive and relatively easy to install. Ground lights are generally sold individually and come in a range of colours and shapes, so you can get creative and add character to your driveway.
Many ground lights can withstand the weight of cars driving over them. This will always be specified by Lighting Direct, so you can be sure of buying the right product. The drive-over Adelpha Ground Light has a recessed design that allows a perfectly flush, discreet installation. With a tough polycarbonate diffuser this light is built to withstand up to 2,000 kg weight.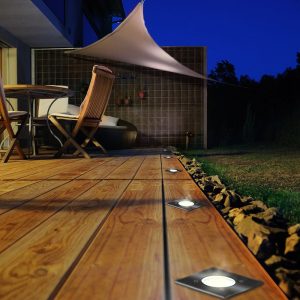 If you don't intend to be driving over the lights, ground lights can still be used to highlight the boundary of your driveway, install them along the perimeter of your drive and make it easier for you to park well within them. Lighting Direct offer the great value Edit Monday ground light and the Edit Quad square ground light. These dust-tight, submersible fittings use LEDs for extremely low energy consumption and long life.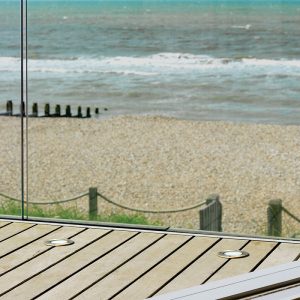 If you live within 10 miles of the coast, it's important to find ground lights that are coastal resistant that won't damage easily due to the high salt levels. The Faro Barcelona ground light is a domed matt nickel finish ground light that is suitable as a drive over light and is IP67 rated.
Driveway post lights
Post lights are useful for marking out your driveway perimeter, making it easy to manoeuvre your car in and out of position when light is low. They never become covered in snow or leaf debris like ground-installed lighting.
You can space post lights out along your driveway as you see fit (you might want to do this asymmetrically with a long drive—avoiding the runway effect), and even blend them into your rockery or garden features.
Whether you're seeking traditional or contemporary lighting for your driveway, Lighting Direct has a vast range of post lights with different designs, heights and finishes. The Lucide Fedor Outdoor Bollard Light provides a contemporary lighting solution, with a satin chrome finish and stylish decorative filament bulb to guide you and your vehicle to a safe standstill.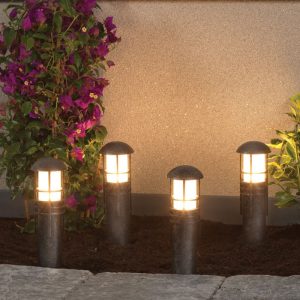 The Edit Birch LED Outdoor Garden Post Light Kit is everything you need to light up your driveway. It comes with everything you need to get started, plus it is part of our low voltage connectable light range which means (with a little of DIY) you won't need to pay for an electrician to get you set up.
Need more inspiration? Check out our Lighting Ideas section.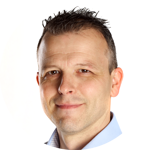 Andrew Evangelidis Head of Buying
Andrew is an experienced buying professional who takes an entrepreneurial approach to identify new lighting solutions and ensure Lyco have first-to-market ranges for our customers. Having previously worked for well known brands such as Wickes, Carphone Warehouse and Toys R Us, Andrew has now turned his hand to sourcing commercial lighting and ensure our customers receive top brand quality products at marketing leading prices. He manages a team of commercial and decorative buyers who travel the world finding new products that our customers don't even know they need yet.
Where Next?