Smart home technology is changing the way in which we use light in our homes. Increased adoption of smart speakers, such as Amazon Alexa, Google Home, or Apple HomePod, is helping to shift our behaviour by giving us complete control over our lighting – all through the power of our voice. What's more, the ability to control lighting via a mobile app is also an attractive proposition for many homeowners – particularly when you consider the level of customisation that most modern smart bulbs allow for at the touch of a button (or swipe of a thumb!).
We recently asked our customers how they feel about smart lighting, and the results confirm that not only is smart lighting taking over our homes, it could soon be taking over our gardens too!
In fact, the research revealed that over a quarter (28%) of respondents are already using smart lighting as part of their daily lives. And for those who don't yet have smart lighting in their homes, half are considering installing it in the near future. Why? The main reasons are increasing home security (41%), reducing carbon footprint (21%), and keeping in touch with the latest tech trends (17%).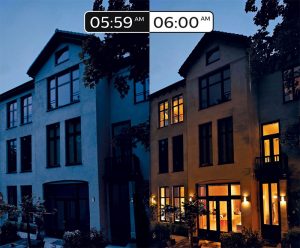 Smart lighting can be scheduled to turn on and off at set times
Endless possibilities
As well as offering homeowners many practical benefits, such as turning on lighting remotely before you arrive at home, or turning off lights after you leave, smart lighting can also be used in a number of fun ways, including programming your lighting to:
flash in your sport's team's colour when they score
change colour, based on the weather
be just the right colour temperature and warmth to help your child fall asleep
mimic the sun rising in order to wake you up in the morning
flash when you receive a text message or email.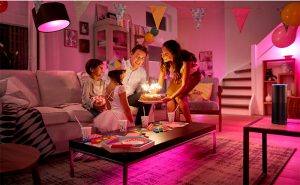 Philips Hue lets you play with 16 million colours!
We predict a 'smart summer'
Whilst the living room (65%), bedroom (38%), and hallway (30%) are the most popular rooms for smart lighting inside the home, the research also revealed that 63% of respondents are interested in outdoor smart lighting.
As homeowners contemplate longer, warmer evenings sat outdoors in their gardens, the idea of being able to change the colour of outdoor lights for a party, or illuminating flower beds with different colours, is clearly an appealing one.
Smart tips for smart lighting
Smart lights are only 'smart' when they are connected to the internet, so before investing in new smart bulbs it is important to ensure that you have the right foundation on which to build a connected lighting ecosystem. From a technical point of view, users should consider the following key points:
check the WiFi coverage in areas where the lights will be used
check the brand of lightbulbs being purchased will integrate with existing smart devices such as smart speakers
check any associated apps are compatible with your smartphone or tablet device.
Providing these boxes can be ticked, then there's nothing to stop you from enjoying smart lighting in your home. To find out more and to view our wide range of smart lighting products, including products from leading suppliers such as Philips Hue, WiZ, and iDual, visit our smart home page.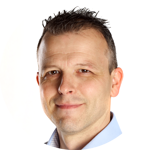 Andrew Evangelidis Head of Buying
Andrew is an experienced buying professional who takes an entrepreneurial approach to identify new lighting solutions and ensure Lyco have first-to-market ranges for our customers. Having previously worked for well known brands such as Wickes, Carphone Warehouse and Toys R Us, Andrew has now turned his hand to sourcing commercial lighting and ensure our customers receive top brand quality products at marketing leading prices. He manages a team of commercial and decorative buyers who travel the world finding new products that our customers don't even know they need yet.