Your child is unique. Whether football mad or a pop princess, your child will want a bedroom that reflects their own style and personality. Choosing the right lighting can enhance the décor whilst adding to the overall ambience and theme of the room.
From lighting a nursery to illuminating a teen's den, we will show you some of the options available for making your child's room a fun, relaxing and inviting space.
The right light for your little monsters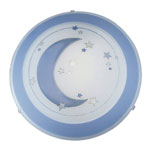 Sweet Dreams in the Nursery
For very little ones, peaceful and soothing lighting will help them drift off to sleep at night. Choose lighting that can be dimmed for a soft gentle glow. Consider a flush light such as the Speedy Flush with its attractive moon and stars design. As it sits flush against the wall or ceiling there are no potentially dangerous cables or cords to be grabbed at by little hands.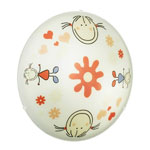 Playful lights for your Juniors
Children need to feel safe and happy in their room otherwise getting them up to bed can prove challenging! Choose fun and quirky fittings for younger children with hearts, flowers and happy smiley faces as seen in the Junior Girls Hearts and Flowers Flush which will be an instant hit. For the little boy in your life why not choose something like the Junior Boys Cars and Clouds Flush for a cheerful and welcoming bedtime light.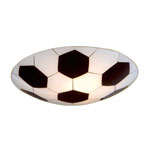 Double Figures
6 going on 16; kids are growing up so fast these days and they want to make their mark. If your son is mad about footie then why not create a football themed bedroom with the Junior Football Flush taking centre stage. As trends come and go, your child may tire quickly of a particular super hero themed room. With football you can't go far wrong.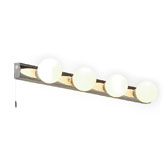 If you want to create a celebrity styled dressing room for your fashion mad daughter then why not go for something different like the Cabaret Mirror Light. Position it above a dressing table displaying pots of brightly coloured nail varnish and fashion jewellery for a quirky vibe.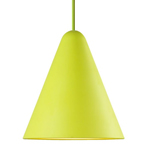 Funky Lights for Teens
It's probably fair to say that teenagers are the group of people who spend most time in their bedrooms away from the madness of family life. They want a space that they can call their own where they feel at ease. Bring some scorching hot colour to their room with a funky light fitting such as the Jive Pendant – lime. Alternatively add impact to their décor with the contemporary Pendant in a Red finish for a touch of sophistication.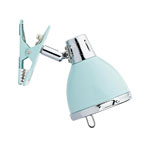 As well as chilling in their bedroom under ambient lighting, you may want to choose some task lighting for their studying and bedtime reading. Choose a retro styled adjustable lamp for the desk such as the Osaka Clip-On Desk Lamp – Blue Gloss and angle to reduce glare from the computer screen. The Cyclone Wall Light – Aluminium will work well positioned on the wall next to the bed and can be angled to focus directly onto the pages of their favourite book.
However young or old your child, you will want them to have a bedroom they love. Whether they prefer bold and bright, or pale and interesting we have a great selection of children's lighting here at Lighting Direct. For our full range please go to children's lighting section.
For more inspirational information check out our Lighting Ideas section.

Maxine Clarke Senior Buyer
Maxine has been our decorative buyer since 2015. With her experience in working for consumer-led brands, she is the perfect person to pick out the latest lighting trends for both your home and business. Maxine has an eye for the best up-and-coming lighting from the UK and around the world and works tirelessly to add new brands to our portfolio. One of her trends to watch in 2020 is connectable garden lighting; with summer garden parties more and more popular, being able to build and extend your own outdoor lighting with spotlights, festoons and string lights has never been easier – simply plug and play.