Traditional Lighting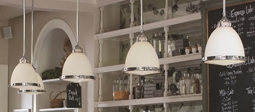 Traditional lighting is quite a broad category, and there is a lot of overlap with classic and vintage lighting. However to make the distinction a little clearer traditional lighting can be thought of as having a timeless charm. These fittings are neat, elegant and profoundly stylish.
Choosing to adopt this type of look in your home is a great way to add depth, resonance and character. If you love sophisticated style this kind of décor should suit you perfectly. Click here for a run down of the top ten traditional lights.
What room are you buying for?
For the living room?
Traditional light fittings run on a spectrum from the striking to the understated. Therefore it is very important to find something that works with the style of your home. If you want to create a magnificent living room click here.
For the kitchen?
This type of lighting is, of course, a great way to add character and poise. It can transform a kitchen from the place where you prepare food to the hub of your home. Click here for fittings suited to the kitchen.
For the dining room?
It makes perfect sense to have a grand central fitting illuminating the room over the dining table. However try to avoid fittings that will dominate the room in relation to both the size and style. For handsome lighting suited to the dining room click here.
For the bedroom?
Adding traditional lighting to your bedroom can really add a romantic feel to the room. Try to choose a fitting that looks like it will naturally compliment the style. Click here for our bedroom fittings.
For the hallway?
Due to its shape this is probably one of the hardest areas to choose lighting for. Remember that your corridor joins rooms together and therefore joins the décor of the home together. Try to choose lighting that works with all the rooms it connects. For traditional lighting for the hallway click here.
Traditional lighting when chosen correctly should make a profound and dignified statement of elegance. Please take your time and choose carefully as it is very important that this type of lighting is well suited to the décor. When traditional lighting is perfectly suited to a particular room it takes it to the next level of splendour. If you want to get more specific with the era your lighting comes from then you may want to have a look at our Guide to Period Lighting.
Read more about Traditional Lighting