Creating a beautiful home can be a joy and if you desire an elegant interior décor then luxury lighting should be at the top of your wish list. This type of lighting should be the crowning glory in any room and if you make the right choice you can bring an air of grandeur and opulence to your indoor space.
Let's take a look at how you can showcase your home and furniture to great effect with high quality distinctive lighting.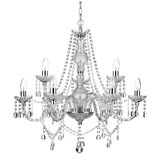 Luxurious Home Lighting
Dressing your ceiling
Do you want to dress your room to impress? Luxury lighting in the style of vintage glamour can be achieved with the Katie 9 Light Chandelier. This imposing chandelier features an exquisite blend of glass sconces and crystal droplets which will create a dazzling lighting display in your living room or dining area. Add elegant and ornate pieces to your home to create a high end luxurious feel as well as a sumptuous space to entertain guests. Don't compromise on quality if you want to get that look just right.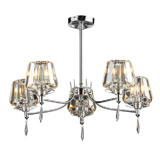 A touch of glamour
For the discerning amongst you, the Selina 5 Light Semi Flush will hit the mark. Luxury lighting at its finest is achieved with this enchanting piece which teams stunning crystal shades with sleek polished chrome to radiate a shimmering light around your room. Mix with the finest of furnishings, soft rugs and striking accessories for a high quality and lavish living space.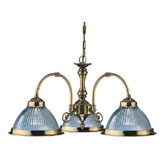 Traditional Styling
Luxury Lighting is not just for the living room. Choose a distinctive piece for your kitchen/diner and inject some sophistication into this area. Position the American Diner 3 Light Dual Mount – Antique Brass above your table for a traditional and elegant setting in which to enjoy a meal with family and friends.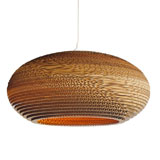 Making a Statement
When you think of luxury lighting you quite rightly probably imagine ornate pieces decorated with crystal and glass. However contemporary pieces created from unusual materials can bring refinement to your home and be the epitome of style. The Disc 24 Pendant, for example, is ultra-modern and crafted using recycled corrugated cardboard bringing an eye-catching piece with 'green' credentials to your interior design.
Layering of Light
If you insist on the finest things for your home then good quality lighting is a worthwhile investment. High end interiors are not complete without luxury lighting and the key to creating the right mood for your room is layering the light. Stylish glamorous wall lights will work well in a living room or dining area where soft ambient lighting with a touch of sophistication is required. Take a look at the beautiful Allegra Twin Wall Light which will illuminate the room with a classic finesse worthy of only the most luxurious of décors.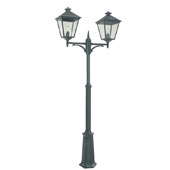 Outdoor Luxury
Your individual style is reflected in your outdoor space too so it's worth splashing out on the best quality exterior lighting to create the right first impressions when visitors arrive at the entrance to your home. For a polished look and a sense of grandeur choose a piece of luxury lighting such as the Turin Grande Twin Post Lantern – Verdigris. This stately outdoor light has a first-class construction and exudes a superior quality.
Luxury Lighting can define a room and turn an uninspiring space into a work of art. Choose a design that suits your décor and furniture style and create an indulgent and glamorous feel for your home. If you liked these luxury lights then our selection of chandeliers is sure to impress.
For more inspiration have a look at our Lighting Ideas section.

Maxine Clarke Senior Buyer
Maxine has been our decorative buyer since 2015. With her experience in working for consumer-led brands, she is the perfect person to pick out the latest lighting trends for both your home and business. Maxine has an eye for the best up-and-coming lighting from the UK and around the world and works tirelessly to add new brands to our portfolio. One of her trends to watch in 2020 is connectable garden lighting; with summer garden parties more and more popular, being able to build and extend your own outdoor lighting with spotlights, festoons and string lights has never been easier – simply plug and play.