It's a win-win situation when illuminating your outdoor plot with deck and ground lights. Not only do they bring an element of safety when highlighting paths, driveways and decking after dark but they also add ambience to your outside space.
Deck and ground lighting is subtle and unobtrusive and can be a sophisticated way to light up your exterior areas. Let's take a look at your options.
Deck, Ground or Driveway?

Deck Lighting
When you are dining al fresco and the Sun begins to fade, lighting up your decking area will allow you to continue entertaining into the wee small hours. All deck lights will have an IP rating but do check what rating they carry so you know how well it is protected from the elements. With an IP68 rating, the Astrum LED Deck Light is a great choice and as it is low voltage it is completely safe to install. It uses energy efficient LED technology so is robust, doesn't get hot under foot and has a super long lifespan.
Use deck lights as markers to define the area. Position them every 5 feet around the edges of your decking for a stylish and safe environment. Don't forget to highlight any steps ensuring the lights are correctly positioned to avoid glare and give maximum illumination to the treads on the steps.
Circular ground and deck lights are slightly easier to install because if the cut-out on a square or rectangular fixture is not perfect, the fitting will look misaligned. As with all outdoor lights it is always recommended that a professional electrician is consulted. Try and think about your lighting prior to building the decking.

For accent lighting on your decking why not go solar powered. If your decking receives Sun light during the day, take a look at the Solar Deck Light for twinkling illumination at nightfall. Thanks to its dusk to dawn setting it will only activate when the Sun goes down and when fully charged can remain lit for up to 12 hours.

Ground Lighting
Create pools of light along your path and driveway with carefully selected ground lights. As they sit flush with the floor they do not cause a trip hazard and will illuminate the way ahead in style. With a contemporary textured diffuser, the Messina LED Ground Light – Square is a solid all-rounder and suitable for use under foot. Similarly, the Garland LED Walkover Lights – Set of 10 – White, as their name suggests, are perfectly safe to walk over so ideal for your pathway lighting.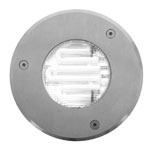 Add a spectrum of colours to your pathways or decking with a recessed fitting such as the Felix IP68 7W Recessed Ground Light with Colour Filters with red, blue and green filter accessories. Let the lights reflect the mood and ambience you wish to recreate.

Driveways
Soft, warm up-light from recessed driveway lights will guide you to the entrance of your home at nightfall. They need to be robust and suitable for a vehicle to pass over. The Adelpha Submersible Ground Light, by way of example, is designed to be driven over and thanks to its high IP rating can be jet washed too.
The beauty of ground and deck lights is their simple, neat appearance. However they can make quite an impact when guiding you around your outdoor space at night. For our comprehensive range of hardwearing lights go to the deck and ground section.
For more inspiration check out our Lighting Ideas section.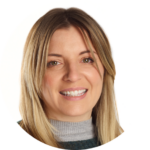 Maxine Clarke Senior Buyer
Maxine has been our decorative buyer since 2015. With her experience in working for consumer-led brands, she is the perfect person to pick out the latest lighting trends for both your home and business. Maxine has an eye for the best up-and-coming lighting from the UK and around the world and works tirelessly to add new brands to our portfolio. One of her trends to watch in 2020 is connectable garden lighting; with summer garden parties more and more popular, being able to build and extend your own outdoor lighting with spotlights, festoons and string lights has never been easier – simply plug and play.