Shop by Room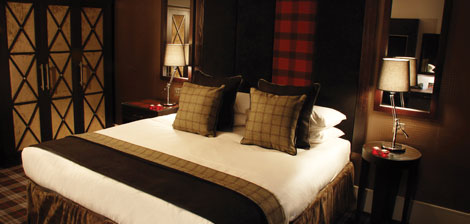 It completely makes sense to choose your lighting by room as different types of lighting suit different applications. This is one of the three main considerations to keep in mind when choosing your fittings. The other two are room size and style of décor. If you choose your lighting in terms of these three factors you won't go far wrong.
You may also want to bear in mind that different types of lighting will work in different ways in a particular room, for example a standard pendent light with a large shade will have a much more relaxed feel than a bright chandelier and therefore completely change the look of the décor. The Kelvin colour temperature of the light bulb will also have a big impact on the tone and feel of the room.
What room are you shopping for?
For the living room?
This is where people generally spend a lot of time unwinding and relaxing. You should think about what makes you happy. Do you like soft, homely and comforting light or do you prefer things a bit more bright and shiny? Click here for light fittings for the living room.
For the kitchen?
For this room you need to give equal consideration to both style and functionality. You want your kitchen to look good but you also need well-positioned lighting to work under. Click here for kitchen lighting.
For the dining room?
This room has a very clear purpose. Generally it will need a centralised source of light to highlight the table and the beautiful food you will present on it. Click here for lighting that will look great in the dining room.
For the bedroom?
It depends on who's room it is, if it's for the kids some soft night lights teamed with a central fitting will work fine. If it is for the adults however, you may need something more interesting to set a relaxing and inviting ambience. Click here for lighting for the bedroom.
For the bathroom?
Regardless of décor, the lighting in this room needs to emphasise a clean and sanitary appearance. Clear sharp light is a good way to achieve this image, which is why many people use spotlights. Click here for bathroom fittings.
For the hallway?
This may be the most underappreciated space in the home, but remember it links the rooms together and the décor you choose will help to round off the overall style of your home. Click here for hallway lights.
For the kids?
Of course, kid's lights need to be fun, colourful and exciting. We have a wonderful range of lighting perfect for the little ones.
For the office?
This is the only space where practicality should come before style. When working you need sharp clean lighting that will help you to concentrate. We have just what you need click here for office lighting.
For the conservatory?
The conservatory is a great place to have a coffee, chill out and enjoy the view of your garden. However well chosen lighting will make this room just as an attractive place to relax in when the sun goes down. Why not have a look at our advice and recommendations for conservatory lighting.
For a loft conversion?
Investing some money into a loft conversion can make so much difference in terms of space in your home. It can also add to the value of your property. However it's important to get the lighting just right even if you have added a skylight there can still be a lack of natural daylight. To avoid this new space in your home looking gloomy check out our guide to loft lighting.
For the basement
Converting a dark stuffy basement into an enjoyable living space can be challenging. If your basement does receive any natural light it will probably be a very limited amount. This means your choice of lighting can make or break the feel and overall usability of the room. Why not check out our guide to basement lighting.
Ambient Lighting
To make each room in your house as cosy as possible especially in the winter months give some consideration to ambient lighting. Inviting and comforting illumination will make any particular room feel so much more homely.
Affordable Lighting
If cost is an important factor in your decision making process then we want to show you that you don't have to spend a fortune to find high quality fittings that will work with your home. Why not check out our guide to affordable lighting.
Decorative Lighting
The right type of feature lighting can play an important part in bringing your décor to life. If you want decorative lighting but need some stimulating ideas to get your imagination going then check out this article.
A room by room guide
If you are looking for more advice when it comes to choosing your lighting room by room to get a more coordinated feel throughout your home then check out How To Choose The Right Lighting For The Right Room.
At Lighting Direct we have the best quality lighting fixtures and fittings perfect for every room in the house. If you're not sure where to start why not check out our guide to wall and ceiling lights.
Read more about Shop by Room