Wall Brackets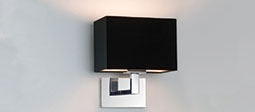 Wall brackets are your chance to add instant style and bags of character to any room. You can use them to accentuate the type of look you are going for. The right combination of light fittings and soft furnishings will be the signature to your décor. The golden rule for choosing the right lighting is always consider the size and style of the room you are buying for. If you want to learn more about wall sconces click here.
What room are they for?
For the living room?
This is the perfect place to show off your flair for interior design. Wall brackets for the living room come in all shapes and sizes. Remember, ask yourself, what is size appropriate? If you install large and bold wall brackets in a small room they will become a dominant feature of that room. Conversely smaller brackets may be inappropriate for larger rooms.
For the dining room?
You will obviously want something that matches the décor beautifully and frames the room with the table in the middle perfectly. This will add to the presentation of any dinner party or family meal. With the variety of dining room wall brackets here at Lighting Direct you are bound to find something that works for you.
For the bedroom?
You can add so much character with the right wall brackets. It is, after all, your bedroom so along with being well suited you may also want to consider something that helps to create an inviting and relaxing atmosphere.
For the bathroom?
A good rule of thumb is to find a fitting that is crisp, clean and understated. The bathroom is a functional room and needs to look fresh and neat. Have a look at our select range of bathroom wall brackets. Please bear in mind for safety reasons all bathroom lights need to carry an IP rating.
For the office?
You will probably want something smart and practical. The majority of our office wall brackets have adjustable heads so you can change the position of the light for different tasks.
However every home is different, you may find something that we have put into the living room section that is perfect for your hallway, that's fine. If you think it suits the room then go with your gut feeling.
Read more about Wall Brackets