Outdoor Wall Lights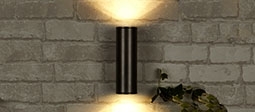 Outdoor wall lights are important both in terms of style and functionality. They are a great and simple way to add an extra layer of security, while at the same time making your garden safer for people leaving and entering your home at night. You can also install them to light a patio for summer dining or just simply for enjoying warm evenings.
However exterior wall lights also have lots of aesthetic applications as well. They can be used as accent lighting to bring out the form of your beautiful home. You can also use them to highlight an attractive feature near the house. Below are a few pointers to help you select the right fitting.
What are you looking for in an outdoor wall light?
A light that can turn itself on and off?
You may be looking for a practical light that can turn itself on when the sun goes down and off again in the morning. If so have a look at our Dusk till Dawn range.If you are searching for a light that only turns on when someone walks past, then choose a light from our Movement Sensor range.
Are you looking for something cost effective?
If you like to keep your eyes on the pennies and on your carbon footprint take a look at our range of LED lights.
What about style?
Outdoor lighting is the best way to showcase your home and increase its curb appeal. Getting the style of light right is essential. For a more traditional and classic home, take a look at our range of complimenting wall lights.
Or maybe something more modern. For a more contemporary look, we have a vast range of stylish lanterns and wall lights.
There is so much to consider when choosing an outdoor wall light. Take your time and give some thought to all the factors you need in a wall light. For more help choosing take a look at this article.
Read more about Outdoor Wall Lights