Post & Bollard Lights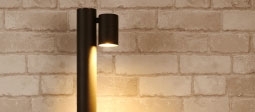 Post and bollard lights are so varied, some have an ultra-modern space age feel to them, while others are the height of traditional styled lighting. They are perfect for lighting up pathways offering practical safety and tasteful charm. Some of our lamp posts are so traditional they will give a Dickensian feel to your garden. This will create an amazingly picturesque look especially in the winter snow. Click here for a guide to Bollards, Posts and Pedestals.
What type of post or bollard lights are you looking for?
Fittings with real traditional beauty?
If you are looking for something incredibly striking with an air of traditional romanticism then why not check out these attractive fittings. They are more than just lights, they are garden features that will give a signature look to the character of your home.
Something to mark out your garden path?
Post and bollard lights have tons of applications. To give a structured look to your garden you can use them to mark out the pathway, our Garden Posts are perfect for this purpose. Of course, they can also be used anywhere you think they will look good.
What style of post and bollard lights are right for your garden?
A modern look?
Luckily enough, post and bollard lighting is either very contemporary or very traditional. If your home has an up to date look click here for our range of handsome and modern fittings.
A traditional look?
If you have a traditionally styled home the right combination of post and bollard lights can really bring some magic into your garden. If you want to see our range of traditionally styled lighting click here.
Post and bollard lights are a great way to bring your garden to life. They can do so much to alter the style of a garden. They can take it back in time or send it way into the future. For more information about post and bollard lights click here. If you love imaginative light fittings that are features in themselves we've got something that will suit.
Read more about Post & Bollard Lights