Sockets & Switches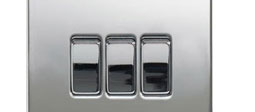 Sockets and switches may not be the most interesting of lighting products but they are definitely an essential one. Without the humble switch there would be no way of turning on the light. Over recent years the variety of styles available has increased making it easier to find something perfectly suited to your home.
Renewing your sockets is also essential for electrical safety. If the fittings in your home are starting to look discoloured, cracked or just generally old it may be time to think about replacing them. However we must recommend that any maintenance or replacement be carried out by a qualified professional.
What sort of sockets and switches do you need?
Something to create the right mood?
If you are changing to dimmable lighting in a particular room you are going to need the right socket. Click here for our dimmable units.
Can handle the British weather?
Are you after something that is durable and well suited to life outdoors? Why not check out our range of IP66 rated fittings. This rating means they are totally dust proof and protected against water, but not submersible.
Traditional white?
You may be looking to replace older sockets and switches like for like. If so you may want to start by looking through our white moulded range, the classic look.
Maybe a new look?
Redecorating in a contemporary design requires all the modern trimmings. If you are looking for fittings with a sharp and stylish look you need to click here for our flat plate black nickel range. However another modern alternative you may want to check out is the flat plate brushed steel selection.
Good value for money?
It is perfectly understandable to be looking, simply, for no frills great value sockets and switches. Sometimes a bog standard replacement is all you need. Click here for our economical range.
Sockets and switches may not be the most fun lighting product to shop for, but updating your home with modern fittings can help to refresh its appearance. They will also help to improve your peace of mind in terms of the overall electrical safety. At Lighting Direct we have an impressive range of sockets and switches for all different types of homes.
Read more about Sockets & Switches