Downlights that are set in to the ceiling (recessed) are a great choice if you want contemporary, unobtrusive lighting. Because of the way they are installed, downlights are perfect for rooms with low ceilings. Thanks to the great many types available, they work well in just about any area of your home from the bathroom to the study. LED downlights will ensure you are choosing some of the most energy efficient lighting on the market and they last for many years. Used with dimmers, they will add superb ambience to your home and smart lighting systems let you control lights from your mobile device. Modern downlights look exceptionally stylish and chic, many featuring no surround whatsoever giving the appearance of twinkling lights set within your ceiling.
Plaster in
Plaster-In means that you install the downlights, then skim (plaster) the ceiling so they appear to be built in. This type of downlight doesn't have a metal or plastic bezel or trim to detract from the light and helps it create a discreet, neat appearance with a smooth profile for the ceiling.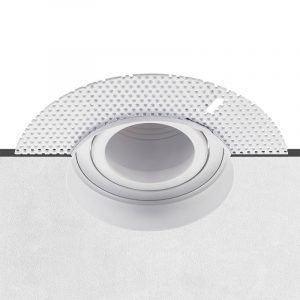 This superb trimless plaster-light has been selected by us as a great option for appearance and has fast-fix connectors for easy installation. These downlights come in a handy multipack of 10, so are a great choice if you are planning on installing downlights in your home.
Decorative Downlights
There is a wealth of choice when it comes to downlights in a variety of finishes, shapes and colours. If you want a chic, minimal appearance plaster-in or white downlights are a good option. Chrome and square shaped downlights may suit more industrial, masculine style of interior. For a touch of glamour, you could opt for a downlight with a clear glass or brass surround, the options really are vast.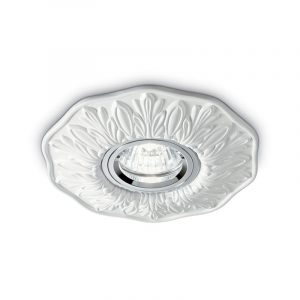 Smart Downlights
The range of downlights available is always expanding thanks to new technologies. Smart downlights allow you to control the lights individually or in groups via a free app on your mobile device, including colour changing and dimmable. The ultimate in ambience, smart lighting will help you create mood lighting or get the party started. Dimmable downlights will let you adjust the mood around your home, giving you bright light for food prep in the kitchen then dimmer light for relaxing later on.
If you have any questions on downlights or would like recommendations please feel free to give our team a call on 0345 646 1133.