Wall lights are becoming increasingly important in home décor as more and more people are giving greater consideration to how they use lighting. Wall lights, spot lights, flush lights and uplighters can all introduce different tones and colours, as well as different levels of brightness into a room, creating atmosphere and character.
Making the most of your lights
You need to consider both style and functionality when it comes to getting the best from your wall lights. Accent lighting, for example, from a spotlight or picture light can be used to display paintings or show off objects of interest. Remember the lighting needs to work perfectly with the furnishings.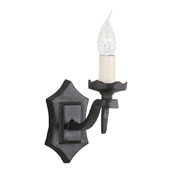 Wall brackets
Single bracket wall lights are a good place to start to explore the options available and the effects they can create. The Rectory Single Wall Light for instance can be used in conjunction with a ceiling fitting or on its own for a soft tonal lighting effect.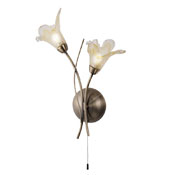 Double wall brackets will, of course, offer greater illumination. The Lily Twin Wall Light is a sleek and elegant fitting with a floral quality to its design.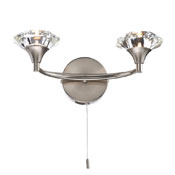 If you want something more striking and dominant then the Luther Twin Wall Light could be the one for you with its satin chrome finish and crystal style glass shades this is a profoundly eye-catching piece of lighting.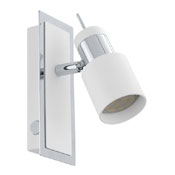 Spotlights
Spotlights are the simplest way of drawing the eye to an object or feature directly with the full intensity of directional light. With imagination and clever placement though they can also be used to reflect light in many interesting ways. If you want to get creative with your lighting you can bounce it off objects, walls, ceilings or even mirrors. The Eye is a great example of a single spotlight fitting that is perfect for highlighting your spaces' notable features.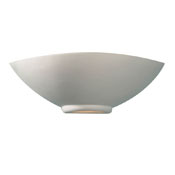 Uplighters
Uplighters are another great source of ambient lighting that can provide both light and shade, the kind of contrast that gives depth and character to a room. Uplighters can be floor lights or wall lights, like our range of Otis Ceramic Wall Lights.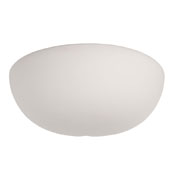 If you're on more of a budget you can still achieve some dramatic effects with our extremely popular and great value Polo Wall Light. These can be painted to fit in with your overall decor while still providing warm, rich ambient light.
Flush lighting
Flush lighting offers the same effect as an uplighter with the added bonus of providing downward light too. The Hove range like the Polo is made of ceramic so can be painted to slip unobtrusively into your overall décor.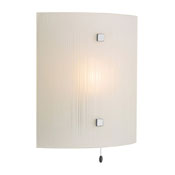 The Swirl Flush Wall Light is again subtle with an understated charm. It produces soft homely diffused light perfect for creating a relaxing living space.
The wall lights mentioned above are just a few 'well chosen examples' taken from our extensive range. Feel free to take a look at our full range of wall lights and browse at your leisure.
Alternatively, if you're looking for more inspiration try our Lighting Ideas section.