Wall lights can add that perfect finishing touch to a room; whether you're re-designing your bathroom, redecorating your kitchen or giving your living-room a quick revamp, they can completely change the look and feel of your home. You can use wall lights to illuminate dark corners or features that are usually swallowed up by shadows. 'They can even be used as your room's main light source.
Here at Lighting Direct, there are wall fittings for every room and occasion; from picture lights that highlight works of art to subtle recessed lighting. Whatever type of light you want we are bound to have the right one for you.
What would look good on your wall?
To flush or not to flush?
Flush wall lights can make a massive difference to the appearance of a room. The light is generally either diffused or dispersed up the wall creating a soft and comforting tone of illumination. They are generally suited to living or bedrooms but would also fit perfectly in a dining room. Flush lighting is also more discreet than other styles of fittings. They are still beautifully designed but are more about function rather than making an impact. There is also a lot of crossover with flush wall lights and uplighters.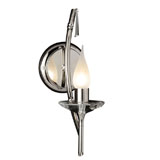 Define the room
Wall lights are not just for illumination they are also very much for decoration as well. You can use them to signify your chosen style in a particular room. For example the Oleana  Wall Light will instantly endow the appropriate room with modern grandeur.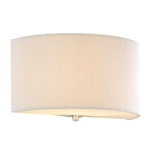 The Zaragoza Wall Light on the other hand could sit perfectly in a 1970s cigar-club themed room. These two examples show that well chosen wall lights can play a big part in defining a room's character.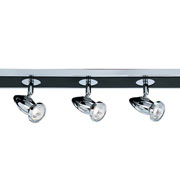 Spot or hide
Spot lighting is perfect for open plan areas and spacious kitchens. Ideal for highlighting features or perhaps even hiding the areas you don't like. Why not show off that new range cooker with our Comet 5 light plate? Spot lighting is always a wonderfully crisp and clear source of light. However when wall mounted it is easier to redirect them if you want to quickly change the ambiance of the room. To create a soft and romantic mood you could simply twist the heads so the light is cast up the wall for the perfect uplighter effect.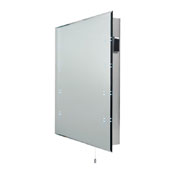 look into the light
Mirror wall lights are a beautiful marriage of modern style and functionality. Not only are they indispensable when it comes to male or female personal grooming but they are also a great way to add a really contemporary feel to your bathroom. The Zodiac Mirror Light, complete with shaver socket, is such an attractive fitting you won't be able to stop looking in the mirror.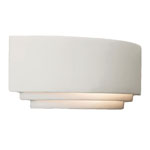 Ready for a change
With ceramic wall lights you can buy them plain and in the case of the unglazed models paint them to match your furnishings or use a signature colour to make them into a feature of their own. This is very useful if you are re-designing and want the wall lights to match the decor but haven't chosen a colour scheme yet. Simply install and paint them later once you've picked your colours! The Amalfi Ceramic Wall Light is the perfect example for this type of light. It has a beautiful three tiered curved body that is ready to paint.
So don't feel like you have your back against the wall when it comes to choosing the right lights for your home. Take a longer look at our range of Wall Lights and add the finishing touches to your home.
Looking for more lighting inspiration? Try our Lighting Ideas section.

Maxine Clarke Senior Buyer
Maxine has been our decorative buyer since 2015. With her experience in working for consumer-led brands, she is the perfect person to pick out the latest lighting trends for both your home and business. Maxine has an eye for the best up-and-coming lighting from the UK and around the world and works tirelessly to add new brands to our portfolio. One of her trends to watch in 2020 is connectable garden lighting; with summer garden parties more and more popular, being able to build and extend your own outdoor lighting with spotlights, festoons and string lights has never been easier – simply plug and play.