With SS18 in full swing, the Evergreen trend fits perfectly into any home, evoking themes of revitalisation and rejuvenation. The beauty of this lighting trend is in its versatility; bringing together textures of wood, glass, and metal, combined with crisp shapes and clean lines, the lights featured within our new Evergreen range bring life to any room within the home. Here are some of our top picks.
1. Glass bottle pendant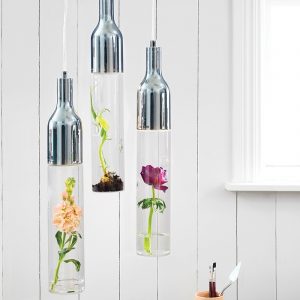 https://www.lighting-direct.co.uk/bottle-led-glass-ceiling-pendant-light-chrome.html
The Markslojd bottle pendant adds an evergreen 'wow' factor to any room as you can style plants, flowers, water, twigs, or other decorations inside the lamp for a truly unique and customisable design. Another interesting feature of this light is that it is not mounted to the ceiling via a canopy, but rather by way of a 3.5m clear cable with a plug, meaning it can also be creatively suspended from shelves or cupboards.
2. LED tray bar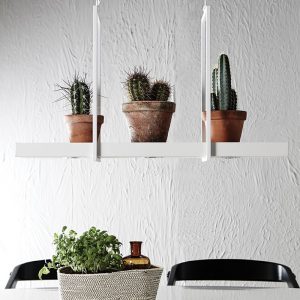 https://www.lighting-direct.co.uk/tray-3-light-led-bar-ceiling-pendant-white.html
This Markslojd LED bar pendant light would make the perfect addition to any Scandi-inspired kitchen. The pendant features three energy-saving warm white LED bulbs, delivering a total of 630 lumens, which is just perfect for setting a welcoming atmosphere for dinner parties or drinks with friends and family.
3. Edit table lamp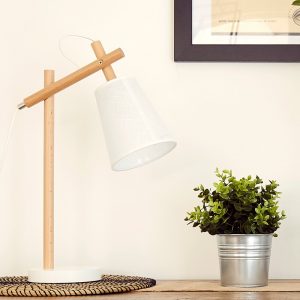 https://www.lighting-direct.co.uk/edit-vaio-table-lamp.html
Nothing says evergreen quite like sustainable natural wood paired with minimalistic white fabric. The Edit table lamp perfectly hits this trend on the mark for these reasons, making a stunning contemporary addition to your office desk, living space, or bedside table.
4. Multi shelf and wall light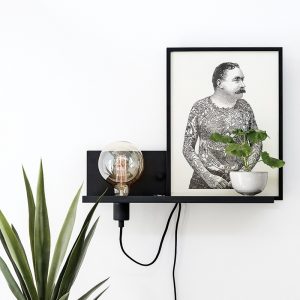 https://www.lighting-direct.co.uk/multi-shelf-and-wall-light-with-usb-charging-port-black.html
Extremely stylish and equally practical, the Multi Shelf and Wall Light with USB charging port is the ideal fixture for more compact spaces. The contemporary design of this wall light includes a handy USB charging station for quick and easy smartphone charging, and its useful shelf makes a practical home for small plants, books, photographs, or artwork. The unit includes a rotary dimmer and a two meter power cable, and has been designed to attractively showcase a large globe bulb or decorative filament lamp, to give an edgy modern finish to any space in your home.