You've revamped your bathroom, your kitchen, your living room and all the bedrooms; you've decked them out with rugs, squashy couches, fluffy towels, huge beds and all of the best designer lighting. But something's not quite right – your house is missing that "wow-factor" and you're not quite sure what it is. And then you realise – you have neglected your hallway! It still has the same faded carpet, stained walls and flowery lone lamp shade circa 1982 hanging forlornly from the ceiling. What to do? How do you know what lights to choose? What kind of style should you go for? A ceiling pendant, wall lights or a flush fitting? A chandelier, or is that too middle class bourgeoisie? To check out our hallway light fittings click here.
The hallway is a room full of momentous importance – if eyes are the window to the soul, then your hallway is definitely the window to your home and what kind of personality it has. And what better way to shed light on that soul than with some excellent lighting choices from Lighting Direct? Why not take a look at our Top Ten Hallway Lights Countdown for some inspiration?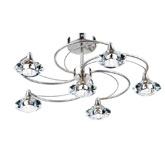 Top Ten Rundown
At ten
If you have limited space in your hallway but still want to show off an eye-catching design with a unique style, choose the Luther 6 Light Semi-Flush. It combines satin chrome with crystal glass shades for a sparkly, pretty hall light that won't intrude on space.

Nine is fine
If you live in a minimalist home, you will most likely veer towards the clean lines and modern design of the Ventana Glass Flush Fitting Ceiling Light. This light fitting is also great for those with limited space, as it is a flush fitting with a neutral colour. It does not however, lack in style thanks to a frosted glass diffuser with an acid etched grid design. It is also part of a coordinating range, for even more designer impact.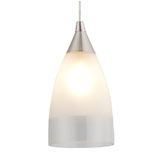 We rate eight
Another unique design that combines modern and classic in a hallway light, is the Admiral Pendant. This beautifully simple pendant light has a wonderful design that is completely up-to-date but won't go out of fashion fast. The polished chrome with clear and opal glass shade will fit into any colour scheme or decor – you could change the colour of your hallway again and again without changing your light fitting. Click here to view more beautiful pendant lights.
Seventh heaven
If you don't want a main light in your hallway and would prefer several of the same wall lights, 2 Light Wall Light – Polished Chrome could be the solution. This polished chrome twin wall light has a very unusual but unobtrusive design. The contemporary metal with facetted glass shades are cuboid shaped. Just use one or two for an understated fashionable look, or more for a dramatic statement. (Also available in other finishes and with coordinated fittings)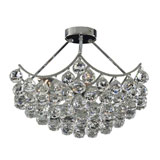 Six is a hit
For extra "wow" factor, choose the Rosedal Light Semi-Flush. This completely gorgeous semi-flush hall light has been manufactured with polished chrome with facetted glass droplets. It is reminiscent of 1920s flapper glamour and would be sure to make you smile every time you opened your front door.

High five
From the 1920s to the 1930s, the Ardeche Pendant Fitting Large Clear combines vintage looking fluted glass with contemporary polished chrome trims. This is for those of you who appreciate certain design aspects of the old but prefer the robust and durable materials of the twenty-first century. It would be best suited to a hallway that combines both traditional and modern fittings. (Also available in other finishes)
Adore four
For those of you who want something that looks good but is also discreet, feast your eyes upon the Milo Ceramic Wall Light. Understated elegance and a curved ceramic shade will provide soft, warm and welcoming light in your hallway. This uplighter is also great if you want your light to fit in entirely with your colour scheme or if you want to make it a feature on its own, as you can paint it any colour you like. Simply leave it natural if you prefer the more classic look.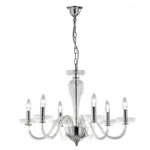 Third in place
If you want something completely decadent, the Italian-made 6 Light Chandelier gives you just that. Manufactured in 24% lead crystal with a polished chrome finish, it adds a luxurious touch from the moment you open the front door. It combines classic gothic with contemporary design, for those of you who like mixing the old with the new. There are also matching products available for that added wow factor.
Second to none
Carrying on the theme of decadence, but in a much more classic style, is the Danieli 8 Light Fitting. This elegant light has all the design of a past century, conjuring up images of ladies in corsets and dandy men. The beautiful looped drapes and candle bulb light fittings make it suited to a home that prefers more traditional styling.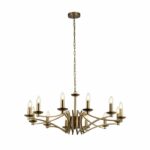 And the winner is!
The gorgeous Galileo Fitting – 20 Light. 3m Drop. This stunning light with facetted crystal glass shades and a twenty light design can't help but catch your eye. It will bounce the light around your hall and add sparkle. We think this unique light will look beautiful situated in the hallway, and will be an instant talking point for any friends or guests. There are also matching ceiling and wall lights in this range. (A 2m drop version is also available)

Take your pick
So now you've sneaked a peek at our favourite and best, it's time for you to make a choice. Don't forget though, there's lots more on offer on our Lighting Direct website, so have a look and make sure you find the perfect hallway light for your home.
Need more inspiration? Check out our Lighting Ideas section.
Where Next?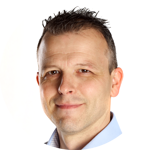 Andrew Evangelidis Head of Buying
Andrew is an experienced buying professional who takes an entrepreneurial approach to identify new lighting solutions and ensure Lyco have first-to-market ranges for our customers. Having previously worked for well known brands such as Wickes, Carphone Warehouse and Toys R Us, Andrew has now turned his hand to sourcing commercial lighting and ensure our customers receive top brand quality products at marketing leading prices. He manages a team of commercial and decorative buyers who travel the world finding new products that our customers don't even know they need yet.