Designed with style and functionality in mind, the Diamond X Collection takes bathroom mirror lighting to the next level. Available in a wide range of shapes and sizes, and boasting an array of additional features such as shaver and charging sockets, discreet on/off PIR sensors, and soft close hinges, a Diamond X is much more than just a mirror.
Additionally, Diamond X mirrors are manufactured from high grade aluminium, meaning they will never rust, and LED technology ensures the built-in lights will not let you down. The collection also includes both mains-powered and battery-operated mirrors, making it easy for anyone to enjoy these mirrors, even in hard to reach spaces.
Here are 3 of our favourite mirrors from the Diamond X collection, available now at Lighting Direct.
1. Diamond X Noble LED mirror cabinet
The Diamond X Noble LED illuminated mirror cabinet encases two adjustable shelves, lighting, and an internal mirror making it an ideal place to store away toiletries, medicines, and grooming products. The built-in demister pad prevents the mirror steaming up and its lights are easily adjusted via the discreet on/off PIR sensor that is hidden underneath the mirror.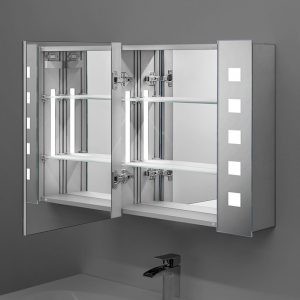 Diamond X Noble LED mirror cabinet
2. Diamond X Myrna Edge LED mirror light
If your bathroom would benefit from a little more edge, then the Myrna mirror might be everything you are looking for. Enjoy salon quality grooming and makeup application in this cool white LED-framed mirror, complete with demisting technology and a motion sensored power switch.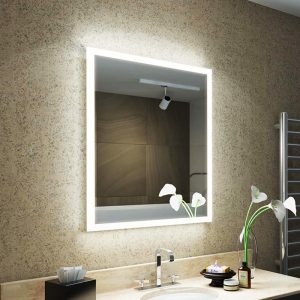 Diamond X Myrna Edge LED mirror light
3. Diamond X Bella battery operated LED mirror light
The Diamond X Bella mirror is a simple and elegant wall-mount mirror, featuring 48 cool white LED bulbs. It is battery operated and turns on and off easily with a quick tug from the hidden pull cord for a quick and fuss-free integration into any bathroom.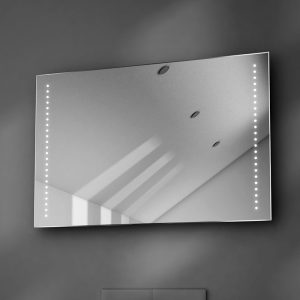 Diamond X Bella battery operated LED mirror light
Every product in the Diamond X collection is built to last, supplied with a ten year manufacturer's guarantee. The mirrors are technically advanced, elegant, and practical, resulting in a functional home accessory that adds visual impact to the space which it occupies.
To browse the complete collection available at Lighting Direct, visit https://www.lighting-direct.co.uk/brands/diamondxcollection.html

Andrew Evangelidis Head of Buying
Andrew is an experienced buying professional who takes an entrepreneurial approach to identify new lighting solutions and ensure Lyco have first-to-market ranges for our customers. Having previously worked for well known brands such as Wickes, Carphone Warehouse and Toys R Us, Andrew has now turned his hand to sourcing commercial lighting and ensure our customers receive top brand quality products at marketing leading prices. He manages a team of commercial and decorative buyers who travel the world finding new products that our customers don't even know they need yet.