If you're fond of the look of spotlights but don't want endless wiring and holes in the ceiling, then track lighting just might be the perfect solution. Track lights are easy to install, often using the existing wiring from your old lights, and each of the heads attach to a central track which can be pointed and adjusted wherever you like. So if you have a favourite painting, collection of framed photos on the wall or a display cabinet you want to feature, you can use your track lighting to help them take centre stage. Use energy-saving LEDs with your track lighting, and you can rest assured that it will be years before you have to worry about changing a bulb. They will also use a tiny fraction of electricity that the equivalent halogen bulb would which will save you money on your energy bills. Opt for wire lighting, which is a slightly more delicate, refined type of track lighting for a stunning modern lighting display.
We've hand picked some of our favourite track lighting systems in terms of style, price and features to get you started. Many of them are available as kits that can be expanded at a later date, should you change your mind about how many lights you want in the room – it really is that easy.
1. Robus Acorn Track Lighting Kit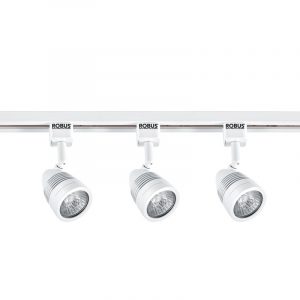 The Robus Acorn range is one of our best-selling track lighting kits. Available in clean white or glamorous satin chrome, each of the three cone-shaped light fittings can be individually angled for precise directional lighting. The kit contains everything you will need for installation and is ideal for a wide range of settings from your home office to the open plan kitchen. This is a high quality choice of track light for a budget friendly price which can be extended and customised to suit your home.
 .
2. Edit Store 3 Light Track Kits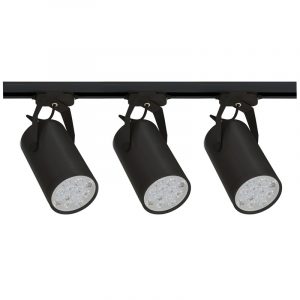 This is a great choice is you're on a budget but not willing to sacrifice on quality. Taken from our very own brand Edit available exclusively from Lighting Direct. Available in a range of different wattages, depending on where you plan to use them, these versatile lighting kits contain everything you need to get started. The heads feature a sleek modern design in a traditional spotlight shape and you can choose from black or white aluminium finish depending on the look you're going for.
 .
4. Markslojd Expand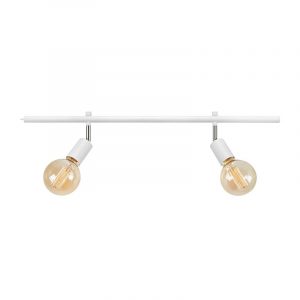 Markslojd are stylish, contemporary Scandinavian brand known for producing lighting that is distinctive and always on trend. The Expand track light range is available with a range of unusual, stylish heads and finishes that will feature front and centre wherever you decide to put them in your home. The tracks can be plugged in or wired into mains directly and be used on walls, ceilings in just about every room in your home. This highly customisable range of track lighting allows you to choose the style of head, bulb, length of track and colour so you can create lighting that reflects your individual style.
 .
Wire lights are perfect if you like the look of track lighting but want something a little more delicate and refined. The thin wire gives these a more sophisticated appearance than traditional track lighting and they are also more flexible in terms of shape and coverage. Wire lights are typically much simpler to install, so if you have uneven ceilings, curved rooms, or beams, wire lighting can be fixed on top. If you're interested in wire lights and want to know more, why not check out the Lyco Salt Wire Light Kit.
These are just the highlights, we have many more track lighting options available individually or as kits, designed to save you time and money. If you need lighting advice or have questions about any of our products, why not call our experienced customer care team on 0345 646 1139 who are on hand to answer even the trickiest lighting questions.