Providing lighting for the bathroom presents its own special problems and contradictions. The bathroom gets used at all times of the day or night, so lights are essential.
Lighting means electric light. The bathroom is frequently quite wet and we all know electricity and water do not mix well. Bathroom ceiling lights are the best option for the main lighting in the bathroom because the ceiling is as far away from water as you can get. However there is still steam to consider, even with a good extractor.
Zones and Ratings
Electrical safety regulations divide bathrooms into zones , Zone 0 being the wettest, actually in the bath or shower tray and Zone 3 being the least likely to get wet. Any area more than 2.25 metres above floor level is in zone 3. The average ceiling height in modern properties is around 2.4 metres, higher in older houses, so bathroom ceiling lights are likely to be in zone 3.  For more in-depth details of this topic take a look at our complete guide to bathroom zones.
This zoning is to enable electricians and anyone buying lights to know what degree of protection is needed for a given location. To find the degree of protection provided to a light, look for the IP Rating. This consists of the letters IP followed by two digits. The first digit refers to protection against fingers, solid objects, dust etc., the second to protection against the ingress of moisture. The higher the figure in each case the higher the degree of protection. Our guide to IP Ratings will give you the full rundown of what is what when it comes to IP ratings.
Be safe – use a professional
Installing bathroom ceiling lights should always be carried out by a qualified electrician. However you may well be choosing the lights yourself for him or her to install, so even a basic knowledge of the requirements will save you time and trouble and may even impress your electrician!
IP as standard
Bathroom ceiling lights to be installed in Zone 3 do not actually require an IP Rating at all. However remember, the regulations prescribe minimum requirements and it makes sense to use only IP rated lights anywhere in the bathroom if only because they are likely to last much longer, quite apart from any safety aspects. All the bathroom ceiling lights sold by Lighting Direct are IP rated to at least IP44.
Flush is plush
A small bathroom of a regular shape may only need a single bathroom ceiling light. Others may require several lights. In either case the use of flush fitting ceiling lights not only looks attractive, they keep cleaner and having their working bits concealed behind the ceiling helps to protect from the steam generated by a hot bath or shower. Here is a selection of bathroom ceiling lights available from Lighting Direct to help you find the right bathroom lighting for you.
Recessed downlights
We'll start with multiple recessed downlights. Lighting Direct recommends any of the following examples.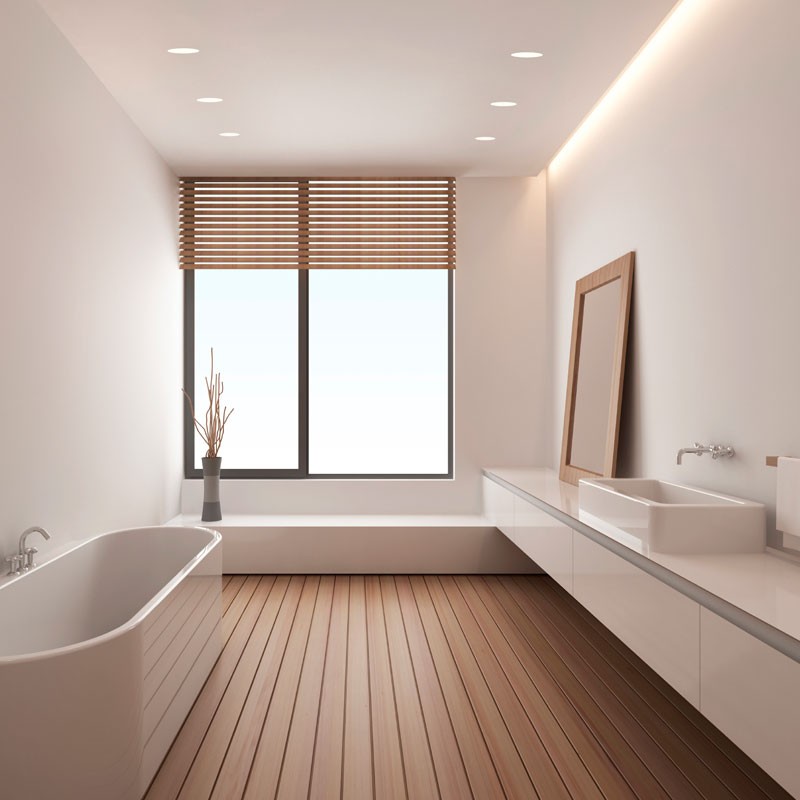 1. The Astro Trimless Fire Rated Downlight is an inconspicuous fitting with a plastered over, trimless finish that is beautifully flush to the ceiling. A popular product from British manufacturers Astro.
2. The Luceco F-Eco 5W Dimmable LED Downlight is a fully dimmable fixed fitting that comes with quick-connect push-fit terminals for stress free installation. It is fully dimmable and has an average life expectancy of 25,000 hours, plus a 3 year guarantee. Available in a white finish, brushed steel, and polished chrome.
3. The Integral EvoFire Fire Rated Low Profile Fixed Downlight here is a great value super-slim 0.8mm bezel is 10 times slimmer than standard downlight bezels and incorporates push terminals to allow rapid installation.
To flush or semi-flush – that is the question
Lighting Direct also has many recommended flush or semi-flush bathroom ceiling lights. Full details of all of them can be found in our bathroom lighting section but here is a brief look at some of them.
1. The 3 Arm Semi-Flush ceiling light in a polished chrome finish with clear glass shades is a stylish fitting suitable for use in bathroom zones 1 and 2.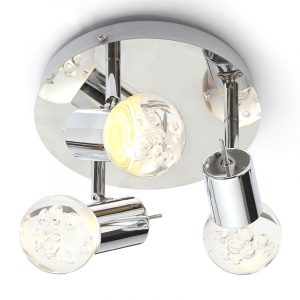 2. Offering traditional style, the Bubble 3 light Led Spotlight Plate is IP44 rather and suitable for zones 1 and 2. It is only 200mm wide and suitable for smaller to medium sized bathrooms.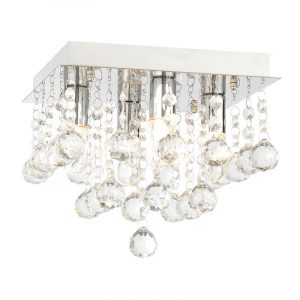 3. For something even more glamorous, the Orlando Flush Ceiling Light with cascading clear glass balls on hanging chains is a light that becomes a real statement piece as soon as you install it.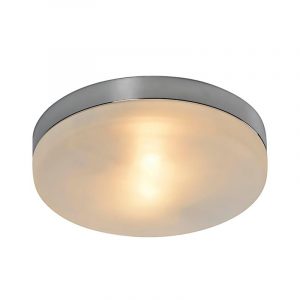 4. Our top choice for a simple, but effective flush bathroom ceiling light: The Edit Aqua Flush Ceiling Light is a round fitting with opal glass diffuser suitable for use anywhere in your bathroom.
A little bit more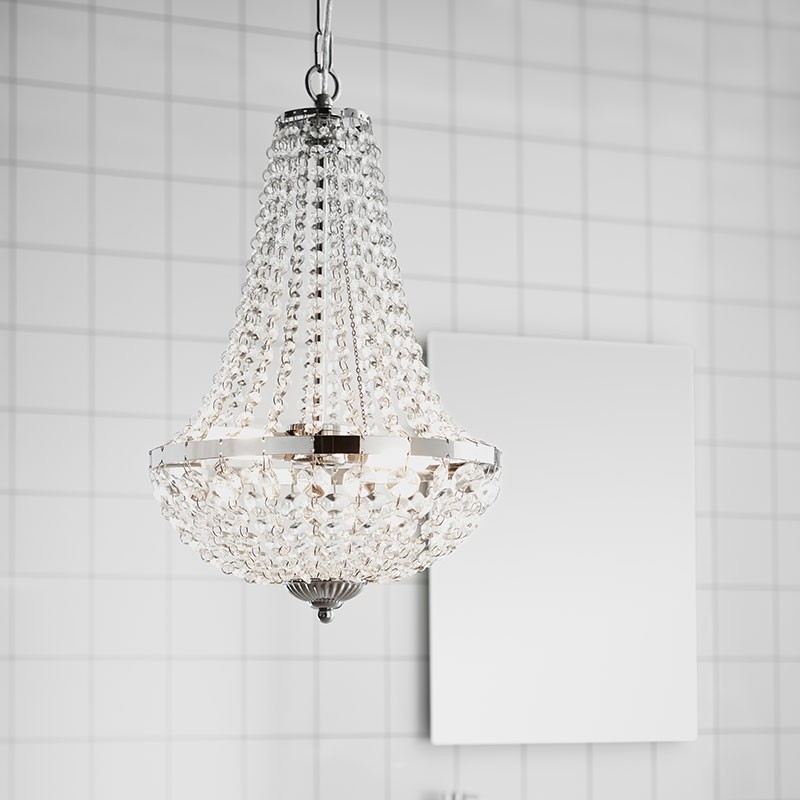 If you really want to inject style into your bathroom via your ceiling lights and have sufficient ceiling height that a more protruding design is suitable, you will probably love the Ganso Bathroom Ceiling Chandelier. This stunning light has machine cut clear glass prisms on a chrome metal frame. It is IP44 rated so you can install it in Zones 1 and 2.
The choice is yours
The best ceiling lights for your bathroom could be any one of the above. Having said that, you know your bathroom best and if these don't quite give you what you want feel free to browse our full selection of bathroom lighting to find your ideal bathroom ceiling light.
Looking for more inspiration and advice? Try our Lighting Ideas section.
Where Next?
Maxine Clarke Senior Buyer
Maxine has been our decorative buyer since 2015. With her experience in working for consumer-led brands, she is the perfect person to pick out the latest lighting trends for both your home and business. Maxine has an eye for the best up-and-coming lighting from the UK and around the world and works tirelessly to add new brands to our portfolio. One of her trends to watch in 2020 is connectable garden lighting; with summer garden parties more and more popular, being able to build and extend your own outdoor lighting with spotlights, festoons and string lights has never been easier – simply plug and play.