If you want to go the extra mile with your interior décor then invest in designer table lamps. Visually stunning they will bring instant style to your indoor space. Good lighting should be seamless so team your designer table and floor lamps with ceiling pendants to create the perfect layering of light.
Let's take a look at some of the exquisite pieces from leading designers that can take your interior lighting to a completely new level.
Lamps That Form Part of the Décor
Green Credentials
Functionality is important but a good designer table lamp should work as a piece of art in its own right when displayed in a stylish setting. Take the Cone Table Lamp for example, designed by architects at graypants. A talking point and striking addition to any room, this lamp's shade is handmade from recycled corrugated cardboard to prove its 'green' credentials. Position this truly unique piece on a side table next to a sofa making sure the bottom of the shade is no higher than eye level.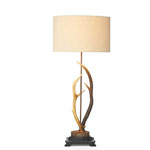 Statement Pieces
You can base the whole design of your room around a carefully chosen piece of lighting that creates a dramatic effect. Take the Antler Table Lamp, striking and eclectic in style, this handmade lamp by renowned UK designers David Hunt Lighting will take centre stage in any stylish home. This eye-catching piece of lighting is produced in resin and features an authentic looking pair of antlers hand-painted in Highland Rustic colours. Team with wooden floors, decorative rugs and traditional leather sofas to complete the look.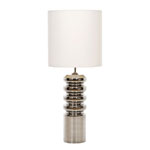 Unique Shapes
When choosing a designer table lamp you should expect a beautifully crafted piece of lighting and something a little bit different to add an interesting dimension to your interior décor. Harlequin, a lifestyle brand internationally recognised for its statement wallpapers and stunning designer fabrics have produced the Contour Platinum Table Lamp – Sensei Pearl Shade. Unique in shape with a platinum glazed ceramic base and handmade fabric shade, this elegant table lamp will work beautifully in a contemporary setting. Use Harlequin wallpaper as the backdrop to this striking modern piece.
Whether you have a minimalist contemporary décor or a more traditionally styled home, a well-chosen designer table lamp can bring your space to life. If you are searching for something unique and distinctive then take a look at our complete range of designer lighting.
For more inspiration check out our Lighting Ideas section.