What better way to embrace summer living than to light up the bbq and invite friends, family and neighbours over to enjoy a garden party. With sunny days and long balmy evenings, there's something magical about spilling outside for some al fresco entertaining. As the air fills with laughter and the fun begins, kick off your shoes, relax and create some happy summer memories.
The right light
However informal your gathering, it's still worth a little bit of advance preparation to ensure the party gets into full swing. It's likely that your fridge is well stocked with cold drinks and that the food for the occasion has been chosen but have you thought about the ambience you want to create for your outdoor party? Maybe you have already selected your music but now is the time to turn your attention to outdoor lighting and the importance it can play when setting the mood. We take a look at how the right lighting can enhance an exterior setting and give you tips on how to create the party atmosphere.
Party Lights
Ambience is paramount when hosting a party. If you get the lighting right you can create something special whether it's in a large garden or on a roof terrace. As the sun goes down, clever lighting will help you party on into the small hours. Line lights and festoons are particularly effective if you want to give any outdoor space a summer party feel.
Take the Everbright Solar Fairy Lights – Warm White – 300 LED for example these solar powered LED lights have no running costs and there is no need to plug them in. You simply have to choose where to position them. Try weaving them around a garden parasol pole or around a gazebo to create an attractive display. As the party gets going these LED lights will help to set the scene.
Decking Lights
If you have been thinking about illuminating your decking area, then why not have a look at some of the choices available to you here at Lighting Direct. Good decking lights can bring your garden to life and create a special area for your friends and family to gather whilst enjoying good food and company. If you want to highlight the edges of your decking in a twinkly white light or soft blue hue, do consider the LED Walkover Lights.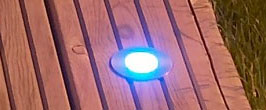 Adding impact to your exterior space, these hardwearing and cost effective LED lights carry an IP65 rating meaning they are weatherproof and can easily withstand jet sprays of water so won't get damaged when cleaning down your decking the day after the night before.
Spotlights
Turn the spotlight on interesting garden features to create different levels of light and add depth to your outside space. Perhaps you have an attractive tree, a water feature or some interesting brickwork on a patio area that could be highlighted? the GL7 LED Ground Spotlight would work well in these areas. It can be used to illuminate pathways or driveways too, guiding guests to the entrance to your home. This light can also be immersed in water up to 1m so can be used for water features and ponds. For our full range of garden spotlights click here.
Statement Lighting
For that special occasion in outdoor entertaining, add the 'wow' factor with some statement lighting. From small contemporary pieces to large illuminated cubes, the right statement lighting can be the perfect backdrop to your summer party. Take indoor lighting outside with the impressive Lucca Exterior Floor Lamp range. Contemporary in style, these striking lights come in a smart blue or green, a bold black or hot orange and look incredible as a one off piece on your patio or dotted around your garden to highlight seating areas. These metal floor lights come complete with a concrete base and ground spike so can be used on all outdoor flooring and work equally well on turf.
They say first impressions count, so why not try some statement lighting at the front of your home too. Choose contemporary or more traditionally styled outdoor lighting to work with your setting. A clever way to both illuminate your property and to display plants is with an attractive Assisi LED Planter. Position either side of your front door to welcome guests to your party or dot them along your pathway. With a crisp white light this LED planter will work particularly well on your decking or patio area to create a feature or perhaps highlight the bbq area.
Functional Lighting
Stylish lighting is a must for setting the scene for your garden party but it is important to think of functionality too. As the sun sets you want to make sure the party goers can be guided around your outdoor space safely. Illuminate pathways and side entrances by spacing Quarter Solar Stake Lights in flower beds and borders. There are also co-ordinating lanterns for this product that can be hung from trees. Alternatively why not take a look at pedestal lights for a different look and feel.
Style and Finish
From classic to contemporary, galvanised steel to die-cast aluminium, we have the style and finish of lighting for all your outdoor needs. Liven up your garden with the very latest that lighting has to offer and throw a party that's talked about for many summers to come.
Why not take a look at our full range of Outdoor Lights.
Alternatively for more inspiration try our Lighting Ideas section.

Maxine Clarke Senior Buyer
Maxine has been our decorative buyer since 2015. With her experience in working for consumer-led brands, she is the perfect person to pick out the latest lighting trends for both your home and business. Maxine has an eye for the best up-and-coming lighting from the UK and around the world and works tirelessly to add new brands to our portfolio. One of her trends to watch in 2020 is connectable garden lighting; with summer garden parties more and more popular, being able to build and extend your own outdoor lighting with spotlights, festoons and string lights has never been easier – simply plug and play.