One of the main benefits of installing low-voltage lighting is safety. When choosing light fittings for the home we often turn our attention to colour and style, but should we give more thought to safety?
One of the best ways of reducing the risk of injury when using electrical equipment is to reduce the voltage. With low-voltage lighting the power comes from a transformer, which converts 240V mains supply into a much lower 12V. Mains-voltage electricity can potentially deliver a fatal shock to humans, whereas low-voltage cannot.
Outside the home
Easy Installation
Low-voltage lighting for your outdoor space is quick and easy to install. Thanks to the safety benefits, cabling does not have to be buried as deep beneath the ground. The transformer connects to a cable that can distribute low-voltage electricity to several lighting devices.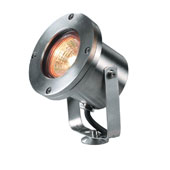 The Arigo Garden Spotlight is a great choice for dotting along your garden beds to highlight the flowers. It is also incredibly durable and because it carries an IP68 rating can be completely submerged underwater.
With no risk of electric shock you can safely install low-voltage lights yourself. Moving the cabling around is completely hazard free, so you can reposition your garden lighting whenever you want.
Safety First
When tending to your borders it will not be life-threatening if your spade damages the cabling. Low-voltage lighting is also a safe option if you have children or pets playing in the garden. If you do have an accident with a low-voltage cable it is usually much easier to fix.
Inside the home
You don't have to compromise on style of fitting when choosing low-voltage lighting. In fact, the design can be even more creative when the voltage used is safer.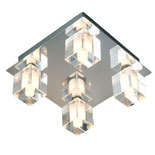 Bathroom
The Crystal Bathroom 4 Light Plate comes with G4 low voltage capsules and an integrated transformer. Completely safe for bathroom use, this fitting gives you the best of both worlds with its glamorous design. Don't forget, though, that mains-voltage fittings are safe for bathroom use providing they have a high enough IP rating. This indicates the level of protection against hazardous water and dust.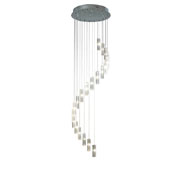 Hallway
Make a statement with the Galileo 20 Light Pendant – 2 Metre Drop. Supplied complete with G4 low-voltage halogen capsules, this magnificent ceiling pendant will add the wow factor to any grand hallway.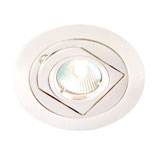 Kitchen
Another advantage of low-voltage spotlighting is that it often emits less heat. The Venice Directional Downlight – White is a smart and practical low-voltage fitting ideal for the kitchen.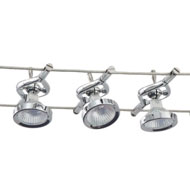 For an alternative look, choose the Sunbeam Wire Light System. A modern take on the traditional spotlight, this low-voltage fitting with transformer, cabling, and movable spotlights, is perfect for a stylish kitchen.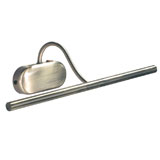 Living Room
A crisp white light is achieved when displaying paintings with the Litho Picture Light – Antique Brass. This stylish picture light has a built-in transformer and comes with two 12V halogen capsules. Low-voltage halogen bulbs produce a noticeably crisper light than 240V equivalents. Coupled with their superb colour rendering, this makes them ideal for showing off your artwork.
It's worth keeping low voltage fittings in mind when choosing the lighting for in and around your home. They are an excellent safety feature and as you can see from above you don't have to compromise on style.
For more inspiration check out our lighting ideas section.

Maxine Clarke Senior Buyer
Maxine has been our decorative buyer since 2015. With her experience in working for consumer-led brands, she is the perfect person to pick out the latest lighting trends for both your home and business. Maxine has an eye for the best up-and-coming lighting from the UK and around the world and works tirelessly to add new brands to our portfolio. One of her trends to watch in 2020 is connectable garden lighting; with summer garden parties more and more popular, being able to build and extend your own outdoor lighting with spotlights, festoons and string lights has never been easier – simply plug and play.