This top 10 outdoor lighting ideas rundown should hopefully give you some inspiration and offer some fresh ideas for illuminating your outside space during the spring and summer months. This list covers such a variety of lighting options that it's not possible to say one is better than the other. It's better to think of this as a cross section of some of the most fun, interesting and practical outdoor lighting solutions.
Ten Of The Best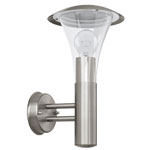 Timeless Elegance
OK to kick us off we have the Livoni Wall Light – Stainless Steel. This fitting is the perfect marriage of contemporary and traditional. Its smooth steel body gives it a sharp modern look. A pair of these installed on an exterior wall would create a dramatic atmosphere.

Rusty Charm
The next on our list is the Rusty Cone 70 Post. This is an excellent outdoor lighting idea if you are looking for something with unique character and eye-catching appeal. Because of the distinctiveness of this fitting it will work well with a wide range of garden styles.

Practical And Stylish
Brick lights like the Mono LED Brick Light are a great way to add atmospheric style to your garden when the sun goes down. From a practical point of view brick lights also make steps and patio areas safer at night.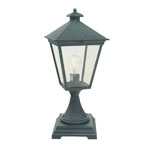 Simple Traditional Character
Outdoor pedestal lamps such as the Turin Grande Pedestal Lantern – Verdigris are a great way to add a sense of smart Victorian charm to your garden. They are wonderful garden features that offer so much in the way of ornamental value.
Stick Them Anywhere
When it comes to outdoor lighting ideas a versatile option can be very useful. Take the Alder LED Spotlights – Set of 3, this type of stake light is an easy way to illuminate flowerbeds but if you need to you can quickly reposition them for a garden party or social event.
Spot On Illumination
If you want precise illumination for specific areas and features of your garden then you may want to consider the Nemesis Twin Garden Spotlight. This is a very clear and practical source of lighting suitable for many outdoor applications. You could use them to add dramatic lighting to areas of interest such as trees and water features.

Subtle Illumination
Deck and ground lights are a subtle way to add a contemporary feel to your garden. A fitting like the Felix IP68 7W Recessed Ground Light with Colour Filters is not only great for decking and pathways but also for marking out the edges of your garden.

Unique And Cost Effective
A list of the top 10 outdoor lighting ideas would not be complete without something really unique and interesting. The Quarter Solar Stake Light is a fun little feature light perfect for decorative garden illumination. You could for example spot a few of these around a tree to make it a bit more noticeable.

Just For Fun
When it comes to purely decorative and fun lighting you can't beat the Everbright Solar Fairy Lights – White – 300 LED. You can hang them anywhere you like. They will work particularly well when wrapped around smaller trees and bushes.

Party Lighting
We know we couldn't have a top 10 outdoor lighting ideas rundown without something especially for summer garden parties. The Weatherproof Lighting Festoons – 50 Bulb Holders is just the thing for family gatherings, birthday parties or any other garden event.
Well there you have it, a quick selection of ideas to hopefully get your imagination going and give you some inspiration for new ways to decorate your garden this year. This, however, is only the tip of the iceberg we have tons of other garden fittings for you to choose from here at Lighting Direct.
For more inspiration check out our Lighting Ideas section.