It's a general truth in lighting that areas of light and dark generate visual interest; in fact a popular cinematic style was defined by such lighting, called film noir. But it's impossible to create such ambience with just a single layer of uniform lighting. For real visual effect and mood you need extra layers, and spotlights are the ideal means of creating them. Click here for our ceiling spotlights, or alternatively you may be looking for wall mounted fittings.
The greater the difference in brightness between spotlights and general lighting, the more dramatic the effect will be. Light modifiers such as dimmer switches are useful for fine-tuning the balance between your various light sources.
Accent lighting
Spotlights are perfect for emphasising the more interesting features of your home, whether they're photos, paintings, bookshelves, fabrics, ornaments, or textures. This type of spotlighting is called 'accent lighting', and is also used to highlight architectural aspects such as alcoves.
Track lighting is one popular form of spotlight fitting. Each spotlight in a track lighting system can be easily positioned anywhere along its track length, which means you can rearrange items in a room whenever you please and simply reposition lights accordingly.
The Acorn LED 3-Light and Track Kit comes with a 1M length of track and three LED lights, which, aside from being economical to run are also a good choice for lighting art because they emit no heat or UV radiation (these cause 65% of all damage to wall-mounted art). The track can be extended to an impressive 30 metres if desired.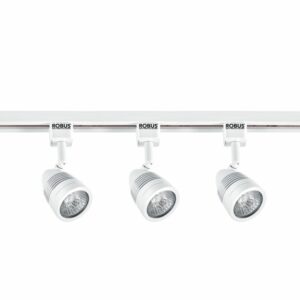 One alternative to a track lighting system is the Sunbeam Wire Light System, which uses five low-voltage halogen spotlights positionable along a wire for extreme versatility. Wire lights are especially useful for installing across uneven ceilings.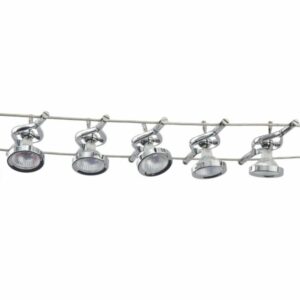 Attractive in both price and looks is the Enluce 4-Light Bar, which is available in a polished chrome or white finish. With its crisp, quadruple halogen light output, the Enluce is fantastic for showing off colours to their best effect and might be used in a bedroom to highlight textures and colours in clothes and bed linens.
Task lighting
The second great use for spotlighting is 'task lighting'. A spotlight is able to focus an intensity of light precisely where needed for any kind of task, including reading, sewing, food preparation, typing, writing, or drawing. The right kind of spotlight – often halogen – is also good for beauty applications such as applying makeup or hair treatments, and it instils a feeling of wellbeing with its flattering warm hue. A cooler light can be better for promoting alertness and aiding concentration.
You might consider the Edit Eye Wall Spot Light, with its stunning antique chrome finish. This wall-mounted luminaire makes an excellent reading light, whether in a bedroom, lounge, or office, and with its on/off rocker switch you can use it as required without the hassle of having to control it from the wall.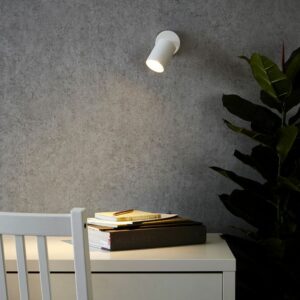 An extremely functional, inexpensive desk lamp is the Flex Clip-On Desk Lamp from Searchlight. Available in black or white you can clamp this fitting onto your desk and easily position the light using its flexible neck. Lighting Direct recommend an R50 spotlight reflector bulb to go with the Flex.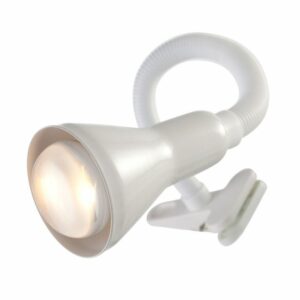 With an extremely contemporary design, the Edit Eye 4-Light Plate is the type of fitting you'll either love or hate. This well-made light is either ceiling or wall-mountable and comes complete with four halogen lamps. Of all light sources, halogen spotlighting is often preferred for colour-critical tasks, such as fine art painting. It is always a warm light source (around 3000K) with excellent underlying colour properties.
A less industrial-looking design can be seen in the Edit Norton 4-Light LED Spotlight Bar, which is a superbly energy-efficient fitting using just 20 watts across its four supplied lamps. This attractive fitting can be used easily for accent lighting, or task lighting, or both! The Davida is great for a lounge, or kitchen-diner, where its individually adjustable heads can be directed exactly as desired.
General lighting
For spotlighting purposes LED consolidates its energy-saving advantage over other technologies, because it's a naturally directional source of light that doesn't wander much outside of its specified beam. Nevertheless, there are still substantial energy savings to be had with fluorescent lamps over incandescent or halogen. The modern-looking Lennert 4-Light Plate is stylishly designed, ideal for a kitchen or home office, and comes complete with four low-energy fluorescent GU10 spotlights.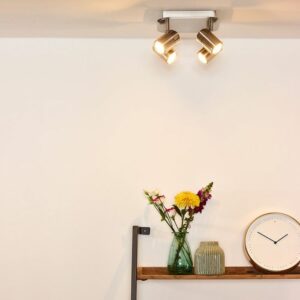 Spotlights are normally not thought of as a means of general lighting, but their output can often be widely distributed simply by reflecting a beam off of light-coloured walls and ceilings.
If interior lighting has previously been something of a chore to you, you'll discover a whole new world of opportunity with spotlighting in your creative palette!
For more inspiration try our Lighting Ideas section.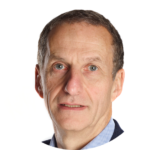 Charles Barnett Managing Director
Charles started Lyco in 1995 with just 4 enthusiastic employees and has grown it considerably over the past 25 years. Charles is also the Managing Director of Lighting Direct and newly acquired Online Lighting. He now has a team of 50 lighting experts working on growing Lyco Group to be the UK leader in lighting for both businesses and homes. Away from the office he is a keen cyclist and is proud to have cycled 1017 miles from Lands End to John O'Groats to raise money for a new residential centre for adults with multiple learning difficulties.