Many homes in the UK use security lighting as one part of their overall home protection plan. Thieves don't want to be seen, so they generally commit their crimes at night. If nobody sees them, they can't get caught.
Of course, the main reason to install security lights is to protect your home but they can also add a stylish touch to your property. When correctly positioned to complement the exterior design features they will add so much emphasis and character to your home.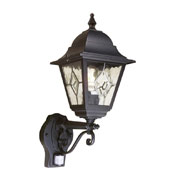 Protect your home and make it look great
This traditionally stylish light with a black finish and hand-leaded glass panes ensures the outside of your house will look smart and inviting. It is reminiscent in style of a Victorian era wall lamp so will work well with a property with period features. This wall light has a PIR sensor, which means if anyone steps within 5M and 110° of the light, it will switch on – so energy isn't wasted unnecessarily.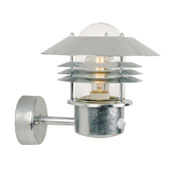 With a slightly quirky and abstract design, this wall lamp is an attractive way of brightening up the front or back of your home. Galvanised steel and a glass dome diffuser gives the light a slightly retro look, and it's available in stainless steel, black and white too. The PIR movement sensor kicks in as soon as anyone steps within 8M and 110° of the light.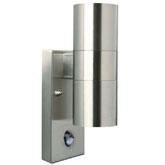 If you want a security light that's minimal, powerful and modern, look no further. The Tin PIR Twin has a slender and sleek design. Featuring a single vertical stainless steel light, with glass diffusers at either end. The Tin PIR Twin attaches to your wall, looks great and gives you peace of mind that your home is protected. The light is activated when its 8M and 110° perimeter is breached.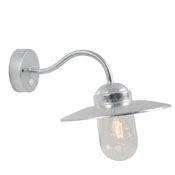 There's a classic style to this wall light, which hides the fact that it's a security feature. It's another compact option, with a vintage design and a glass diffuser that hangs down at a slight angle. Galvanised steel helps to complete its inviting and homely look. This hardwearing material also makes it ideal for coastal locations. The Luxembourg is backed up with a 15-year guarantee against corrosion.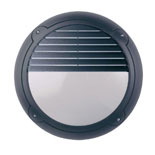 Take a different approach to styling the exterior of your house, with this neo art deco circular security light. As well as having a unique shape, it's made from polycarbonate to give it robust strength. This modern security light uses low energy bulbs, which are more efficient and last longer than standard bulbs.
Want to see more…
Why not take a look at our full range of security lights and floodlights?
Looking for more inspiration? Try our Lighting Ideas section.

Maxine Clarke Senior Buyer
Maxine has been our decorative buyer since 2015. With her experience in working for consumer-led brands, she is the perfect person to pick out the latest lighting trends for both your home and business. Maxine has an eye for the best up-and-coming lighting from the UK and around the world and works tirelessly to add new brands to our portfolio. One of her trends to watch in 2020 is connectable garden lighting; with summer garden parties more and more popular, being able to build and extend your own outdoor lighting with spotlights, festoons and string lights has never been easier – simply plug and play.