To comply with EU climate change legislation, the UK has switched off many oil and coal-burning power plants over the past year. These are to be replaced by nuclear power stations, solar panels, and wind farms, but this infrastructure is not yet in place.
In early October the BBC reported the risk of winter blackouts in 2013 to be higher than in the past six years. Power regulators Ofgem said in June the blackout risk had tripled in one year, and warned of possible energy shortages in the middle of this decade.
What can consumers do about this?
We can save money, reduce the risk of blackouts, and possibly help more vulnerable members of society by using less energy.
The role of energy-efficient lighting
EU legislation has banned production of inefficient incandescent bulbs in recent years. Halogen bulbs will also vanish shortly, with only the better energy-saving designs likely to survive.
In 2011, the International Energy Agency (IEA) estimated a global switch to LED lighting would save the equivalent output of 640 medium-sized power plants.
Low-energy fluorescent or LED light sources are energy-efficient alternatives to filament bulbs. They use around 75- 90% less watts, and offer vastly longer lifespans.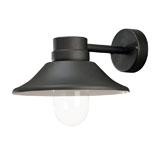 Energy-saving products
The Lucide Zora LED Wall Light is a dedicated LED fitting requiring no bulb. It will provide a warm, welcoming light outside your home for many years.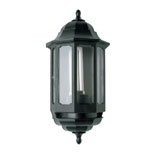 The traditionally designed Coach Low-Energy Photocell Half Lantern will never rust, and is near unbreakable with its tough polycarbonate construction. A built-in photocell automatically switches the light on and off at dusk and dawn, adding an element of overnight security to your home.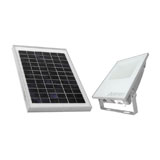 When coupled with a solar panel an outdoor LED light is effectively free to run. The Lutec Sunshine Solar Floodlight is a security light that charges by day, and triggers automatically by night when it senses movement. Its light is equal to a 150W halogen lamp, and acts as a real deterrent to burglars.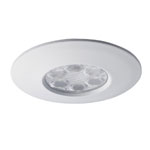 Inside the home, the JCC Fireguard LED6 Spotlight is a well-made recessed fitting that matches a 50W halogen lamp for output. An 86% energy saving is one of many benefits, with fireproofing, waterproofing, and a long lifespan of 75,000 hours also offered.
The Nexus 10 Pendant from Nordlux is a modern double-insulated ceiling light that comes with a 3W LED bulb. This is 88% more energy-efficient than its equivalent 25W halogen.

To make the most of your art, the Goya 760 LED Picture Light draws minimal power, and its sleek design is enabled by the compact nature of LEDs. The Goya 760 can light an artwork of up to 1-metre width.
Lighting for life
Unlike incandescent light sources, fluorescent or LED lighting doesn't normally just expire. It lasts for years, with LED in particular offering extreme longevity. This is lighting for life.
If you are looking for more great information? Try our Lighting Ideas section.