A high quality reading light is so important if you're the kind of person who loves to get settled down with a good book. A strong clear source of light is essential as reading in poor light can be uncomfortable, cause headaches and can even damage eyesight in the long run.
When you're choosing your reading light you need to consider where you're going to position it. Think about where you do most of your reading? You'll need the light to come from behind and illuminate the page, without casting shadows.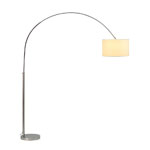 It's all about comfort
A tall order
Tall floor standing lamps are a good place to start. Their height means they offer a good coverage of light to read under. The Soprana Bow SL-1 Floor Lamp, has a simple slider that allows it to be positioned directly over your book without casting shadows. This floor lamp has a subtle elegance that is smart and dignified making it suitable for many different types of décor.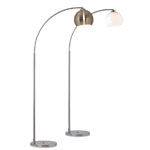 For something quirky try the Arvin overhang floor light. With its eye catching shape it's easy to imagine this lamp in either a colourful 1960's flat or an ultra-modern contemporary apartment. This light would look stunning next to a large black leather chair that you can sink into. Then all you have to do is sit back, relax and get sucked into your latest captivating novel.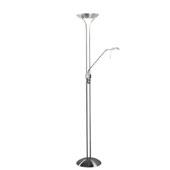 Do you want to chill in soft ambient lighting and read without damaging your eyes? Well the Montana Floor Lamp is a stylish uplighter and a reading light all in one. If you love reading you will appreciate the importance of comforting surroundings. The Montana's uplighter will create a cosy environment, but the light by itself would not be sufficient for reading. This is why it has an independent task light so you can enjoy a cosy ambiance and read without having to strain your eyes.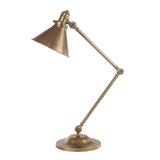 Check out every angle
If you are particularly fussy about the position of light when reading you need an adjustable arm lamp. The Provence Desk Lamp is an old faithful when it comes to practical lighting. It is a great accessory for almost any room in the house and its adjustable arm lets you angle the light perfectly every time, no matter what position you like to read in.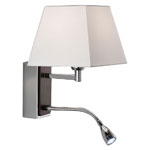 Tired of bad lighting
A standard bedside lamp can sometimes fail to provide appropriate reading light. However the Kloster Reading Light combines a charmingly elegant bedside lamp and an extremely practical snake light because as we all know, what is the point of reading in bed if you can't get comfortable?
So, there you are… a wealth of options to help you maximise your reading pleasure. Why not take a look at out full range of Reading Lights.
Looking for more inspiration? Try our Lighting Ideas section.